It's hard to believe that 9 exciting months have passed since I started dividend growth investing.  Now that the year is up it is time to review the progress that I've made in my two dividend growth portfolios.
When I first launched this blog back in April I had one portfolio that I called the Empire portfolio.  I am building this portfolio for my children and all future descendants with the hope that it will become a true empire – providing for my family over many generations.
A few weeks later I decided to convert a portion of my 401k into another dividend growth portfolio that I track on this site – my Retirement portfolio.  This, along with some other types of investments that I will discuss in my goals below, will hopefully be my ticket to an early retirement.
In this post I'll report the progress that I've made in these two portfolios, including a discussion of my 2015 goals, and then I'll lay out my goals for 2016.
Dividend Portfolio Highlights
Total dividends received: $1911.86

Empire: $552.21
Retirement: $1,359.65

Dividend increased received (addition to forward income)

Empire: $18.84
Retirement: -$23.92 (includes $115.50 cut from KMI)

Total contributions made:

Empire: $22,702.57
Retirement: $95,861.61

Account value (includes cash):

Empire: $21,417.35
Retirement: $92,720.20

Forward annual income:

Empire: $807.84
Retirement: $2,568.55

Best performers:

Empire: MCD (+17.01%), KO (+5.82%), T (+2.87%)
Retirement: MSFT (+28.27%), ORI (+20.69%), HD (+16.86%)

Worst performers:

Empire: GPS (-34.92%), AAPL (-16.12%), SSI (-16.06%)
Retirement: KMI (-56.42%), CMI (-37.57%), UNP (-27.14%)

Sector diversification:
Empire:
Retirement: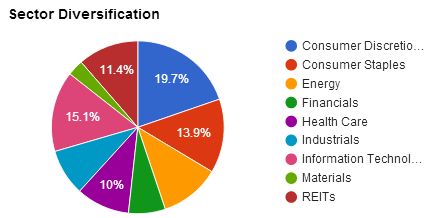 Progress Against 2015 Goals
I set some lofty goals for 2015 considering the fact that I'm a "rookie" dividend growth investor and I only had 9 months to work with.
I have many years of experience with options, swing trading and day trading but long-term investing was a whole new ballgame for me.  Fortunately there is a wonderful group of bloggers in the DGI community and they lit the path for me.
Here are the goals that I set back in April along with how I measured up:
Initiate the Dividend Empire portfolio with $15,000.00.  

Completed!

Diversify across at least 5 sectors.  

Completed!

Have an initial portfolio yield of at least 3%.  

Completed!
I mid-March, 2015, I sold off most of my existing options positions to seed my Empire portfolio with $15k, so this goal was completed almost immediately.
Over the next two weeks I used this cash to acquire 7 dividend growth stocks.  These stocks spanned 6 different sectors and provided a yield of 3.34%, knocking off the other two goals in this section.
Have an Empire portfolio value of at least $25,000.00 by the end of 2015.  

Failed

This will be achieved through funding, dividend reinvestments and/or gains
Unfortunately I fell a little short of this goal.  A couple of months ago I was saying that this goal was a sure thing.  Then the market declined, taking my portfolio value with it.
I also purchased a new house so I wasn't able to make my normal contributions the last couple of months.  The initial shock of this real estate transaction has mostly passed and I expect to continue my regular monthly contributions soon.
Here is how my portfolio value looked throughout the year:
Receive at least $500 in dividends in the Empire portfolio.  

Completed!
This was a close one that went down to the wire and I'm proud to say that I nailed it.  I ended the year with $552.21 dividends received!
With the exception of stocks held in my Loyal3 account, all dividends were automatically reinvested.  The stocks purchased through these DRIPs added $22.06 to my forward annual income and put my dividends back to work for me immediately.
Here is how my progress looked throughout the year: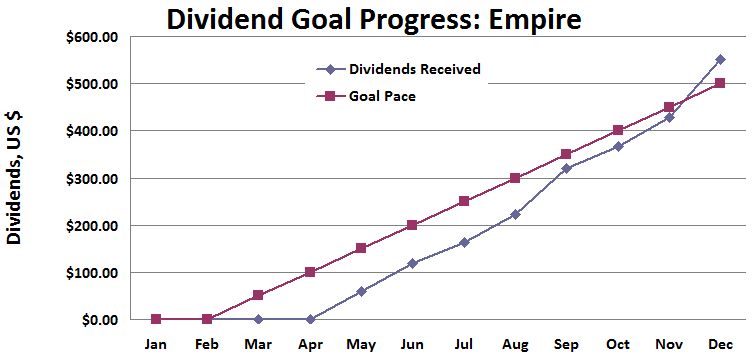 Start a blog to track and share my progress.  

Completed!

Write 8 blog posts per month on average.  

Failed

Provide monthly and quarterly progress updates.  

Completed!
I obviously started my blog – that was an easy one.
I also set a goal to write on average 8 blog posts per month.  I set this goal to help keep me engaged in stock research, learning about dividend growth investing and providing value to my readers.  Sadly I fell short on this goal.  I wrote a total of 64 articles in nine months which puts me at an average of 7.1 per month.
I was way ahead of pace up until a couple of months ago when life got in the way.  I will include a similar goal next year and make it a priority.
My last goal in the blog section was to provide monthly and quarterly progress updates.  This was completed successfully and you can find links to all of these updates on my historical data page.
2015 Dividend Retirement portfolio goals:

Have a portfolio value of at least $100,000.00 by the end of 2015.  

Sort of Completed!

Diversify across all sectors (

Failed

) with at least 30 different companies (

Completed!

)
Receive at least $1,500.00 in dividends.  

Failed
I made some rookie mistakes when putting together my Retirement portfolio goals.
The second bullet was my first blunder.  Striving to own companies in all sectors and setting a number of different stocks to own is silly in my opinion.  I quickly decided to focus on value and solid companies instead of diversity.  This led me to be overweight in a few sectors but I have decades to balance things out.
My dividend goal was also an error.  Since I was selling mutual funds in my 401k to fund this portfolio I basically had $100,000 at my disposal from the start.  A 3% yield on that money would give me $3k in dividends, so I conservatively set a goal of $1500.
This, of course, was working under the assumption that I would sell all of my mutual funds and spend it all on stocks immediately.  This would have been foolish.  I ended up being very patient and selective with my stock purchases and to this date I STILL have a large amount of cash in this account.  I haven't even sold all of the mutual funds that I marked for conversion!
That said, let's move on to my progress against these goals.  I wrote "Sort of Completed" for the $100k portfolio value because although I'm only at $92k, the mutual funds I have yet to sell will easily cover the remaining $8k.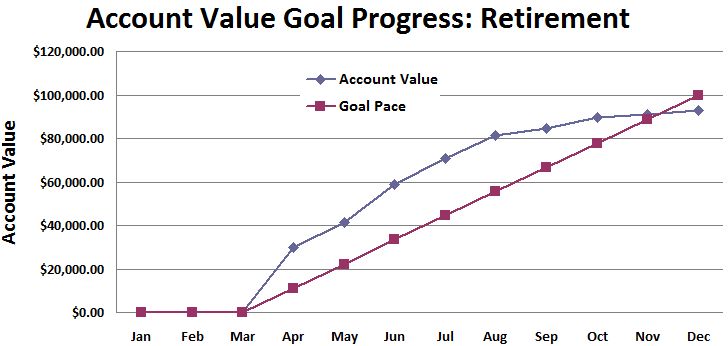 Although I failed to diversify across all sectors, I did manage to acquire stock from 30 different companies.  But like I said above, this goal is basically meaningless to me.
Finally, I came much closer to the $1500 dividend goal than I thought I would.  I ended up with a respectable $1359.65.  If I wasn't completely absent the last couple of months I might have actually hit this goal.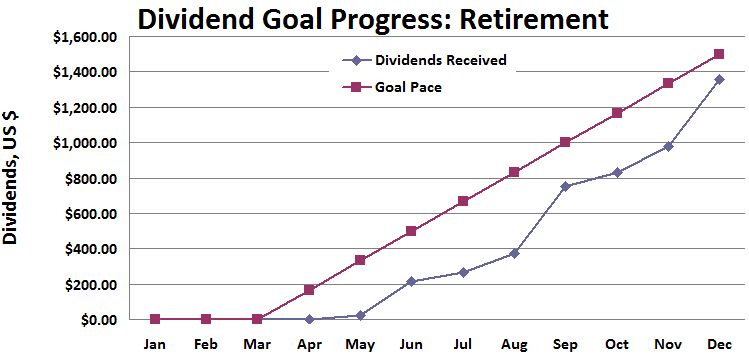 2016 Goals
Now it's time to set my goals for the upcoming year.
Empire Portfolio Goals:
Contribute at least $10,000.00 to the portfolio

At least $1,000.00 will come from other investing activities (options, swing trading or day trading)

Earn $1,000.00 in dividend income
Sell options to earn extra income (calls & puts) and to acquire stock at attractive prices (puts)
Since I'm still getting used to the expenses associated with my new home and the possibility of growing my family this year I'm setting a low bar for contributions.  I'm hopeful that I can contribute more than $10k, especially if my other investing activities go well.
I'm confident that I can break the $1k mark for dividends in 2016.  My forward annual income is currently $807.84.  $10,000 worth of investments spread out over the year should add around $120 more.  The remaining $70 will hopefully come from DRIPs, dividend increases and/or more contributions.
Finally, I'm getting to the point where I can bring my beloved options back into my life and into my Empire portfolio.  These will be conservative plays and obviously only on stocks that I am willing to carry 100 shares of.  I will simply sell calls on existing positions that I believe are overvalued and I will sell puts on stocks that I wish to own at the strike price.
Retirement Portfolio Goals:
Contribute at least $25,000.00 to the portfolio
Earn $3,000.00 in dividend income
Our 401k contribution rates are pretty much set and it should amount to about $20,000.00.  My wife and I contribute 5% each so we can take full advantage of our company match, which is a core 5% + up to a 5% match.  So by contributing 5% of our own money we actually get 15%.  The additional $5k to meet this goal will come from the sale of mutual funds.
As for the dividends, my forward annual income is about $2570 and $25k worth of investments over the course of the year should provide another $300.  I'm expecting dividend increases and portfolio rebalancing to account for the remainder.
Other Goals:
Write a total of 75 blog posts in 2016
Create a day trading website to track my other investing activities.  

Completed!

Earn extra income

Earn at least $250 in ad revenue and writing from my two websites
Earn at least $3,000 from day trading and swing trading
Earn at least $500 from selling unwanted & unneeded items around the house
As I mentioned above, consistently writing blog posts is important to me.  It keeps me focused, it keeps me organized and it hopefully provides some value to my readers and the DGI community.  I set my goal to 75 for the year (or ~6 per month).  This is slightly lower than last year's goal and that is because I'll be writing articles for two blogs; Dividend Empire & Day Trading Trek.
These two blogs will complement each other since each type of investing activity is beneficial to the other.  Day trading and swing trading will help fund my dividend portfolios, and having fully funded dividend portfolios means financial independence (the main goal of Day Trading Trek).
Any profits from day trading will be split between the Empire portfolio (which will still remain untouched & off-limits to me), other dividend portfolios that I will set up (IRA, others), paying down debt and growing my day trading account.
Day Trading Trek is already up and running so I've already completed one of my 2016 goals!  If you are interested in day trading please check out the new site and let me know what you think.
My last goal is to earn some extra income from three different sources.  One of them is obvious and I've already discussed it above – day trading and swing trading.  I believe $3,000 is doable, especially once my day trading account is fully funded (eta June 2016).
I've also set a goal to earn $250 from my websites.  This isn't much but it will at least cover the costs of running the sites.  I made about $125 in 2015 so I think this is feasible.
Finally, I want to sell $500 worth of junk.  I just moved about 50 boxes of stuff into my attic and half-way through the job I realized how silly it was.  I will probably never see these items again so why am I keeping them?!?  I'm sure I can easily get $500 this year through selling items on eBay, Amazon and Craigslist.  All proceeds will go to the Empire portfolio.
So there you have it!  2015 was a wonderful year and I'm looking forward to my first full year as a dividend growth investor.  I wish everyone a happy new year and I hope we all have a great 2016!