Better late than never!  I'm finally ready to report my April dividend income.  Last month didn't come close to my March totals as expected, but the accounts are still growing and that's all that matters.

Dividend Income
In April I received a total of $162.15 in my two portfolios: $40.00 in my Empire portfolio and $122.15 in my Retirement portfolio.
These values represent a 82% increase for my Empire portfolio and a 10% decrease for my Retirement portfolio compared to my January income.
These look like some odd numbers on the surface but they are easily explained.  The massive increase in the Empire is due to Coca Cola (KO) not paying out in January (they are on the Apr-Jul-Oct-Dec schedule).  The decrease in dividend income in the Retirement portfolio is due to the odd payment schedules for Pepsi (PEP) and Disney (DIS) – which both pay out in January but not in April.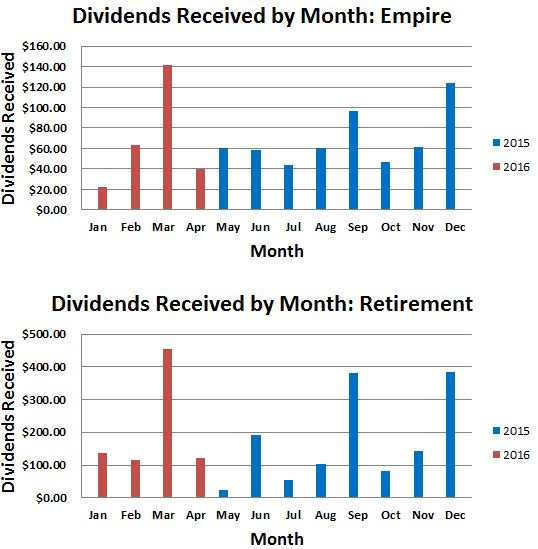 A full year has passed now (anniversary post hopefully coming soon) and I'm quite pleased with my progress.  I'm really looking forward to finally looking at year-over-year comparisons next month!
Here is a breakdown of the companies that paid me in April:
I received a 4 payments in the Empire portfolio and 6 payments in my Retirement portfolio.  The DRIPs that I have set up in my Empire account increased my forward annual income by $1.84.
Pay raises:
There were only 2 dividend increases for me last month but they were good ones.  Qualcomm (QCOM) gave me a 10% raise and Johnson and Johnson (JNJ) gave me a 7% raise.

Forward Income:
Unfortunately I didn't make any purchases in my portfolios other than my monthly Loyal3 contributions and DRIPs so my forward income didn't increase much:
Progress Against Goals:
My dividend goals for 2016 are to receive at least $1000 worth of dividends in my Empire portfolio and $3000 in my Retirement portfolio.  Here is my progress through April:
It always looks like I'm falling behind during these low dividend months but come June I'm expecting another big jump (just like March).
Check out my Historical Data page where I have organized all of my monthly incomes, updates and screens (with links).  Thanks for stopping by and I hope you all have a great May!
Disclosure: Long all stocks mentioned in this article.