One of my goals for 2015 was to initiate my dividend growth portfolio, named Dividend Empire, with $15,000.00 invested in diversified dividend growth stocks. As you can imagine, this goal was quite enjoyable. When I made my first purchases I was really eager to get going so I probably didn't research the stocks as much as I should have. Looking back on my acquisitions I actually ended up following my current method for most of my purchases and I really have no regrets. In this post I will describe and analyze my 7 purchases which began on March 30, 2015 and ended on April 10, 2015.
3/30/2015 – AAPL (Apple)
Shares purchased: 25
Cost per share: $125.37
Commissions: $4.95
Cost basis: $3139.18
Yield: 1.48%
Expected annual income: $47
This is not what most people would consider a dividend growth stock, and definitely not a stock that people would consider as their first purchase for their dividend growth portfolio. But I have my reasons. The main reason I looked at AAPL was because I made a killing off of the company back in my options trading days. With Apple, the stock price goes up and the earnings grow. Period. Then I noticed their dividend. While it was only yielding 1.5% at the time of purchase, it has increased substantially each year since Apple initiated it (3 years) and they certainly have the cash to continue increasing it.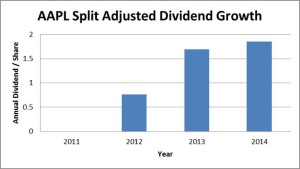 That brings me to my next reason for purchasing AAPL. I am expecting a massive dividend increase announcement from Apple this month. Apple has a dividend payout ratio of just ~25% and a ton of cash, so there is a lot of room to grow. Finally, I simply like Apple products, and I know that most people do. For some people Apple is sort of like a religion. Anything they create must be purchased. For that reason alone I don't see anything that can stop Apple's growth.
4/1/2015 – F (Ford)
Shares purchased: 100
Cost per share: $15.89
Commissions: $4.95
Cost basis: $1593.94
Yield: 3.76%
Expected annual income: $60
Another non-traditional pick for a dividend growth portfolio but at least Ford yields 3.8%! I opened a relatively small position in F because I have 7 Ford option contracts that expire January 2016. These are call options with a strike price of $15. I am hoping that Ford will increase to the point where I can sell off a few contracts to fund the exercise of the remaining contracts (to increase my position to 200 or 300 shares). I think Ford is seriously undervalued and Merrill Edge agrees with a BofAML 12 month target of $21. Analysts estimate current year growth of 37% compared to an industry estimate of 15%, and next year's estimate is 18% compared to 0.3% for the industry. Ford's dividend is spectacular and has increased for 4 straight years at an average pace of 48%. I don't expect Ford to maintain that insane dividend growth but I think 10% would be reasonable and attractive.
Ford is also resting on a very nice support level right around $15.80 – $16 which helps me sleep at night. I picked up my shares right in that range at $15.89 per share.
Ford One-Year Chart (TradeKing)

4/1/2015 – KO (Coca-Cola)
Shares purchased: 75
Cost per share: $40.58
Commissions: $4.95
Cost basis: $3048.38
Yield: 3.25%
Expected annual income: $99
My first conventional dividend growth stock. Coca-cola is a must have in a dividend growth portfolio. KO isn't going anywhere due to it's notoriously wide economical moat and it has a stellar dividend history. KO has raised it's dividend for 53 consecutive years and has a 10-year dividend growth rate of 9.3%. It's most recent dividend increase was 8.2%.
I don't see this growth rate changing much in the future. With the stock trading close to the 52-week low and near a very strong support level at $40 KO looked like a good buy.
Coca-Cola One-Year Chart (TradeKing)
4/6/2015 – WFC (Wells Fargo)
Shares purchased: 50
Cost per share: $54.28
Commissions: $4.95
Cost basis: $2718.90
Yield: 2.57%
Expected annual income: $70
Wells Fargo just made the CCC list with 5 years of consecutive dividend increases with a 5 year average increase of 22.5%. This is a bit inflated due to WFC ramping up dividends after receiving regulatory approval to do so. It might slow down but I don't believe it will stop.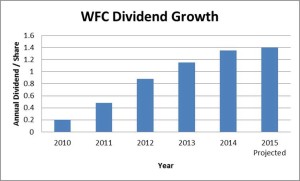 I was planning on going with Bank of America (BAC) to cover the financial sector but their dividend is small and they are a bit more volatile than WFC. I also visited a Wells Fargo branch in person recently and was extremely impressed. Staff was waiting to greet and direct me, they were very knowledgeable, and they even provided bottled water! All of these reasons combined with a very nice 3-year uptrend in the stock price convinced me to invest.
4/6/2015 – T (AT&T)
Shares purchased: 100
Cost per share: $33.35
Commissions: $4.95
Cost basis: $3339.85
Yield: 5.63%
Expected annual income: $188
I have to be honest here. I added AT&T to my portfolio for one reason – the dividend yield. I needed a telecommunications stock for diversification and it was between AT&T and Verizon. I recently canceled my Verizon Fios subscription because I HATED IT so the decision was simple. AT&T has been around forever, they steadily (but slowly) increase their dividends and they should consistently dish out a hefty annual paycheck.
4/8/2015 – XOM (Exxon Mobil)
Shares purchased: 20
Cost per share: $84.27
Commissions: $4.95
Cost basis: $1690.35
Yield: 3.27%
Expected annual income: $55.20
Oil is way down and energy stocks seem to be trading at a discount – especially XOM. But I'm no expert so I decided to leg into this sector with a relatively small investment. I'll keep a close eye on the sector and if everything looks good next time I have some cash I'll either double down on XOM or establish a position in COP. XOM has a dividend history of over 100 years and they have been steadily increasing their dividend over the past 32 years. The 10-year dividend growth rate is an attractive 9.8% and I'm expecting another sizable increase this month.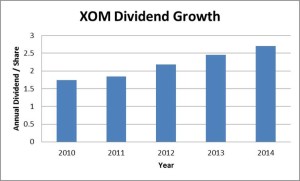 4/10/2015 – MCD (McDonalds)
Shares purchased: 0.2573
Cost per share: $97.17
Commissions: $0
Cost basis: $25
Yield: 3.50%
Expected annual income: $0.87
Yes, you read that right. I invested $25 in McDonalds. The reason is that I wanted to take Loyal3.com for a test drive. They allow you to select from a basket of stocks for ZERO commissions. After testing them out for a while I will increase my monthly contributions (currently $25/mo) with the goal of investing $1k in MCD by the end of 2015. I will include details of my MCD selection and a review of Loyal3 in a future post.
So when it was all said and done, I initiated my dividend growth portfolio (Dividend Empire) with 7 stocks covering 6 sectors. My total initial investment was $15,555.60, the portfolio yield on cost is 3.34% and my expected annual dividend income is $520.