I made some decent dividend income in July but I'm very disappointed in my lack of buying activity.  I have two excuses for my inactivity – a good one and a bad one.
The good excuse is that I was on vacation for a week and a half and had limited access to computers and research.  The bad excuse is that I've been waiting on the sidelines for the market to drop.
I have acquired this nasty habit of trying to time the market which results in me missing out on a lot of good opportunities.  My goal moving forward is to simply look for undervalued companies and invest in them regularly no matter what the market is doing.
That said, here are the buys and sells that I managed to squeak out in July: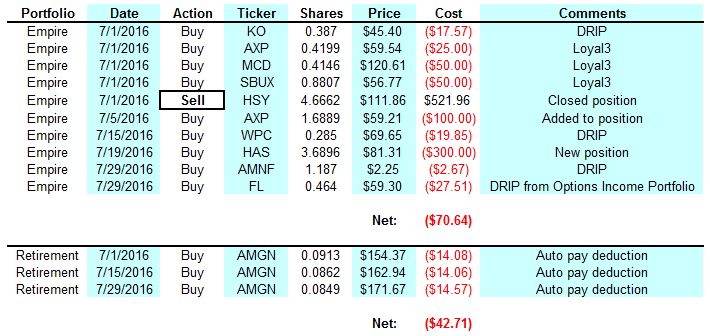 I made a total of 12 purchases; 9 in the Empire Portfolio and 3 in my Retirement Portfolio.  I also made one sale – closing out my HSY stake (more on this below).
I did manage to make quite a few small purchases in the Empire portfolio, but after selling off my HSY shares my NET investments for the month totaled only $70.  This isn't going to help improve my dividend totals…
To make matters worse, I didn't make a single purchase in my Retirement portfolio.  The only 3 buys were my automatic payroll deductions to buy AMGN shares.
Transaction Details
Here are some details around two of my more interesting transactions.
7/1/2016 – Sell 4.6662 Shares of Hershey (HSY)
It's interesting looking back at my original post on HSY.  When I made my first small HSY buy I noted that a $25 purchase didn't seem significant at the time, but over the course of years could build a sizable position.  Also, through dollar cost averaging I could hopefully accumulate these shares for a reasonable average price / share.
I began accumulating HSY in my Loyal3 account back in May 2015.  I have since contributed $25 per month, every month and managed to amass 4.6662 shares at a cost of $425 ($91.08 per share).
Last month HSY shares skyrocketed to over $113 due to the Mondelez bid, which was promptly rejected.  I felt that at those levels HSY was extremely overvalued so I decided to close out my shares and redistribute the funds.
I closed out at $111.86 per share for a gain of ($118.86-$91.08) * 4.6662 shares = $96.96.  In addition to these capital gains I received a total of $7.49 in dividends from the company.  That brings my total gains to $104.45, or 24.6% (21.1% annualized).  Not bad for just a $25 per month commitment over a year!
Now keep in mind that it is very rare for me to sell one of my dividend growth stocks.  I review my portfolios periodically to identify stocks that are either under performing or are overvalued.  Stocks that I deem to be extremely overvalued are considered for sale since the funds / gains can be used for fairly valued investments.
This was the case with HSY.  I used some of the proceeds to start positions in American Express (AXP) and Hasbro (HAS), companies that I feel have better growth potential than HSY.  I plan on adding to these two new companies regularly.
7/29/2016 – Buy 0.464 Shares of Foot Locker (FL)
On the surface this doesn't look very interesting.  Who cares about half a share of Foot Locker?!?  The significance of this transaction comes from the method used to obtain the shares.
I recently wrote a post describing some of my other investing activities and in that article I mentioned my Options Income Portfolio (post on my method coming soon).  In this portfolio I acquired 100 shares of Foot Locker at a discount by selling a put option contract.
After being assigned the 100 shares, I went on to sell a call option contract with an expiration date AFTER Foot Locker's ex-dividend date.  This allowed me to capture a dividend on my 100 shares before they get called away (expected later this month).
Since I love Foot Locker I decided to have the dividend automatically reinvested in FL shares and I assigned these shares to my Empire portfolio.
Other Buys
The rest of my purchases were either small Loyal3 purchases or DRIPs so I won't go into any details.
August Goals
Purchase at least $1000 worth of stock in Empire and $3000 in Retirement.