June was a great month for me in terms of dividend income.  But unfortunately I didn't have time to write up my purchases for the month, so now I'd like to review all of my June buys in this post.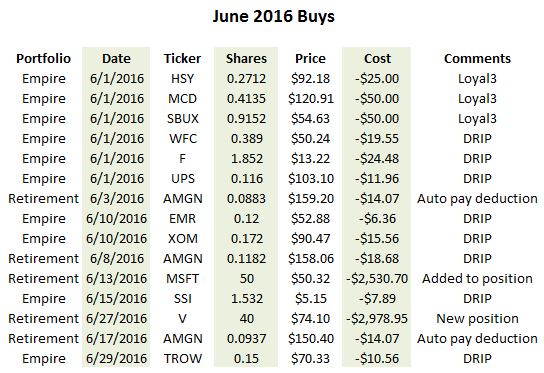 I made a total of 15 purchases; 10 in the Empire Portfolio and 5 in my Retirement Portfolio.  There was one new purchase, one large addition to an existing position and several small DRIPs / monthly Loyal3 buys.
While I'm happy to say that my contributions to the Retirement portfolio were substantial ($5,556.47), my Empire contributions were a measly $221.36.  I want this amount to be at least $500 each month so I'm making this a priority moving forward.
On to some details…
6/13/2016 – 50 Shares of Microsoft (MSFT)
My initial purchase of MSFT was back on April 22, 2015 when I purchased 70 shares at $43.04.  Microsoft has since treated me quite well, paying me a total of $119 in dividends and increasing in value by $9.26/share as of this writing (~$650 unrealized gain).
I decided to add to my position (now 120 shares total) after Microsoft announced their plans to acquire LinkedIn.  After hitting a high of nearly $57 a couple of times MSFT pulled back to the $50 range.  I find this price very attractive since I believe it is a bargain price and also sits on a very strong support level.
If you are interested in why I believe MSFT is a bargain at $50 check out this article.  The author shares my views on the company so I won't go into any detail here.
6/27/2016 – 40 Shares of Visa (V)
I've had Visa on my watch list since I started dividend growth investing.  Unfortunately I just kept on missing all of the dips.  I finally pulled the trigger last month and picked up 40 shares.
Visa is a bit pricey but it is for a good reason – strong growth.  This company has been high on my list for one reason: great EPS growth + low payout ratio = big time dividend growth.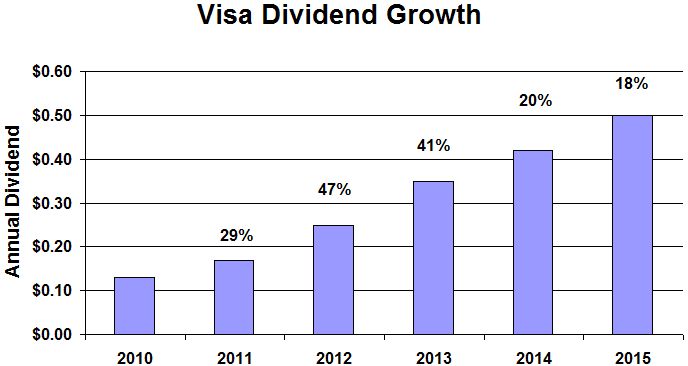 Other Buys
The rest of my purchases were either small Loyal3 purchases or DRIPs so I won't go into any details.
July Goals
I'm hoping to contribute at least $500 to Empire, $3000 to Retirement and $1500 to other investments.