It's been just over a year since I opened my Loyal3 account (part of my Dividend Empire portfolio).  I've recently made a few changes and additions so I figured it's time for an update.
If you're not familiar with Loyal3 they are a commission-free broker with a decent collection of stocks, including some high quality dividend growth stocks.  For more info be sure to check out my Loyal3 post or just head to their website at Loyal3.com.
I initiated my Loyal3 account back on April 10, 2015, when I purchased 0.2573 shares of McDonald's (MCD) for $25.  I then set up automatic monthly investments with the hopes of accumulating a good-sized MCD stake.
Well it worked.  Just 13 months later my MCD stake has grown to 3.2558 shares worth about $420 ($350 cost basis).  I've also collected a total of $5.69 dividends over the course of building up this position.
Since that initial MCD purchase, I also decided to start accumulating Hershey (HSY) and more recently Starbucks (SBUX).  I also made a couple of one-time purchases – Target (TGT) and Gap (GPS).  Here is a summary of my current Loyal3 holdings that are part of my Dividend Empire portfolio:
I'm quite please with my dollar-cost-averaging experiment with MCD and HSY.  MCD has been on a tear over the past year so my purchasing method really didn't make a difference.  HSY, however, has been mostly flat if not a little down since my initial purchase.  But since I added shares on a regular basis I managed to squeak out a small gain.
Gap was my big blunder and it's a good thing I only invested $100.  Although TGT is down a bit I'm still happy with the purchase and may even begin adding more on a monthly basis (since I love the company).  Finally, I just started SBUX last month and I'm looking forward to building up a sizable position.
A Look Ahead
I have a bit more money to allocate to Loyal3 since I was recently promoted and all the dust has finally settled from my new home purchase.  So I've decided to increase my contributions, add a new stock (SBUX) and actually start a brand new portfolio for my wife and I which we will call the Freedom Fund (very original right?).
The Freedom Fund will include all types of stocks, not just dividend growth stocks, and I'll most likely report the progress on a quarterly basis.  At some point I might add a page to track the portfolio on this site.  For now, I'll just mention that I'm making monthly contributions towards building positions in Amazon (AMZN) and Anheuser Busch Inbev (BUD).
Here are all of the monthly contributions I have set up in Loyal3: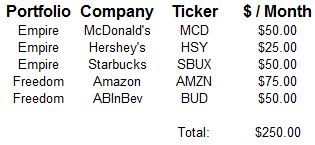 This is the plan for the foreseeable future.  I'm going to keep a close eye on my budget over the next couple of months and if everything looks good I'll go ahead and increase my contributions some more.