I recently discovered Loyal3.com, a website / stock broker that allows you to buy and sell stocks with no fees. That's right – no fees. Loyal3 generates revenue from companies they partner with so they don't have to charge us. Here is a quote from their site:
Buy stock in the brands you love, fee-free. Including IPOs.
I'm not really interested in buying IPOs since it doesn't fit my dividend growth strategy so I wont go into details in this post. I will, however, discuss the stocks in a bit more detail. You can't buy and sell any stock through Loyal3. They currently (4/16/2015) have 65 companies available to trade. This might sound like a deal breaker but the good news is that most of the stocks are high quality dividend growth stocks! The majority of companies on Loyal3 are from the goods and services sector and include names like McDonalds (MCD), Walmart (WMT), Target (TGT), Macy's (M), and Coca-Cola (KO). The remaining companies are mostly tech giants like Apple (AAPL), Facebook (FB) and Microsoft (MSFT). You can find a complete list of stocks that Loyal3 offers HERE.
Loyal3 only requires a $10 investment to start and most importantly they allow fractional share purchases. So if you only have $10 to invest but REALLY want to own AAPL, you can purchase 0.079 shares of AAPL. In addition to one-time purchases, Loyal3 also allows you to make monthly investments that can be automatically debited from your bank account. This is my favorite feature because it enables the investor to gradually accumulate stock over time and employs the proven method of dollar cost averaging.
So how do I plan to use Loyal3 for my dividend growth portfolio? As I mentioned, Loyal3 offers plenty of quality dividend growth stocks. Here is a table highlighting the available stocks that I am following along with their current yields (on 4/16/2015):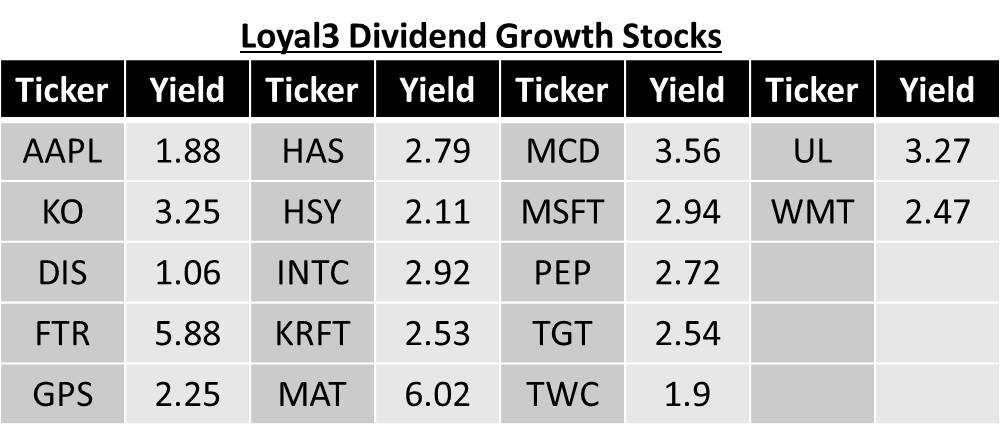 I needed a stock from the consumer services sector for the
initial setup of my dividend growth portfolio
and McDonald's (MCD) looked attractive. Just to test out Loyal3 I decided to invest $25 per month in MCD starting 4/10/2015. I will most likely increase my monthly allocation to MCD in June with the goal of establishing a $1000 position. I will also keep my eye out for other buying opportunities from the pool of Loyal3 dividend stocks – especially Microsoft (MSFT), Walmart (WMT) and Hasbro (HAS).