The inspiration for this post came from a Seeking Alpha article written by Retire Before Dad titled "20 Years In The Chevron DRIP."  In this article the author describes how he was first exposed to dividend growth investing.  He was gifted a share of Chevron (CVX) from his uncle with the instructions to continue contributing to the position and to reinvest all dividends.  It is a great article that clearly illustrates the power of dividend growth investing.
The article written by Retire Before Dad really resonated with me because my goal is to do something very similar for my children, just on a much larger scale.  If you haven't read my post, "Introduction to Dividend Empire," in summary my Dividend Empire portfolio is entirely for my children, their children and beyond.  It is money and income that I will never touch.
One of my favorite things to do is project how much the Dividend Empire portfolio will be worth when my children are older.  Or better yet what it will be worth when my grandchildren and even my great grandchildren are managing the portfolio.  The numbers are staggering (future post), but these are just projections and are very difficult to model.  The article by Retire Before Dad on the other hand was a real life example using real historical data.  It got me thinking.
What if an uncle or my parents started a small dividend growth portfolio for me when I was born?  How much would it be worth now?  How much income might it provide?
Now don't get me wrong, my parents and my entire family have given me everything I have ever needed. This is not a knock on them – they just weren't into investing.  But I am…
That brings us to the 33 year old dividend growth portfolio.  I apologize for the somewhat misleading title.  I do not actually have such a portfolio.  But I sure can model one.  As a fun exercise and as an example of what dividend growth investing can do for you and your children I sought out to answer the following question. What if my parents seeded a $5k dividend portfolio for me when I was born?
I was born in 1981. Let's assume that my parents invested $5k equally across five different companies. No further contributions were made and all dividends were reinvested.
This is a difficult and somewhat unfair exercise, however, because we have the benefit of 20/20 hindsight. I know exactly what stocks have performed best over last 30 years.  In order to remove this bias from my stock selection I used the following method to pick the stocks.
Start with a list of the top 100 Fortune 500 companies from 1981 (ranked by revenue)

This seems like a reasonable list to choose a stock from if you are an inexperienced investor

Use random.org to randomize the list
Select the first five companies that paid dividends in 1981 and invest $1000 in each of them
So basically I assumed that my parents would take a list of 100 great companies and throw five darts at the list.  Not exactly the best way to select stocks but I don't want to cheat (although most of you will probably think I cheated when you see JNJ on the list).  Here are the results of the stock selection:
STEP 1: The top 100 Fortune 500 companies from 1981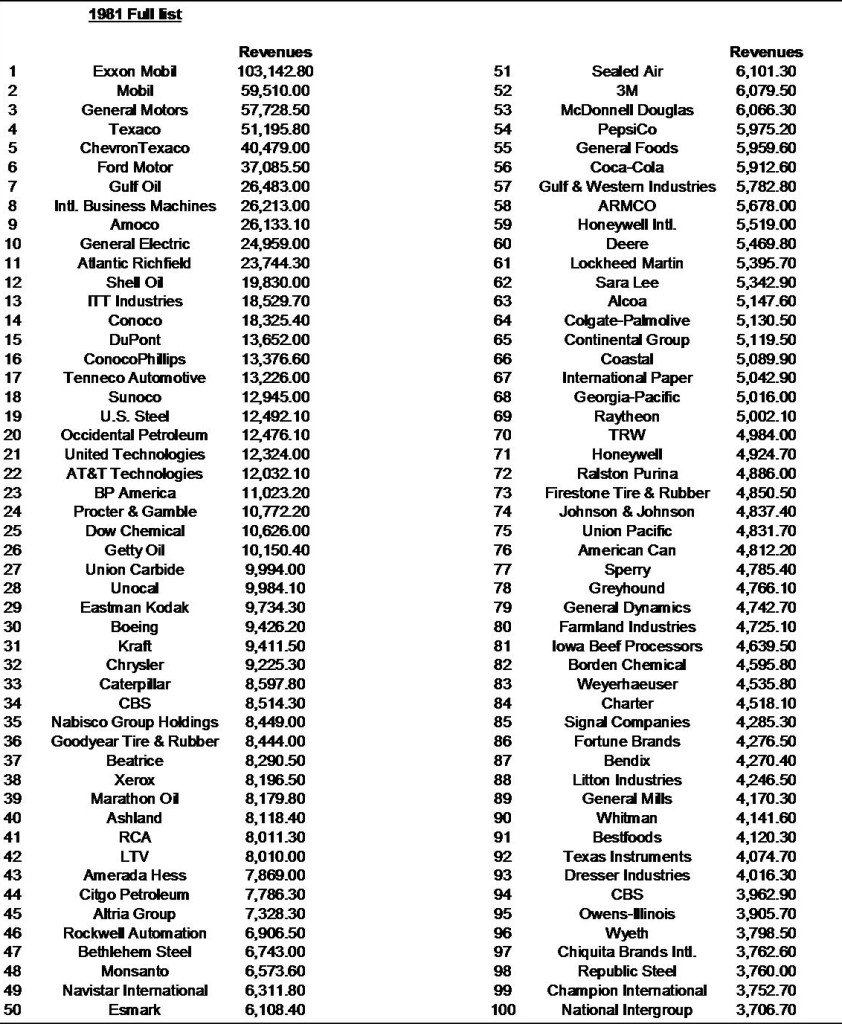 STEPS 2/3: Randomize the list and select the first 5 dividend paying companies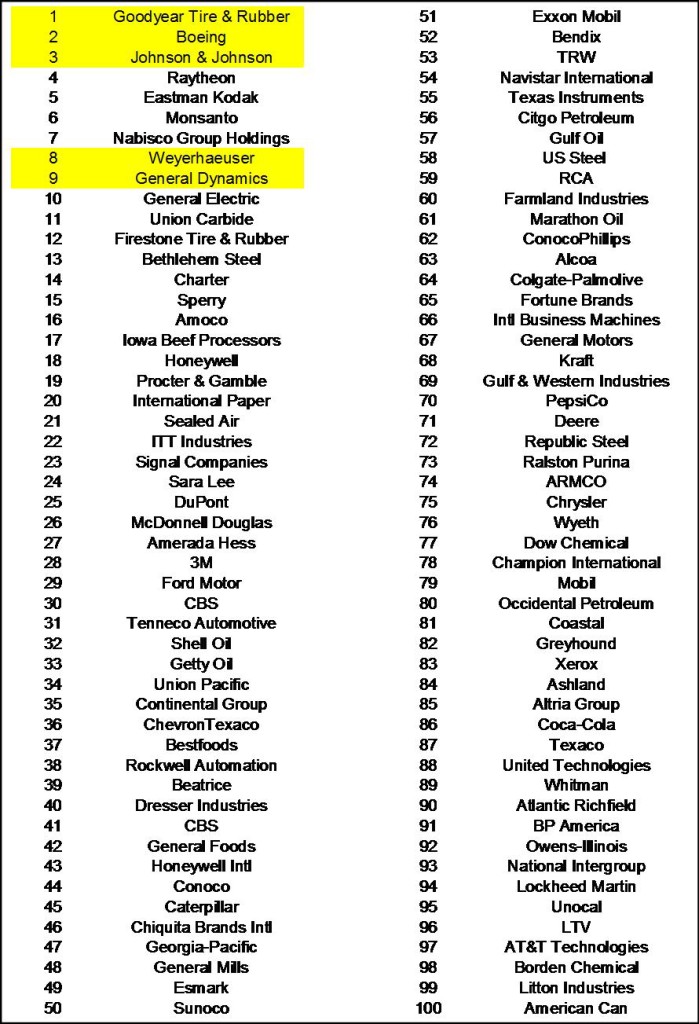 Here are the winning stocks:
Goodyear Tire & Rubber (GT)
Boeing (BA)
Johnson & Johnson (JNJ)
Weyerhaeuser (WY)
General Dynamics (GD)
Raytheon, Eastman Kodak, Monsanto and Nabisco Group Holdings were not selected since they didn't pay dividends in 1981.  So there it is.  Totally random (I promise).  As I go through the numbers, keep in mind that none of the typical criteria we use to select dividend growth stocks was used here.  I didn't care about dividend growth, dividend yield, PE ratios, etc.  This was simply two parents picking 5 dividend paying stocks off of the fortune 500 list for their kid.
Now for the fun part.  Here is the performance of all 5 stocks in my portfolio after investing $1000 in each in 1981, all dividends reinvested (data was gathered from Yahoo Finance).
Goodyear Tire & Rubber (GT)

Goodyear Tires & Rubber wasn't a very good investment, only averaging 5.57% compound annual growth.  They cut their dividend several times and didn't even pay a dividend from 2002 until 2013.  Nevertheless, GT still provided a positive return.  And with careful portfolio management this stock most likely would have been sold after one of the many dividend cuts, possibly at a much higher value than the current $6k.
Boeing (BA)

Boeing (BA) turned out to be an excellent pick, averaging 13.3% annual returns over the 33 year period.  I would have participated in 4 splits and reinvested a total of $9,280.68 worth of dividends, increasing my share total from 39 to almost 420.  I would be making $1,526.77 per year in dividends from this position today.
Johnson & Johnson (JNJ)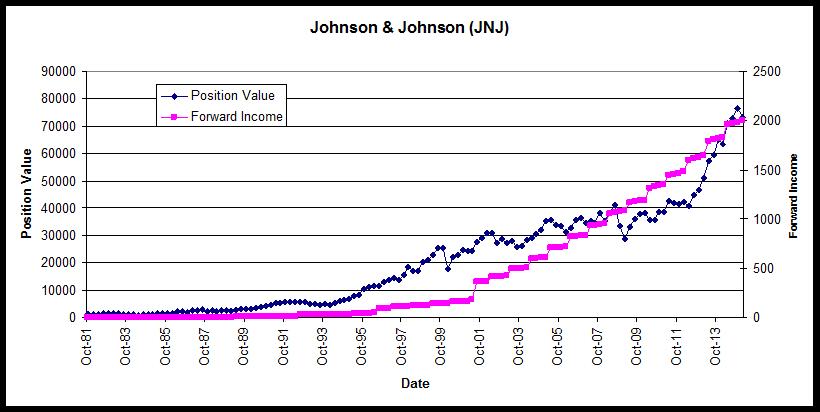 Johnson & Johnson (JNJ) would have been one of the best choices available in 1981.  Consistent dividend increases and stock appreciation would have resulted in an average annual growth rate of 13.9%.  Four 2:1 stock splits over this period, along with all those reinvested dividends, helped increase my holdings from 29 shares to over 700!  After receiving just $1.61 in dividends the first year I would be earning over $2100 per year today.
Weyerhaeuser (WY)

Weyerhaeuser (WY) turned out to be a decent investment, averaging 8.2% annual growth.  They did cut dividends a few times around 2008 and 2009, but they more than made up for it with a $26/share dividend in 2010.  The dividends have been creeping up recently and my forward income for this position would be $483.53 today.
General Dynamics (GD)

General Dynamics (GD) would have been yet another excellent investment in 1981.  This position would have averaged 13.61% growth annually and it would have benefited from 3 2:1 stock splits.  Forward income for this position would be $1,326.75 today.
Portfolio Summary

So what are the answers to the questions I posed at the beginning of this post?  Overall, my parents randomly picking these 5 dividend paying stocks from the 1981 fortune 500 list would have worked out very well.  With just a $5,000.00 investment in these companies back in 1981, my portfolio today would be worth $221,508.92 and would pay me annual dividends of over $5,500!  This works out to an average annual growth rate of 12.2%.
Now obviously past performance does not guarantee future results, but I like my odds.  Here are some reasons why.
I am not picking stocks randomly.  I go through a rigorous selection process to find the best dividend growth stocks possible at the time.  I am not throwing darts at the fortune 500 list.
In addition to selecting great stocks I will also diversify into at least 30 different companies (most likely more).  This greatly increases my odds of selecting stocks that will perform like JNJ or GD did in the example above.  So while there will be some duds, like GT, the good performers should more than make up for it.
Finally, since I will be actively managing my portfolios and my positions, I will exit GT-like positions as soon as they cut their dividends.  If this would have been done for GT in the example above, I most likely would have exited the position way back in the early 90's for a decent profit.  This would have allowed me to move the funds into a better dividend growth stock which would have greatly increased my returns.
I had a lot of fun doing this exercise and hopefully it helps shed some light on the power of dividend growth investing.
What are your thoughts on my "33 year old dividend growth portfolio?"  Did anyone buy you stocks when you were younger?