It's time for a look back on my first full year of dividend growth investing and also my recent reentry into the world of trading.
I have a lot to catch up on since I had to take some time off from posting.  My last update post was way back in August so here I'll give some details on my activities from September – December 2016.  I will also summarize how I did for the entire year in all of my portfolios.
2016 Income Summary
In 2016 I made a total of $4406.96 in my taxable accounts from dividends (Empire Portfolio), option trading, swing trading and peer to peer (P2P) lending.  I also received $3,215.45 worth of dividends in my Dividend Retirement portfolio (see details in dividend section below).  Here is a breakdown of my income by month and portfolio: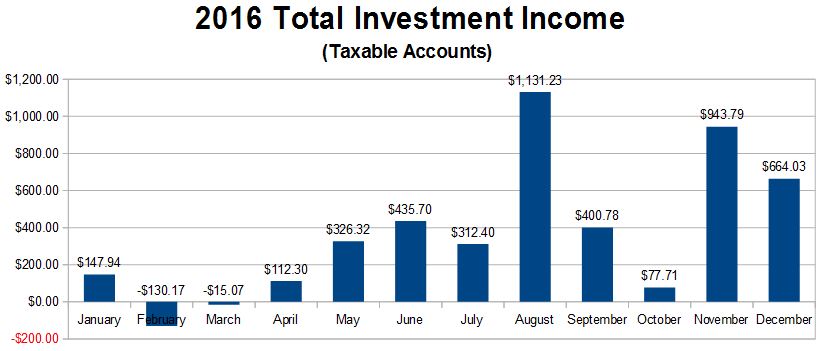 I am very pleased with my performance last year despite missing my $1k dividend goal for the Empire portfolio.  Thankfully I more than made up for it through Options and Swing trading where I netted over $3400 in just 8 months of trading.
Dividend Update
Please refer to my Historical Data page to view past data with links to the write-ups.
Empire:  $325.86 from September – December 2016.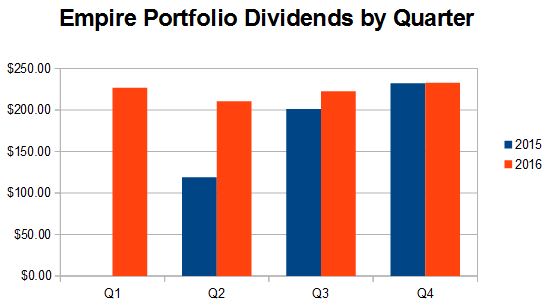 My totals were down a bit over the last couple of months due to a general lack of buying and some sales (under-performing positions and some tax loss harvesting).  I sold off my Stage Stores (SSI), Wells Fargo (WFC) and Target (TGT) positions for a net loss of about $700.  I immediately moved the resulting cash into Hasbro (HAS) and Hershey (HSY).
Another change I made to this portfolio is my DRIP strategy.  I now have enough cash from dividends, trading and contributions to selectively reinvest my cash.  The only positions I left on DRIP are Apple (AAPL) and Exxon Mobil (XOM).
The beginning of the year is typically a great time for me to invest so I plan on pumping a ton of cash into this portfolio.  I usually get money back for taxes, my annual bonus is coming soon and hopefully I'll get a nice pay raise as well.  All this combined with my relatively consistent income from trading should supply ample cash for dividend growth investing.
Retirement:  $1,464.62 from September – December 2016.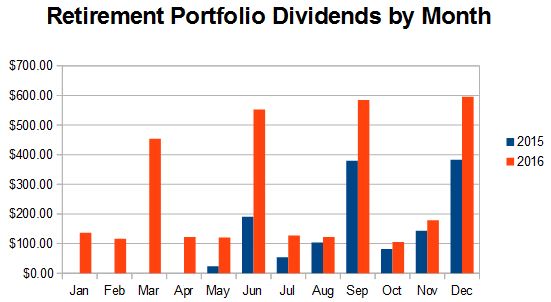 Not much to say here except my Retirement portfolio is just crushing it.  I'm raking in tons of dividends (forward income ~$4k) and I'm up over $11,000 in unrealized gains.
Unlike my Empire portfolio I have been quite active here due to a constant supply of cash (automatic pay check deductions and company matches).  Over the past couple of months I opened large positions in Bristol-Myers Squibb (BMY), Gilead (GILD), Activision Blizzard (ATVI), Intel (INTC) and Southern Company (SO).  I also doubled down on my Public Storage (PSA) position.
I plan on continuing my high-frequency buying in this account.  My wife and I (and our employer) contribute about $3k per month to our 401k.  $2k of this goes to a self directed brokerage account which I track on this site (Retirement portfolio) and $1k goes to stock and bond funds offered through the 401k plan.  This means I can make, on average, one fairly large buy per month here.
Goals:
Empire goals –
Contribute $10k to the portfolio:  

$18,450

– A lot of this was used for trading or options but the cash was deposited into my account.
Earn $1k in dividends:  

$892.94

– Quite a big miss here but as I said above I made up for it with trading income.
Sell options for extra income:  

$3,036.41

– Towards the end of the year I focused a lot of my attention on this strategy and it clearly paid off, making up for my weak dividend total and more…
Retirement goals –
Contribute $25k to the portfolio:  

$32,057.68

Earn $3k in dividends:  

$3,215.45
Option Income Portfolio
Last post: Update on Other Portfolios – August 2016
Income from September – December 2016: $1,682.40
Total 2016 income: $3,036.41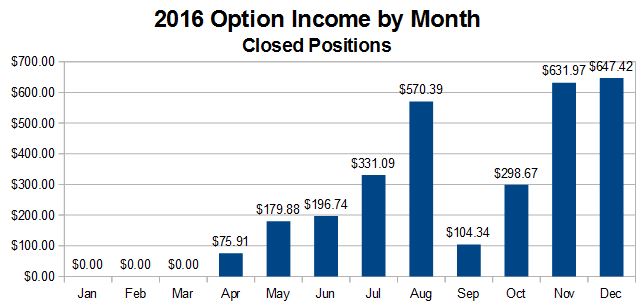 The basic goal of the Option Income portfolio is to generate income from the sale of option contracts.  I write (sell) out of the money put contracts on stocks that I wish to own at the price that I wish to own them at.  If assigned shares, I simply write calls and collect dividends (if paid) until the shares are called away (detailed strategy).
I won't go into the details of all of my transactions here because they can be found on my Option Income Portfolio page.  This page is updated daily with all transactions and price movements.
I will say that things have been going very well with this strategy.  I started back in April and this strategy has proven to be effective through all types of market swings and I gained (closed positions) $3,036.41 on the year.  Most trades go smoothly and as expected, but I have been assigned shares on trades that went horribly against me and still got out with hefty gains.  I will write a post with some examples soon…
Swing Trading Portfolio
Last post: Update on Other Portfolios – August 2016
Income from September – December 2016: $17.56
Total 2016 income: $379.38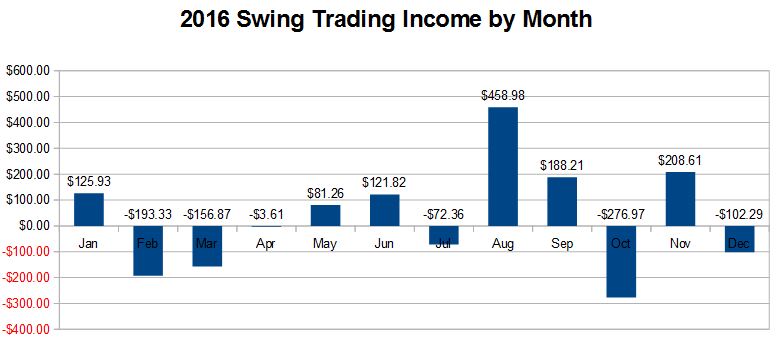 For swing trading I use technical chart analysis (support/resistance, chart patterns, indicators, etc) to take advantage of short-term swings in various stocks.  These trades last anywhere from a couple of minutes to several weeks and the same analysis can be used on charts with multiple time frames.
This is not quite as consistent as I would like.  I used to be much better in the old days!  I really do think I'm getting the feel back so hopefully I'll post some better numbers in 2017.  Again I won't go into any trade details here because all of my trades can be found on my Swing Trading page (updated daily).
Lending Club Portfolio (P2P)
Well this venture was a total bust.  I was cruising at a 16% annualized return for a few months but then the deadbeats revealed themselves.  I currently have 4 loans over 60 days late and my expected return is around 2% now.  I am in the process of liquidating all of my loans on the secondary market so I can use the cash for my more promising strategies.  I will no longer be posting on P2P.
Moving Forward
Due to the success I am having with my other investing strategies I will take a total return approach moving forward.  This means that in addition to dividend growth stocks, I will also pursue non dividend paying stocks (in my Freedom Fund) and I will continue trading options and swings.
Dividend growth investing is still the largest portion of my strategy (over 65% of total investments) and will remain the focus of this site.  And staying true to the mission of this site I will keep my Empire portfolio intact and continue adding to it when opportunities arise.  I still have every intention of growing this portfolio and passing it on to my descendants.
Similarly, I will continue dedicating 67% of my 401k to dividend growth investing.  I see no reason to change this allocation since I have been greatly outpacing the other investment options available through my 401k.
That said, I will continue to post on some of my other activities (options, swing, etc) and give quarterly updates on my successes or failures.  I think it is important for investors to be "well rounded" and understand all of the investing tools available to us.
I will also change my dividend income updates to quarterly instead of monthly.  I think this gives a clearer picture of dividend growth since most companies pay on a quarterly basis.
Posting updates less often will hopefully give me more time for what I believe to be more beneficial writing: stock screens, stock analysis, general dividend growth investing topics, and examples from my other investment strategies.
Over the next few weeks I hope to bring back my CCC screen and provide an updated 2017 dividend growth stock watch list.  I will also post updated goals, my overall investment strategy, analyze some individual stocks and provide a couple sample trades from my Option Income and Swing portfolios.
Sorry for such a long post but it's been a while!  Thank you for reading and I hope everyone has a great 2017.