Time for my second monthly post on the activities and gains/losses in my other portfolios.  These portfolios include Option Income, Swing Trading, Day Trading and P2P Lending.  My goal is to reinvest all gains from these activities into either my Dividend Empire portfolio or my Freedom Fund.
In this post I will give an update on how I performed in July, 2016.  In June I made a total of $435.70 income from all of my portfolios.  My Empire and Freedom portfolios produced $105.31 in dividends and I raked in $330.39 from all other activities.  I was hoping to break the $500 mark in July but unfortunately I fell a little short due to some poor swing trading decisions.  Here are the details…
Summary
I made a total of $312.40 in July falling well short of my $500 goal.  Dividends accounted for $41.04 while all other activities produced $271.36.    Clearly I had a bad month swing trading.  If it wasn't for the -$205.26 in that category I would have hit my $500 mark.
Other than that I am very pleased with my performance considering the fact that I was only active for 2.5 weeks out of the month (vacation).  I did very well in the Option Income and Day Trading categories.  Lending Club (P2P) looks minuscule in comparison but I expect this income to steadily rise each month.
Option Income Portfolio
June 2016 Income: $196.74
July 2016 Income: $331.09
The basic goal of the Option Income portfolio is to generate income from the sale of option contracts.  I write (sell) out of the money put contracts on stocks that I wish to own at the price that I wish to own them at.  If assigned shares, I simply write calls and collect dividends (if paid) until the shares are called away (strategy post in the queue).
I closed out a total of 4 positions in July and received one dividend on the FL shares that were assigned to me back in May.
I closed all of these positions well before their expiration date.  My general rule for buying back options is to do so if the position reaches 75% of the max gain prior to expiration.  This allows me to reinvest the funds held up in the position (option margin requirements) into a new position with greater profit potential.
The dividends received from the FL shares were automatically reinvested to purchase shares of FL.  These shares now reside in my Empire portfolio.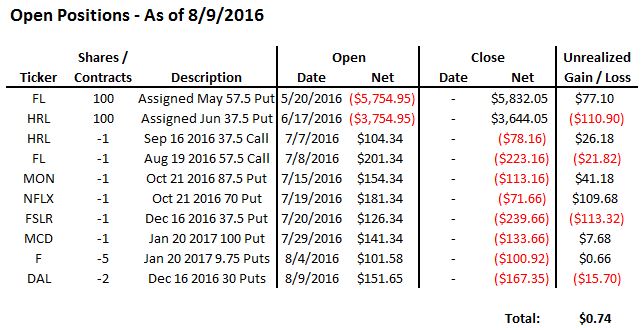 The FL call I sold against my 100 shares is now deep in the money.  I expect these shares to be called away at expiration on August 19.  This will result in a break even on the share transactions but I will book another $201.34 income from the call sale closing out.
I already closed out my VLO position early August for $65 (not shown since I closed 8/3).  I also plan on closing out the NFLX put in August if I reach my 75% profit target and I will receive a dividend for my 100 shares of HRL.  My anticipated income for August is somewhere around $400.
Swing Trading Portfolio
June 2016 Income: $94.80
July 2016 Income: -$205.26
In this portfolio I use technical chart analysis (support/resistance, chart patterns, indicators, etc) to take advantage of short-term swings in various stocks.  These trades typically last anywhere from a couple of days to several weeks.

Not much to say.  This was just an awful month.  I entered these trades too early without waiting for confirmation of the trend reversal.  As a result I got caught up in the relentless market rally.
Day Trading
June 2016 Income: $27.02
July 2016 Income: $132.90
I use the exact same methods for day trading that I use in my swing trades, just on a shorter time frame (usually the 5- and 15-minute intra-day charts).  I trade high-volume, very liquid stocks and futures contracts that have tight bid-ask spreads to avoid slippage.
I made a total of 14 day trades in July: 12 wins and 2 losses.  The income seems rather small for this strong win record but I am still keeping my position sizes small until I'm comfortable trading again (it's been a while).
Lending Club Portfolio
June 2016 Interest Received (minus fees): $11.83
July 2016 Interest Received (minus fees): $12.63
This portfolio is straight forward.  I use the Lending Club platform to buy notes, which are portions of loans to individuals looking to consolidate debt, make large purchases, etc.  Each month I (hopefully) receive payments from these individuals consisting of interest + principle.
The interest that I receive each month is income that can be added to principle and additional contributions to buy more notes, thus keeping the compounding snowball rolling.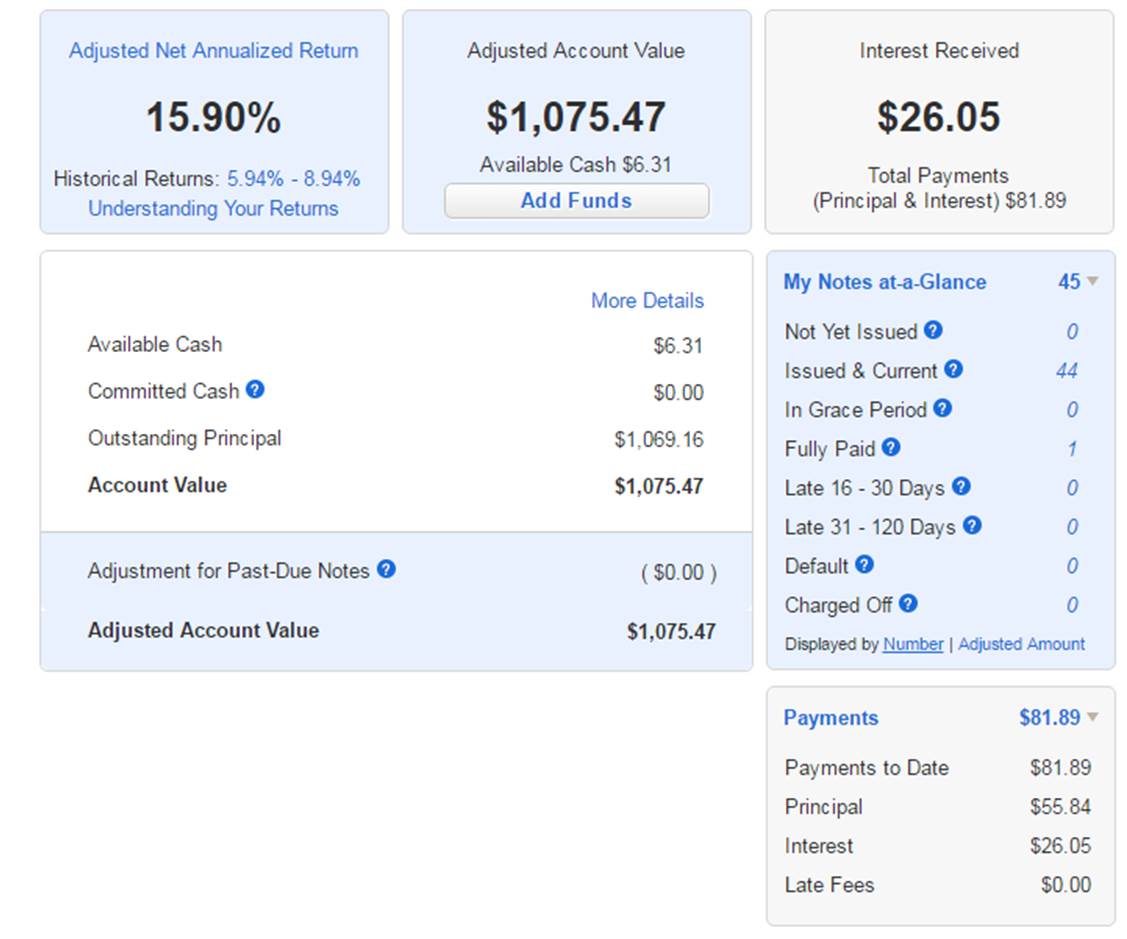 One of my notes was fully paid off in July and I reinvested the cash in a new note.  I didn't contribute any additional funds and this was my only note purchase.
2016 Totals
So far in 2016 I have generated a total of $1189.42 from all investing activities with $710.92 coming from non-dividend related trading.  My best performing portfolio is still the Option Income portfolio, generating over $783.62 in just 4 months.  I am putting more resources into this strategy since it is clearly my biggest money maker.
Since I didn't hit my $500 goal in July I will keep it the same for August.  Hopefully I can get there!