My February dividend totals are in!  Actually, they were in back on February 16 when I received my final dividend of the month.  As expected, February was a rather poor month for dividend income but the large number of pay raises I received more than made up for it.
Dividend Income
In February I received a total of $179.30 in my two portfolios: $63.16 in my Empire portfolio and $116.14 in my Retirement portfolio.
These numbers look pretty low compared to my historical data and there are two reasons for that.  KMI massively cut their dividend recently and this is the first time that cut is reflected in my payments.  The second reason simply stems from the fact that most of my holdings will pay out in March.
These values represent a 2.9% increase for my Empire portfolio (all from DRIP activities) and a 19% decrease for my Retirement portfolio (KMI cut) compared to my November income.  Here are the details: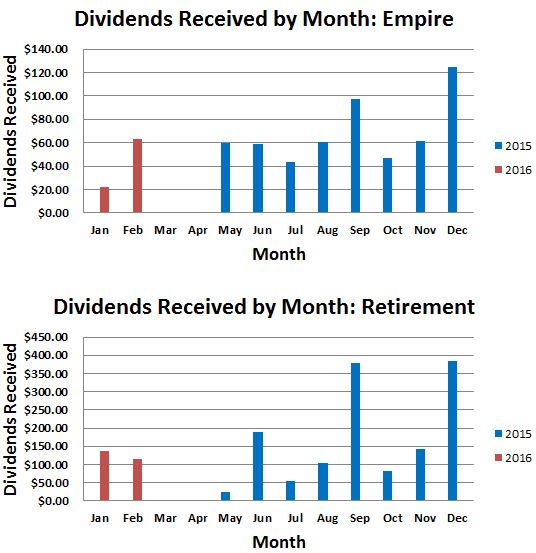 Here is a breakdown of the companies that paid me in February: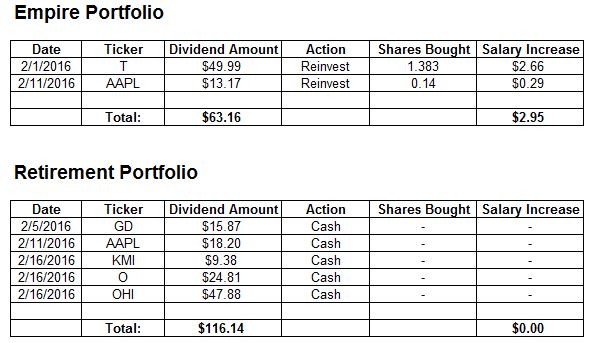 I received just 2 payments in the Empire portfolio and 5 payments in my Retirement portfolio.  The DRIPs that I have set up in my Empire account increased my forward annual income by $2.95.
Pay raises:
I received a whopping 9 dividend increases in February.  Really it should be 10 but PEP hasn't officially declared the raise as of this writing.  All of these raises will add $39.99 to my annual income and add some weight to my snowball.

These pay raises and DRIPs have added a significant amount to my forward annual income: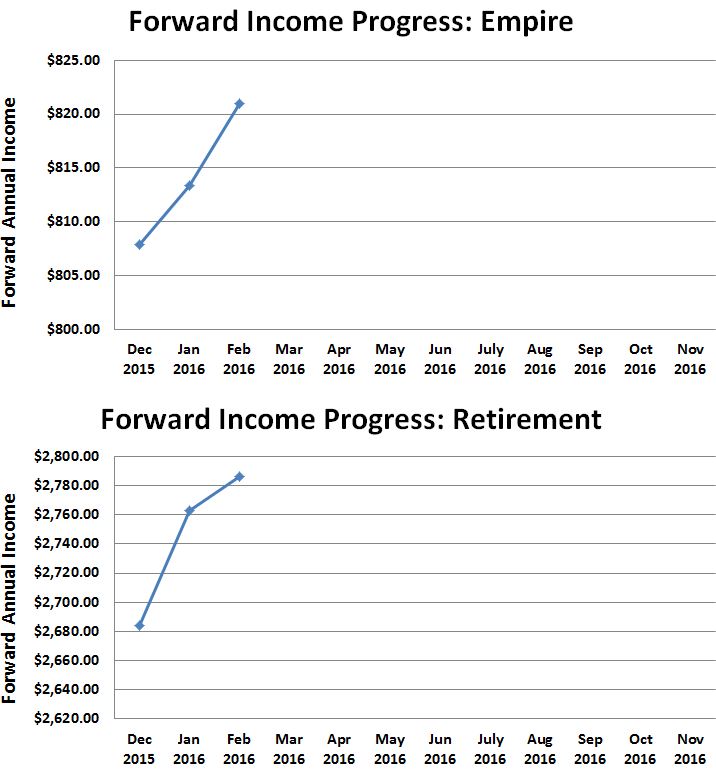 Progress Against Goals:
My dividend goals for 2016 are to receive at least $1000 worth of dividends in my Empire portfolio and $3000 in my Retirement portfolio.  Here is my progress so far: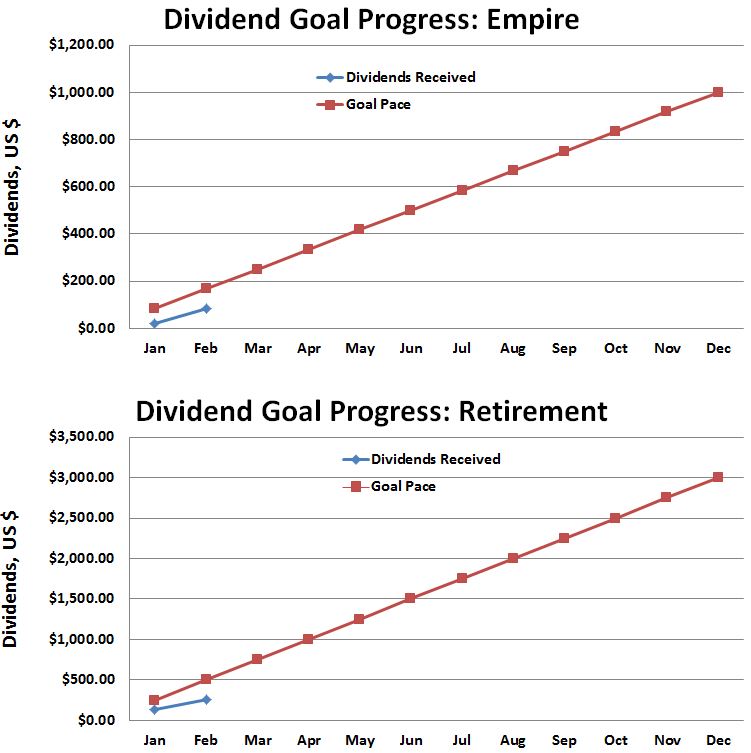 While it looks like I'm not doing so well I'm confident that I will hit these goals.  One of my biggest months (March) is coming up and that should put me right back on track.  Add on all future DRIPs, raises and purchases and I should do just fine.
I have added my dividend income to my Historical Data page where I have organized all of my monthly incomes, updates and screens (with links).
Portfolio Updates
Though I didn't get a chance to write up the purchase I did manage to add a single company to my Retirement portfolio towards the end of January: Bank of America (BAC).  I purchased 200 shares on January 29 at an average price of $13.97.
While I do expect BAC to begin increasing their dividends regularly at some point this really isn't a dividend growth play.  I think BAC is extremely undervalued and I'm looking for some serious increases in share price.  While I'm waiting for this to happen I'll collect a decent 1.5% dividend.
Thanks for reading!  I hope everyone had a great February.  Please let me know how you did in the comments section below.
Disclosure: Long all stocks mentioned in this article.