On a bad market day like we had Friday, April 17 (Dow -279.47), it is more important than ever to focus on the dividends. I have been an options trader for the past 12 years – more specifically a short-term options trader. The only thing that mattered to me was GAIN / LOSS. So when I took a peek at my portfolio after the market closed on Friday my eyes automatically focused on the Gain / Loss (G / L) column. My portfolio is down $122!!!!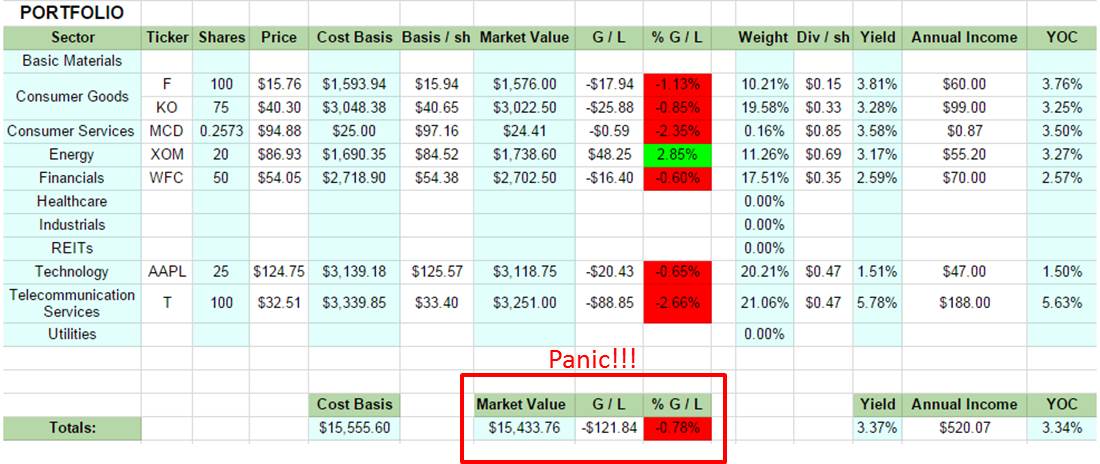 I felt the oh so familiar sense of panic – my heart started racing, blood rushed to my head, and I began questioning my decision to start a dividend growth portfolio. That's when it hit me – I'm not an options trader anymore, I'm a dividend growth investor! My eyes drifted over to the dividend columns on my portfolio spreadsheet. My annual income is holding steady at $520 and my yield has not changed. Of course those numbers haven't changed! Companies don't halt or cut their dividend because the market is down. As long as the companies I own are still strong and the reasons I invested in them are still valid there is no reason to panic.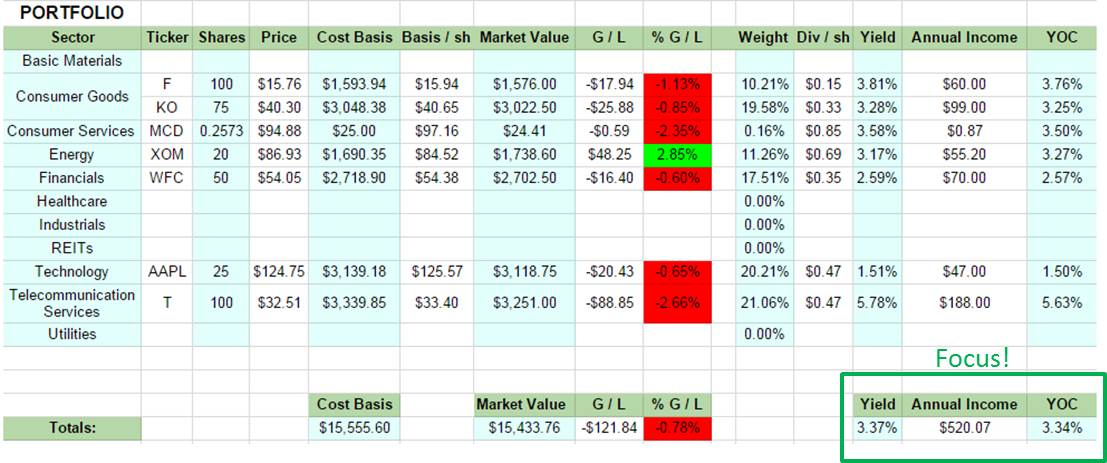 That doesn't mean I enjoy seeing unrealized losses in my portfolio. I love seeing my stocks go up! An increasing stock price is validation that I did in fact invest in a good company. It also makes my yield on cost look great, since it will be higher than the stock's current yield. But it should not be the focus of a dividend growth portfolio. Besides, my portfolio has only been around for 2 weeks and I haven't even benefited from a dividend yet! As long as the companies I invest in continue paying and increasing their dividends, my dividend growth portfolio will perform well in the long-term. So don't worry about these short-term moves. Analyze the stocks in your dividend growth portfolio every month or even quarterly to make sure they are still healthy – and focus on the dividends!