For the past two months I have been posting all of my stock purchases, stock analysis and portfolio updates without really laying out my high-level investment plan.  I've covered my plan but it has been spread out into several different posts.  I feel the need to publish an all-inclusive, organized and detailed overview of my plan and funding sources.
For any newcomers to my site, I track two dividend growth stock portfolios on my blog: the Dividend Empire portfolio and the Dividend Retirement portfolio.
The Empire portfolio is comprised of several taxable accounts that I contribute to monthly with the goal of building a dividend empire for my descendants.  You can read my reasons for starting this portfolio in my very first post.  I will never touch the funds in this account except to cover certain child-related expenses (college, etc).
My Dividend Retirement portfolio is a portion of my 401k (67% of it to be exact) that is dedicated to dividend growth stocks.  This portfolio, along with some other portfolios not tracked on this site, is my ticket to early retirement (hopefully age 50).  Details on this portfolio can be found in my Dividend Retirement Portfolio Intro post.
In the next few sections I will lay out my goals, my investment plan, details on the composition and funding sources for my two portfolios, and finally my projections for retirement.
Long-Term Goals
Before jumping into the details of my plan I want to lay out my long-term goals.  A detailed description of my goals can be found on my goals & milestones page.  Here I just want to clearly state where I want my portfolios to be at age 50 (16.5 years from now):
Dividend Empire portfolio: $1 million account value generating at least $50k per year in dividend income
Dividend Retirement portfolio: $2 million account value generating at least $100k per year in dividend income
Those are some lofty goals and some big numbers so let's see how I plan on getting there.
Investment Plan
I drew up a very high-level overview of my monthly flow of cash from salary down to my investing accounts.  This diagram illustrates the funding sources for each portfolio and my general allocation of funds (details below).
Dividend Retirement Portfolio Details
My Dividend Retirement portfolio is funded through my 401k (and partially through my wife's 401k) with pre-tax dollars.  The account is held in Merrill Lynch and has some basic and very standard mutual fund options.
Company Match
Each pay period 5% of my salary goes to my retirement savings account in my 401k.  Thankfully, my company offers a very generous matching program.
They add 5% of my salary automatically as a core contribution no matter how much I contribute.  Additionally, they will match my contribution dollar for dollar up to 5%.  Therefore I am maximally taking advantage of my employer's match – 5% core + 5% my contributions + 5% match = 15% total.
Mutual Funds (33% of 401k)
From these contributions, 33% is invested in some of the standard mutual fund options.  This includes bond funds, international stock funds, small cap stock funds and REIT funds.
My rationale for this is that many of the dividend stocks I buy are domestic mid to large cap stocks.  Bond, international stock and small cap stock funds provide some much needed diversity.
Company Stock (2% of 401k)
I allocate 2% of my 401k contributions to company stock.  Since this stock happens to be a quality dividend growth stock I am adding this holding to my Dividend Retirement portfolio.
Self-Directed Brokerage Account (65% of 401k)
The remaining 65% of my 401k goes into a self-directed brokerage account and constitutes the bulk of what I call my Dividend Retirement portfolio.  I feel very fortunate to have this option within my 401k account.
The commissions are steep ($14.95 per trade) and there is a $125 annual fee, but I get the privilege of buying any stock I want instead of choosing between 10 mutual funds (which also charge fees).  Plus as my account value grows these commissions and fees will be negligible.
So overall 67% of my 401k contributions go towards buying quality dividend growth stocks.  This works out to be $1032.28 per month at the moment.  My projected annual dividend income is currently $1700 so I can expect ~$150 per month.  This brings my total to about $1180 per month.
This value will grow over time as my dividend income grows, my salary increases (hopefully) and when I increase 401k contributions.  For now, this amount will allow me to buy into 1-2 new companies each quarter.
In addition to these monthly contributions I am still only about halfway done converting 65% of my existing 401k holdings to dividend growth stocks.  I had a little over $100k to convert at the start and I have invested $52k so far.  So I still have plenty of funds ($48k) to invest over the coming months.
Dividend Empire Portfolio Details
My Dividend Empire portfolio contains my TradeKing, Loyal3 and employee stock purchase plan (ESPP) accounts.  These accounts are funded through a combination of savings, bonuses, vested company stock, tax returns, special income and cost-cutting efforts (post on this coming soon).
Dependent Care Flexible Spending Account
Besides my mortgage, my largest expense by far is child care.  I pay $1524 per month for my kid's day care.  Wow – it is painful just to write that.  Sometimes I joke around and call my son a mortgage.  It's ok though – my little man is more than worth the expense.
Luckily there are some things I can do to reduce this cost.  One of these things is called a dependent care flexible spending account (DCFSA).  The DCFSA allows me to deduct up to $5k worth of child care expenses per year PRE TAX.  This is only about 1/4 of my actual expenses but it helps.
I basically use this DCFSA as a savings account.  Each month $417 is taken out of my paychecks pre-tax.  I typically wait 3 months for the money to accumulate a bit then I file a claim for daycare expenses that I have paid for.  The money is deposited in my bank account and then promptly transferred to my TradeKing account.
So this is a combination of savings and tax savings that provides $5k annually for my Dividend Empire portfolio.
Employee Stock Purchase Plan
This is a contribution from my wife's salary.  After all of the pretax items are deducted from her paycheck, 1% of her salary is automatically sent to her employee stock purchase plan (ESPP) account to purchase company stock at a 5% discount (this company stock happens to be a great dividend growth stock – see below).
This 1% contributes around $600 per year to the Dividend Empire portfolio.
Savings
After this, all of our expenses are paid and a portion of what is left over goes into my TradeKing or Loyal3 accounts, depending on how much money is left over.  Large amounts of money go to TradeKing for freedom of investment choices.  Smaller amounts go to Loyal3 to avoid commissions.
The amount of savings allocated to the Dividend Empire portfolio can vary between $200-$1000 per month depending on expenses and other factors like contributions to my son's college account.
Other Income
Typically March and April are very exciting (and lucrative) months in my household.  During these months my wife and I receive our annual bonuses, long-term incentives (company stock) and a nice tax return.
After setting aside a hefty sum for property taxes, insurance and a safety net, we typically have around $25k to allocate.  I foresee the majority of this going into the Dividend Empire portfolio each year or potentially used for real estate investments.
In addition, we regularly purge items in our house to sell on eBay which generates some extra cash for Loyal3.  Other sources of income include bowling tournaments, blogging (not much yet) and baseball card flipping.
My goal is to contribute at least $15k/year to this portfolio.  This should easily be achievable and I am considering raising the value to $20k or $25k per year.  March and April alone should provide at least $15k, monthly contributions another $5k or so, then there are ESPP contributions and dividends.
With these funding sources, I should be able to make 2-3 purchases per month in TradeKing and continue my monthly contributions to MCD, HSY and GPS in Loyal3.
Real Estate
I currently own my home and have about $130k equity.  We are in the process of moving to a nicer home and that equity will transfer and hopefully continue growing.
As I mentioned above, I plan on using some of my funds to purchase real estate for rental income.  I probably won't initiate this part of my investing plan for another year or two but I will keep you posted.
Company Stock
OK time for the big reveal.  I mentioned above that I am contributing 2% of my salary to company stock and my wife is contributing 1% of her salary to company stock (we work at the same company).  Before this stock starts popping up in my portfolios with no explanation I figured I should state where it's coming from.
I am currently employed at Amgen, Inc (AMGN).  Amgen is a great company to work for with excellent benefits.  To make things even better AMGN is a quality dividend growth stock with 5 years of consecutive dividend raises ($0 in 2010 to $3.16 projected in 2015).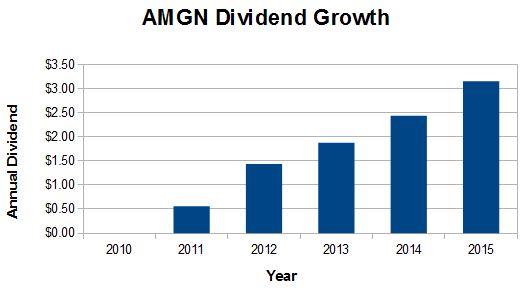 I receive company stock every year as part of their long-term incentive program but unfortunately I have sold it every year for things like my wedding, down payment for my house, etc.  Boy I wish I would have held on to them.  I would have about 300 shares right now worth over $45k generating almost $1k per year in dividend income.  Oops.
I am trying to make up for it now by slowly growing my position.  I held onto a small stake, about 16 shares, that I have added to my Dividend Retirement portfolio.  My average cost for this position is just $66 per share (AMGN is currently trading at over $150).  Though I got lucky in this case, this position is a great example of the power of dividend growth.
My initial yield on cost was 0% (no dividend).  My yield on cost is now 4.74%!  Investors looking to buy AMGN right now will have to settle for a 2.1% yield.
I will update the Dividend Retirement portfolio monthly with AMGN buys (2% of my salary) and I will update the Dividend Empire portfolio semi-annually when ESPP shares are purchased (1% of my wife's salary).
Retirement Projection
So how can I get to $2 million dollars for my retirement?
My wife and I both want to retire at age 50. Since I am 5 years older than her I will be retiring 5 years earlier. Therefore, we will have to live off of her income from age 50-55 (should be doable).  From age 56-60 we will live off of my 401k.  Finally, age 60+ we will live off of both of our 401k accounts without penalty.
I have calculated some conservative projections to see what these accounts will look like at retirement. I have made several assumptions in these projections:
Starting capital: $100,000
Initial portfolio yield: 3%
Annual portfolio yield growth: 4%
Annual stock growth: 5%
Annual salary increase: 2.5% (determines monthly contributions)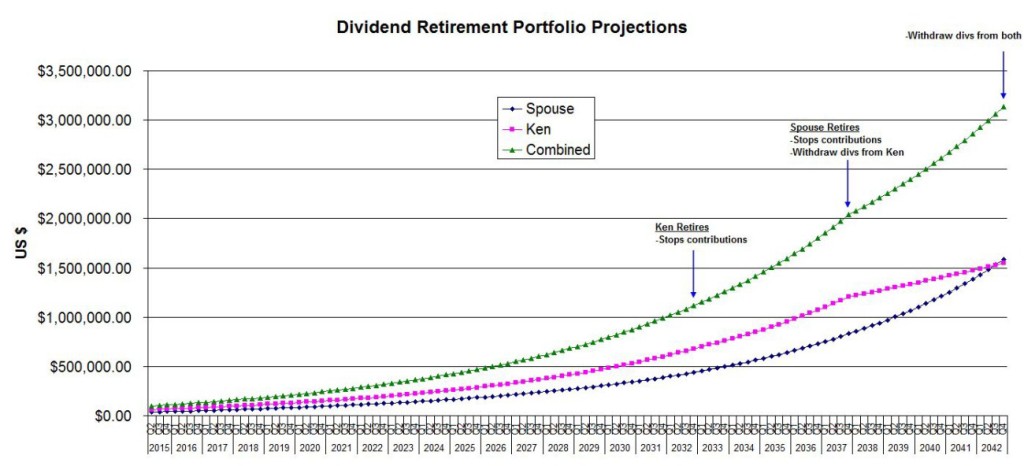 Of course these are just projections and anything can happen (good or bad), but the results look really good. We will start with $100k, an initial portfolio yield of 3% and make monthly contributions based on our salaries. If the stocks appreciate by only 5% annually with an average dividend growth rate of 4% we should have a very comfortable retirement.
When I am 55 years old we can start taking distributions from my 401k.  At that age, my projected portfolio value is ~$1.2 million + ~$160k from other investment vehicles. My projected yield on that money is around 7% which would put me close to $100k per year if I just take dividend distributions.
When I am 60 years old we can take distributions from both 401k accounts. Our projected combined portfolio value is projected to be ~$3 million + ~$270k from other investment vehicles. At a projected portfolio yield of ~7.7% that puts us right around $250k per year of dividend income.
These dividend incomes should provide a comfortable retirement even after considering inflation. Plus, this projection doesn't take into account real estate holdings.
So there you have it – my current investment plan.  This will constantly evolve over time but I believe this basic structure will remain intact.  Hopefully it will allow me to reach financial independence at an early age and provide massive amounts of passive income for my descendants.
What do you think of my investment plan?  Any advice?  Please let me know in the comments section below.  Your feedback is always appreciated.