It has been a couple of months since I've posted results from my dividend growth stock ranking system.  I typically run this screen monthly but I skipped September and October for two reasons.  The first reason is lack of time and the second reason is that an extremely high number of dividend growth stocks went on sale after the market correction in August so there was really no need for the screen.
Well the market has recovered a bit and I have some time so let's see how the stocks on David Fish's November CCC list shake out when I apply my ranking criteria.
In these posts I only list the results of the screen and mention a few of the dividend stocks that I will be watching closely this month.  It is important to note that I am not recommending the purchase or sale of any stocks mentioned here.  I have not yet researched the majority of companies on this list in detail nor have I verified the numbers taken from the CCC list so please do your own due diligence.  As always, I will write up any analysis I perform on stocks from this screen in a separate post.
Dividend Growth Stock Ranking Results
My ranking screen scores all stocks on the CCC list with 10 points possible based on dividend strength, financial strength, valuation and technical analysis (click HERE for details).  Here are the overall top 39 stocks from this month's screen (scores of 7 or better):

I'm glad I have finally continued this screening process.  Typically there are many stocks in my portfolio that appear in this list.  This time around there are only 3!  This leaves me with plenty of companies to research for my next purchases.
There are a few familiar names on here from previous screens like SHPG, VLO, MGA, FL, HP and MEOH.  However, the majority of these stocks are newcomers like TG, FLXS, DSW, FINL, WFM and many others.
I plan on researching the companies in this list in much greater detail.  I'll write up any purchases I decide to make and also any detailed analysis I perform on these stocks.
Since my screening method tends to pull out a lot of financial stocks, I find it useful to exclude them and list the top non-financial companies.  Here are the top 39 non-financial companies from my ranking screen: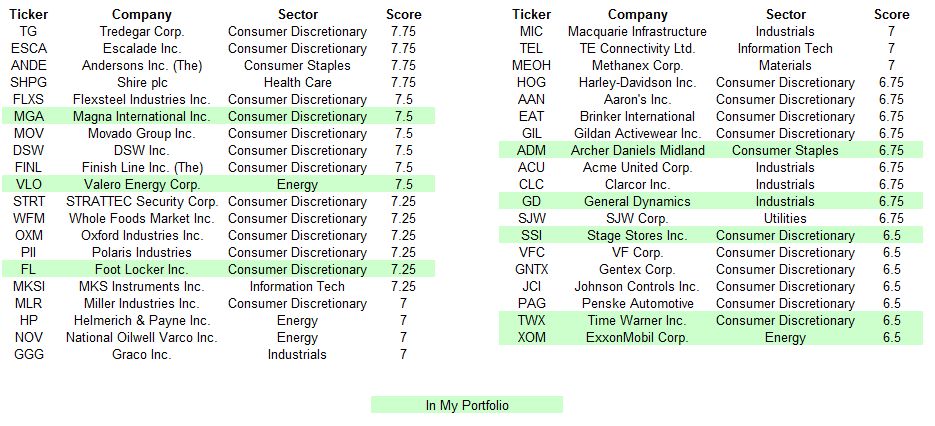 The average score this month was about 5 points and I always like to mention any notable stocks that beat the average:
Notable 6.75's: ADM, GD, HOG
Notable 6.5's: ALL, CMI, DE, XOM, ORI, TROW, QCOM
Notable 6.25's: CMI, CMCSA, KR
Notable 6's: FAST, GPS, NKE, ROST, V
Notable 5.75's: AFL, GLW, IBM, PH, WMT
Notable 5.5's: BLK, CVX, HD, M, SBUX, TGT
Notable 5.25's: DOV, EMR, GWW, DIS, WFC, MMM
Top Dividend Growth Stocks By Sector
Here are the top scoring dividend stocks from each sector: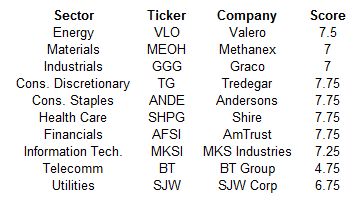 My November Buy List & Need-To-Analyze List
I will most likely take a closer look at most of the stocks listed in this post but there are a few that are at the top of my list:
AmTrust (AFSI), Escalade (ESCA), Finish Line (FINL), Comcast (CMCSA), Kroger (KR), Nike (NKE) and Visa (V)
Thanks for reading and happy shopping to everyone in November!
Are any of the top ranking stocks from this screen in your portfolio or on your wish list?  What stocks are you watching?  Please let me know in the comments section below!
Disclosure: Long VLO, MGA, FL, ADM, GD, SSI, TWX, XOM, CMI, GPS, GLW, WMT, BLK, CVX, HD, TGT, EMR, DIS, WFC