In my last post I introduced my dividend growth stock ranking system, a stock screen that I run on David Fish's CCC list that pulls out what I believe to be the best dividend growth stocks each month.
I ran the screen on the May CCC list and pulled out several high quality dividend growth stocks.  I narrowed the list down to about 30 stocks that looked promising and researched them in detail.  The winner from this list, and the stock that I recently purchased for my Dividend Empire portfolio, was T Rowe Price (TROW).
Just because TROW was the stock that I selected doesn't mean it was the only one worth purchasing.  There were plenty of great choices that scored high in the screen.  One of these stocks, and the subject of this post, is Cummins Inc (CMI).
CMI scored a 7.75 / 10 in the original screen and was recently increased to 8.25 / 10 after taking a closer look at the stock.  Thorough analysis of the CMI dividend suggests even a higher score but I don't want to start breaking the rules.
CMI has shown incredible dividend growth, strong financial health, and I think now is a great time to purchase Cummins for your dividend growth portfolio.
CMI Dividend Stock Analysis
Here I will present my case for purchasing Cummins.  The sections below will cover the company overview, the ranking screen results and a detailed drill-down into each ranking category.
CMI Company Overview
Sector / Industry: Industrial Goods / Diversified Machinery
From the Cummins Inc Investor Relations website:
About Cummins Inc., a global power leader, is a corporation of complementary business units that design, manufacture, distribute and service diesel and natural gas engines and related technologies, including fuel systems, controls, air handling, filtration, emission solutions and electrical power generation systems.
Cummins Inc got it's start back in 1919 when Clessie Lyle Cummins founded the Cummins Engine Company in Columbus, Indiana.  Cummins started building engines at age 11 and helped Ray Harroun win the first Indianapolis 500 in 1911 by making improvements to his engine.  J. Irwin Miller later became general manager and helped lead the company to be the international powerhouse that it is today.  Cummins currently employs over 50,000 people and serves customers in approximately 190 countries.
CMI Ranking System Results (5/22/15)

CMI received a score of 8.25 out of 10 in the May 2015 CCC dividend growth stock screen.  For detailed descriptions of all categories and parameters please read my original dividend growth stock ranking system post.  Receiving a high score in the screen is great, but all of this data needs to be confirmed and the stock needs to be studied in greater detail.  Let's dig a little deeper into each of these categories…
CMI Dividend Strength
CMI received 3 points out of a possible 4.5 in the dividend strength category, getting docked in the yield, recent>5yr (acceleration) and streak parameters.  CMI sports a dividend yield of 2.2% which isn't great but also not horrible.  Add the 32% average CMI dividend growth over the past five years to the equation and the current yield is more than acceptable.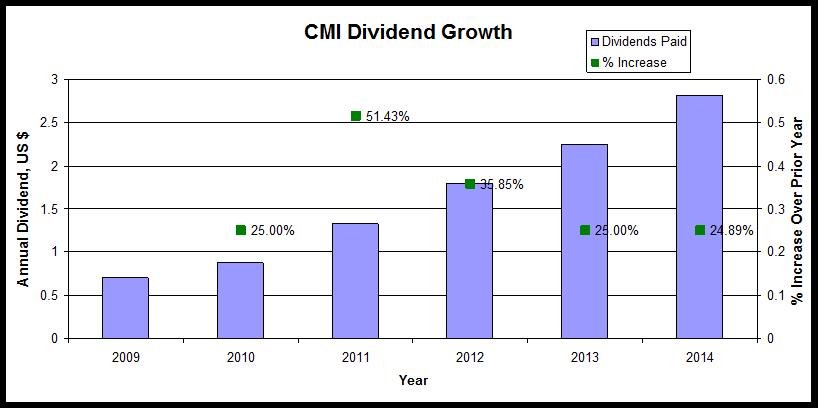 In fact, if CMI was purchased today and that dividend growth rate was maintained over the next 5 years, the yield on cost would be a massive 8.8%!!  Using a more conservative 25% average growth, which CMI has produced the last 2 years, our yield on cost would still be a very respectable 6.7% in 5 years.  For this reason I am willing to overlook CMI's relatively low dividend yield.
One of the other parameters where Cummins was penalized was recent > 5yr growth.  This parameter is a measure of the dividend's acceleration, not just the average growth.  If the most recent increase is greater than the 5-year average increase, perhaps the company is ramping up it's dividend increases.  CMI did not meet this requirement and therefore received 0 points.  This really isn't fair, however, because 32% dividend growth is a very high bar and I think any dividend growth investor would have been happy with the recent 25% increase that CMI dished out to shareholders in 2014.
Finally, CMI was dinged 0.5 points in the dividend streak parameter.  Stocks with a 25 year consecutive dividend increase streak are awarded a full point in this category.  CMI has increased their dividend for 9 consecutive years which definitely shows some commitment, but not the likes of the 25 year dividend champions.
One thing I do like about Cummins recent history is that they have managed to increase their dividend during difficult times.  Cummins earnings dropped in 2010, 2013 and 2014 but they still managed to raise their dividend in each of those years.
In addition to all of the positives mentioned above, the timing seems to be perfect right now if we consider CMI's dividend increase history.  All of CMI's recent dividend increases have occurred in August, meaning that we will likely see another increase announced next quarter.  If this is true and the increase is another 25%, our yield on cost (if purchased now) would receive an instant boost to 2.75%.
In summary, while CMI received 3/4.5 points in the dividend strength category, this number is somewhat misleading.  The low yield is not an issue due to the excellent dividend growth, the lack of dividend acceleration is understandable given the high growth rate, and a 9 year streak of dividend increases ain't too bad.
CMI Financial Strength
Not much to say here since Cummins received a perfect 4/4 score in the financial strength category.  They have averaged 33% earnings growth over the past 5 years.  Although this growth has slowed a bit in recent years analysts expect 12% annual growth over the next five years.  Cummins has very little debt, with a debt to equity ratio of just 0.22 and their PE ratio is a very reasonable 15.33.
To be fair, I would like to add that CMI's earnings growth lags a bit compared to it's peers and the PE is much higher than the industry average of 8.4 (data from Nasdaq.com).  This is one of the few faults I could find in this stock.
Overall, Cummins financials are strong and even though the PE is a bit high I think CMI is still a great long term dividend growth stock.
Subjective Analysis
Cummins received 1.25 points out of a possible 1.5 in the subjective category.  Out of 18 analysts covering CMI, 11 are recommending a strong buy and 7 give a hold recommendation with an average consensus price target of $157.  This represents an 11% increase over the current stock price.  In my ranking system, I use the average and standard deviation of the stocks that make it to the subjective analysis category to assign a point value between 0 and 1.  In this group of stocks, 11% was good enough to receive 0.75 points.
I also performed a discounted cash flow analysis on Cummins to provide a second fair value estimate.  This analysis was calculated at gurufocus.com using 9.33 EPS, 10% growth over 10 years, 4% terminal growth and a discount rate of 10%.  Using these parameters, the fair value estimate for CMI is $162.73, in line with analysts estimates.
Finally, the chart for Cummins looks decent.  This parameter is obviously the most subjective and therefore is only worth 0.5 points.  CMI recently broke through the $140 resistance level (which now becomes support).  After reaching a high of $143.40 CMI bounced off of $140, confirming the support level.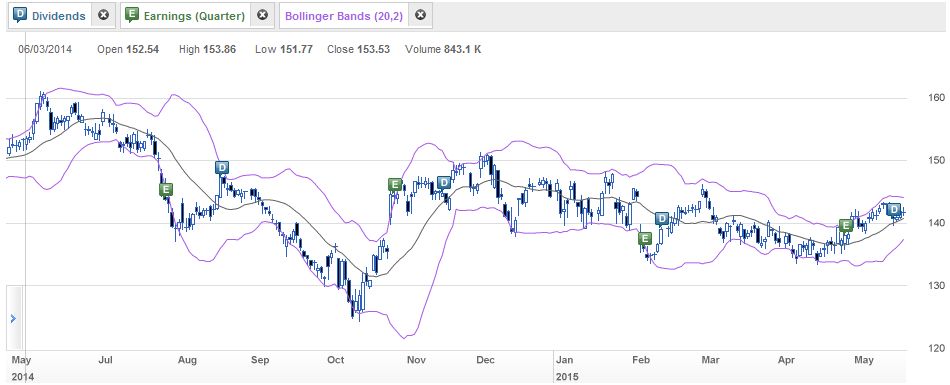 Chart from TradeKing.com
Although this is the least important parameter, it is nice to know that there is a potential floor underneath my purchase price and this helps differentiate between stocks with similar scores.
Summary
CMI appears to be an excellent dividend growth stock to add to my portfolio.  It scored 8.25 points out of 10 in my dividend growth stock ranking screen and looks even better with detailed analysis.  CMI's dividend growth rate is phenomenal, the company seems very healthy and continues to grow earnings, the fair value estimates provide some margin of safety and it is likely that CMI will raise their dividend next quarter.
What are your thoughts on CMI?  Do you own CMI or are you planning on purchasing CMI?
Disclosure: Long TROW.  I do not own CMI stock but I might initiate a position in the next month.