Every once in a while I like to do a dividend growth stock related exercise.  Sometimes it is a stock screen, sometimes I do a little back testing and occasionally I will run a survey to see what the DGI community is up to.  This time I thought it would be interesting to see what stocks are held in some of the top dividend growth stock funds.
I do these exercises to try and generate ideas for my watch / buy list.  My main basket of stocks comes from my monthly CCC list screen but I'm constantly looking for other sources.  Digging into the portfolios of several professionally run funds seemed like a good place to look.
As usual I am not recommending the purchase of any stocks listed in this post so please do your own due diligence.  All I can say is that if the pros are holding these stocks then they are probably worth researching.
Screening Method:
I looked at the top 25 holdings by weight in 6 different dividend growth stock funds:
Vanguard Dividend Growth Fund
Fidelity Dividend Growth
T Rowe Price Dividend Growth
iShares Core Dividend Growth
Oppenheimer Rising Dividend Fund
WisdonTree U.S. Dividend Growth Fund
The largest holding in each fund received 25 points, the second largest received 24 points, and so on down to the 25th largest holding which received 1 point.  I then added up the points for each stock across all 6 funds.  This is the final score that I will report below.
Results:
Before listing the top scoring stocks, here is the largest holding in each of the 6 funds: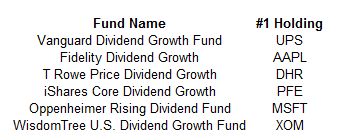 Now let's see the results after adding up all of the points from the six funds (you can click the image for better resolution):
The top stock by a wide margin is Microsoft (MSFT) with a total score of 138.  Beyond that the scores tighten up a bit with XOM, PEP, AAPL and JNJ rounding out the top 5.
Another thing I looked for was the frequency in which each stock appeared in the top 25 (by weight) of the 6 funds.  MSFT was in the top 25 holdings of all 6 dividend growth stock funds.  XOM was in 5 of the 6 funds.  Finally, ORCL, PEP and UNH were in the top 25 of 4 out of 6 funds.
So there you have it.  Another basket of stocks for me to research.  I have many of the stocks that made this list which is quite comforting.  It looks like I'm thinking along the same lines as some managed funds that focus on dividend growth investing.  As for the ones I don't own, I am interested in buying or at least researching PEP, GE, NKE, CVS, V, and MDT.
Full disclosure: Long MSFT, XOM, AAPL, JNJ, KO, WFC, MCD, HD, UPS, QCOM, CVX and MO
What do you think of this list?  Any surprises?  Do you hold a lot of these companies or at least have them on your buy list?  Let me know in the comments section below!