Time to report my first month of dividend income in 2016! I'm a bit late posting January's income and there's a good reason for that – January is a crappy month for dividend income (at least for me).
In this post I will report my January dividend income and progress towards dividend related goals for my two dividend growth portfolios: Dividend Empire & Dividend Retirement.
For those of you who are not familiar with my blog and portfolios, the Dividend Empire portfolio is strictly for my descendants – I will never touch the money.  The Dividend Retirement portfolio will hopefully pay for my early retirement one day before eventually merging with the Empire portfolio.
Dividend Income
In January I received a total of $158.46 in my two portfolios: $22.01 in my Empire portfolio and $136.45 in my Retirement portfolio.
This is actually the lowest monthly total I have received so far in my Empire portfolio.  It's not from dividend cuts or from selling positions, it's because Coca Cola (KO) has a strange payout schedule of April, July, October and December.  So the boost I get from KO in December takes away from January.
January was actually a decent month for my Retirement portfolio since I received my first dividends from Disney (DIS) and Foot Locker (FL).
These values represent a 53% decrease for my Empire portfolio and a 66% increase for my Retirement portfolio compared to my October income.  Here are the details: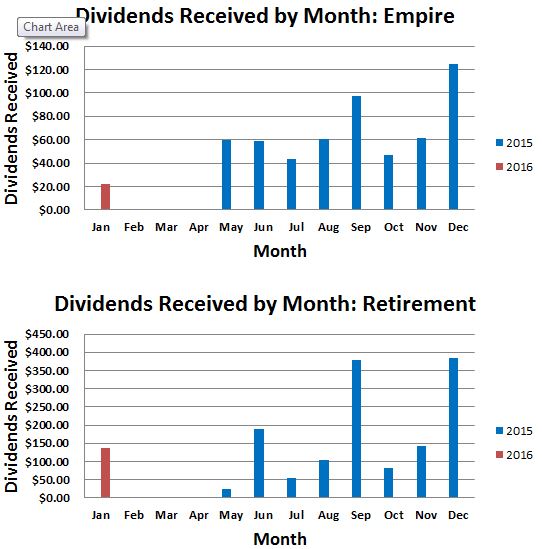 Here is a breakdown of the companies that paid me in January:
I received just 3 payments in the Empire portfolio and 7 payments in my Retirement portfolio.  The DRIPs that I have set up in my Empire account increased my forward annual income by $1.40.  DRIPs are not offered in my 401k Retirement portfolio so all dividends were taken as cash.
Pay raises:
This was the one bright spot last month.  I received 4 pay raises in my Retirement portfolio.  One of them was significant and a total surprise – VLO.  This was their second straight quarter with a big increase.

I have added my dividend income to my Historical Data page where I have organized all of my monthly incomes, updates and screens (with links).  I'll post an overall portfolio summary including my recent purchases over the next couple of days.
I hope everyone had a better January than I did!  Please let me know how you did in the comments section below.
Disclosure: Long all stocks mentioned in this article.