July was a pretty uneventful month in terms of dividend income, but I more than made up for it with some other exciting events in my life.  Some of the highlights include selling my home, buying and moving into a new home, and successfully delivering two big presentations at work just to name a few.  But enough of that stuff – this is a dividend income update!
The vast majority of the stocks I own pay out on the March, June, September, December schedule so this past month, and most likely next month, are lacking significant dividend income.  This doesn't bother me much since my total dividends is all I care about.  And I'm certainly not going to go off and buy stocks just because of when they pay dividends.
For those of you who are not familiar with my blog and portfolios, the Dividend Empire portfolio is strictly for my child, future children, their children and beyond.  I will never touch the money.  The Dividend Retirement portfolio will hopefully pay for my early retirement one day before eventually merging with the Empire portfolio.  Below I will report my dividend income for July and my progress towards reaching my dividend related goals for both of these portfolios.
Dividend Income
Last month, July 2015, I received $43.49 in my Dividend Empire portfolio and $53.91 in my Dividend Retirement portfolio for a total of $97.40.  This being only my 3rd month of receiving dividends I don't have another comparable month to measure up against.  When I report my August dividends next month I'll finally be able to make a fair comparison to May.  Here is the breakdown of my dividend income in July.
Dividend Empire Portfolio
Three companies paid me dividends in this portfolio:
| | | | | | |
| --- | --- | --- | --- | --- | --- |
| Ticker | Date | Div Amount | Action | Shares Bought | Salary Increase |
| KO | 7/1/2015 | $24.75 | DRIP | 0.628 | $0.83 |
| WPC | 7/15/2015 | $18.13 | DRIP | 0.299 | $1.14 |
| GPS | 7/29/2015 | $0.61 | Cash | – | – |
| | | | | | |
| | Total: | $43.49 | | Total: | $1.97 |
KO and WPC reside in my TradeKing account where automatic reinvesting is available.  Reinvesting these dividends resulted in the purchase of 0.628 shares of KO and 0.299 shares of WPC which added a total of $1.97 to my forward income.  GPS is in my Loyal3 account where all dividends are taken as cash.
I made a couple of purchases in the portfolio over the month which raised my forward income quite a bit.  I can now expect to receive at least $730 of dividend income over the next 12 months.  Here is my forward income progress: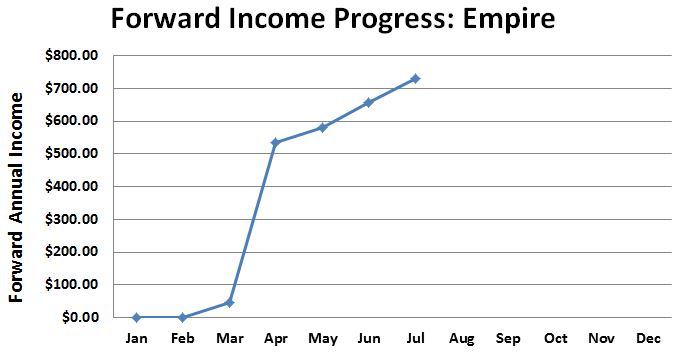 One of my annual goals for the Empire portfolio is to receive at least $500 from dividends.  Here is my progress so far: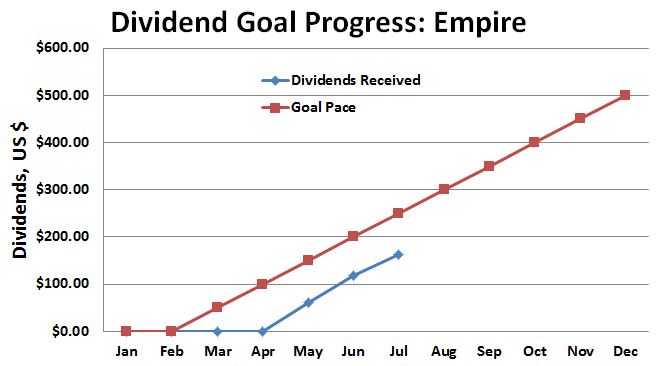 It looks like I am lagging a bit but with some recent purchases I am actually set to achieve this goal.  If all companies pay out on schedule with no cuts I should be at ~$510 by the end of the year!  I'm of course planning on making many more purchases this year so I should be able to blow this goal away.
Pay raises: I did not receive any dividend increases in this portfolio.
Dividend Retirement Portfolio
Only 2 companies out of the 20 that I own in this portfolio pay out in July.  Here is the breakdown:
| | | | |
| --- | --- | --- | --- |
| Ticker | Date | Div Amount | Action |
| MO | 7/10/2015 | $30.16 | Cash |
| O | 7/15/2015 | $23.75 | Cash |
| | | | |
| | Total: | $53.91 | |
My 401k account, which is where these stocks are held, does not allow dividend reinvesting.  Therefore all dividends are taken as cash and selectively reinvested once I accumulate enough money.
I made 4 large purchases in this portfolio last month which helped me reach a mini milestone – crossing over the $2k forward income mark: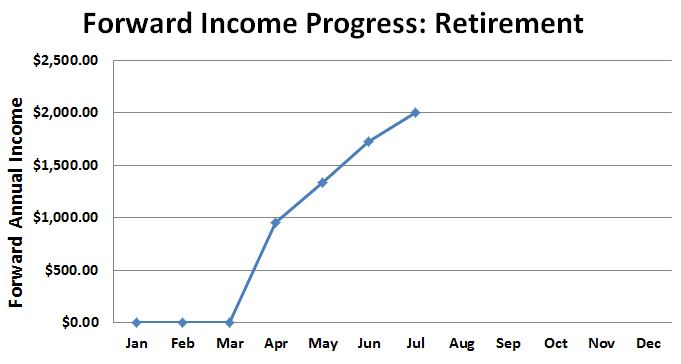 My 2015 dividend income goal for this portfolio is to receive at least $1500 by the end of the year.  Here is where I'm at: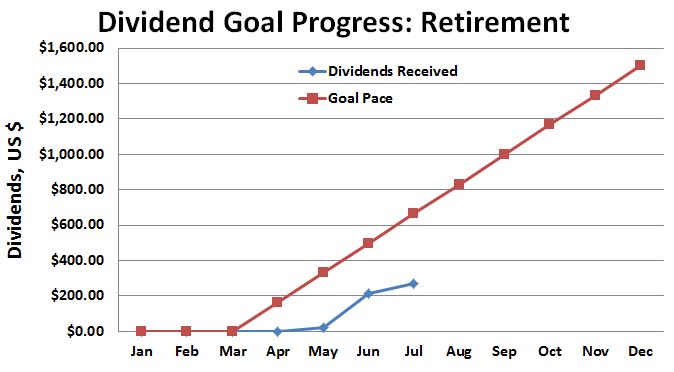 Not looking so good, huh?  I think this one is officially out of reach.  When I set these goals back in April I based them on having $100k available to invest and I wrongly made the assumption that it would not take long to allocate the funds.  Three months later I have purchased only $60k worth of stock, leaving me with $40k earning me $0 dividend income.  While this is fine – I am taking my time to select quality stocks at the right price – I should have taken it into account when setting my goals.  Oh well.
Pay raises:
I got two pay raises this month in my retirement portfolio from CMI and OHI.  CMI dished out a monster 25% increase which added $16.38 to my forward income.  OHI gave a 1.85% raise which added $3.36 to my forward income.  Together, these two raises will put an additional $19.74 in my account over the next 12 months!
So that's it!  As I mentioned there is nothing too exciting here.  I'm on pace to hit all of my goals for the Empire portfolio but my Retirement portfolio needs some work.  I'll post a portfolio update over the next couple of days to update the overall performance of both portfolios as well as my progress towards the rest of my goals.
I hope everyone had a great July!