My first purchase of the year is finally here!
I decided to pick up some shares of Boeing (BA) last week in the midst of the recent market rout.  I have a list of stocks that I'm looking to buy when the market drops and I settled on BA this time around since it was hit especially hard.
Stock Purchase: Boeing (BA)
Sector: Industrials
Industry: Aerospace & Defense
Purchase date: 1/15/2015
Portfolio: Dividend Retirement Portfolio
Shares purchased: 25
Cost per share: $125.18
Commissions: $14.95
Cost basis: $3144.45
Yield on cost: 3.47%
Forward income: $109
Company Overview:
The Boeing Co. is an aerospace company that manufactures commercial jetliners and defense, space and security systems. Its products and tailored services include commercial and military aircraft, satellites, weapons, electronic and defense systems, launch systems, advanced information and communication systems, and performance-based logistics and training.  Source – TradeKing.
Boeing is a solid company – period.  Their revenue and earnings per share have grown tremendously over the past few years and don't appear to be slowing down.
News just came out that BA is once again slowing 747 production which will likely scare some folks, but they produce other commercial planes that are doing quite well.  Commercial aircraft demand is strong and B737 and B787 revenues, production rates and deliveries are all increasing.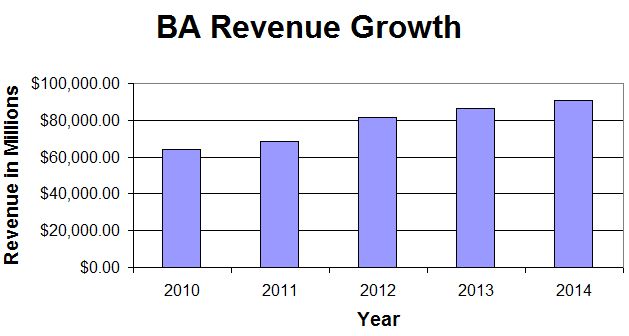 Now for my favorite part – Boeing's dividend.  Boeing's 5-year average dividend yield is 2.1%.  You can pick up shares now that will yield over 3.5%!  Opportunities like this don't come too often on high quality companies like BA.
In addition to having a high current yield, the BA dividend is growing at a very rapid pace.  After a couple of small increases earlier this decade, BA dividend increases have shot straight up.
It all started with a respectable 10% increase in 2013.  This was followed by a whopping 50% increase in 2014, then 25% in 2015, and with the recent increase announced in December we can expect an additional 20% annual dividend in 2016.
While I'm in it for a long-term dividend play, it is always comforting when analysts expect great things from the company you just bought.  S&P Capital IQ has a buy rating on BA with a 12 month price target of $180.
These 25 shares of BA have added $109 to my forward annual dividend total which now sits at $2714.25.  My Dividend Retirement portfolio has been updated to reflect this new position.
What do you think of this purchase?  What are you looking to buy right now?  Please let me know in the comments section below!
Disclosure: Long BA.