I recently posted the results of a stock screen that was designed to pick up some of the best dividend growth stocks with low payout ratios.  This screen pulled out several traditional dividend growth stocks like ADM, VLO, CNQ, GPS and IBM.  These are all great choices and I'm definitely adding them to my watch list, but there was one particular stock that I haven't heard much about in the dividend growth community.  This is a company that I am very familiar with due to my occupation as a research scientist – Corning Inc. (GLW).
The more I looked into this highly diversified materials science company the more attractive it became.  They have demonstrated excellent earnings and dividend growth over the past 5 years and currently trade at a PE ratio of 12; lower than 90% of the companies in their industry.
There are some risks, however.  Corning does not have a perfect track record for dividend growth and in fact they have cut their dividend in the past.  This is obviously a major red flag for us dividend growth investors but I'm willing to take a chance in this case.  In Corning's 2014 annual statement they confirmed their commitment to returning cash to shareholders, citing their recent 20% dividend increase and $1.5 billion share-repurchase program.
In my opinion, Corning's proclaimed commitment to dividends combined with their incredible growth opportunities (see below) make Corning a great addition to my Dividend Retirement portfolio.
Corning purchase details
Purchase date: 5/13/2015
Portfolio: Dividend Retirement
Sector: Technology
Industry: Diversified Electronics*
Shares purchased: 144
Cost per share: $20.90
Commissions: $14.95
Cost basis: $3024.55
Yield: 2.29%
Expected annual income: $69.12
*Yahoo Finance lists Corning under diversified electronics which is fair but does not tell the whole story – see diversification in the Overview below.
Overview of Corning Inc
From the Corning website:
Corning is one of the world's leading innovators in materials science. For more than 160 years, Corning has applied its unparalleled expertise in specialty glass, ceramics, and optical physics to develop products that have transformed people's lives. Today, Corning's products enable diverse industries such as consumer electronics, telecommunications, transportation, and life sciences.

Corning is a global leader in five vital market segments:
Financial Strength
Revenue growth has been very strong for Corning, especially over the past 5 years.
GLW data by GuruFocus.com
Over the past 5 years earnings have grown 6.2% annually and they are projected to grow 11.2% annually over the next five years.  Corning also have a very low debt/equity ratio of 0.17
GLW recently reported excellent quarterly results.  Sales increased 4% year over year (YoY) to $2.4 billion and core earnings per share increased 21% YoY to $0.35/share.
*Data from Corning News Center
Dividend Strength
Let me start out with the bad news.  Corning had a dividend cut in 2001 followed by complete elimination of the dividend in 2002 due to poor earnings.
This is a major red flag for dividend growth investors.  Corning reinstated their dividend in 2007 and it remained flat until 2011.  Since then, Corning has done quite a bit to gain back some trust.  Over the past 5 years Corning's dividend growth has been excellent, increasing by an average of 14.9% per year.  As I mentioned at the beginning of this post the most recent increase was 20% showing some acceleration in the dividend growth.
I originally found this stock in a screen for dividend growth stocks with low payout ratios, so obviously GLW has a low payout ratio!  The current EPS payout ratio is 28.4 while the free cash flow payout ratio is 24.1, indicating that GLW can easily cover the current dividend and has plenty of room for dividend growth in the future.  My yield on cost for GLW is only 2.29% but if the current growth rate continues I can expect a yield on cost of about 4.5% in 5 years.
Why I'm Breaking The Rules
Normally when I see a dividend cut in a company's history I will immediately move on to the next stock.  So why have I made an exception with GLW?  In this section I will outline my rationale for purchasing a stock with a poor dividend track record.
Corning's Life Sciences segment
I have worked in or visited dozens of research labs in my 16 years of working in academic research and in the biotech industry.  For myself and anyone else who works in a lab it is difficult to ignore the complete dominance Corning has over lab consumables.  Just about every single cell culture flask/plate/dish, every tube or container, and all of the glassware has the words "A Corning Brand" written on it.  I would be surprised if there is a lab on this planet that doesn't use Corning products.
Growth Opportunities
Corning has an enormous amount of growth opportunities.  Here are a few highlights:
Acquisition of Samsung Electronics optical fiber business – enables growth in Asia.
Corning Gorilla Glass – This is perhaps one of the most exciting developments at Corning.  Gorilla Glass is two times stronger than competitor's cover glass.  It is specially formulated to reduce screen breakage on mobile devices.  With the booming smart phone market this provides an excellent growth opportunity.  Corning is also planning on extending Gorilla Glass to other markets like automotive and architectural customers.
Corning's ONE wireless technology – provides optical connections in venues.
Corning FLORA – addresses the problem of cold-start automobile emissions.
Display technologies (IRIS) – enables thinner form factors for advanced displays by replacing plastic and metal components.  With ultra-high-definition televisions expected to double in 2015, this should provide excellent growth opportunities for Corning.
Valuation
GLW currently has a PE ratio that is 3 times lower than the industry average.  Also, analyst's consensus price target is $23.
Chart
GLW has dipped significantly from a high of $25.16 earlier this year and is currently resting on strong support.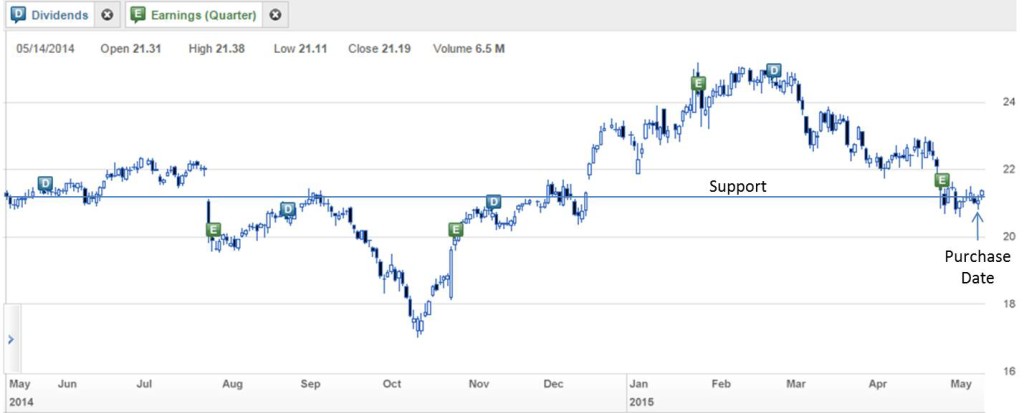 Summary
While I understand Corning is not an ideal dividend growth stock given it's history, I've tried to outline some reasons why I am giving this one a chance.  The recent dividend history has been exceptional, there are many opportunities for growth and the company is financially sound.  Hopefully I got in early on a stock that will one day be a dividend champion.
Portfolio Impact
This purchase was made in my Dividend Retirement portfolio, part of my employer-sponsored 401k account.  This portfolio is designed to provide dividend income for my early retirement.
This purchase of 144 shares of GLW should initially provide $69.12 in annual income at a yield on cost of 2.29%.  This brings my portfolio totals up to $1269.96 forward income and a 3.25% average yield.
What are your thoughts on holding GLW in a dividend growth portfolio?