I recently added TGT and UNH to my Dividend Retirement portfolio when their stock prices dipped, and last Friday I was able to pick up another solid company on what seemed to be an irrational selloff.
On Friday Sketchers (SKX) reported a revenue "miss" of 2.5%.  Although earnings beat the consensus (after accounting for one-time charges) and their revenues actually grew 27% Y/Y, the stock proceeded to fall 33%.  I realize that the stock price had increased considerably of late and SKX was perhaps a bit overvalued but a 33% drop seems to be a severe overreaction.
The interesting part of the SKX crash was that it brought down some names that I am interested in along with it.  One of these companies, Foot Locker (FL), has been at the top of my watch list for months and I've been waiting patiently for a good entry.  Well the perfect entry was handed to me on Friday when FL plummeted almost 9% on Sketcher's news.
In this post I'll provide my purchase details and write up a brief analysis of Foot Locker.
Stock Purchase: Foot Locker (FL)
Sector: Consumer Discretionary
Industry: Apparel Retail
Purchase date: 10/23/2015
Portfolio: Dividend Retirement Portfolio
Shares purchased: 40
Cost per share: $63.77
Commissions: $14.95
Cost basis: $2565.75
Yield on cost: 1.56%
Forward income: $40
Company Overview:
Foot Locker, Inc. engages in the global retail of athletically inspired shoes and apparel. The company operates through two segments: Athletic Stores and Direct-to-Customers.  Source – TradeKing.
Foot Locker's revenue and earnings growth over the past 5 years has been phenomenal and should continue for years to come.  Growth will likely come from expansion (50-60 net new stores planned counting closures of under-performing locations), strong demand for basketball and running shoes, and the general trend of more people leading active lifestyles.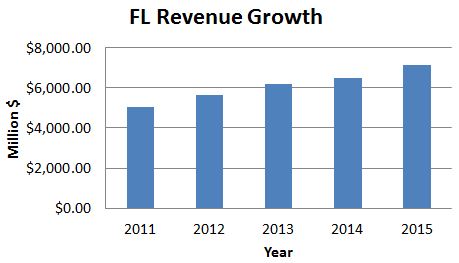 In addition to their solid growth, Foot Locker appears to be committed to returning value to shareholders.  They currently have a $1 billion share repurchase plan and they have been paying a steadily increasing dividend for 5 years, just making the Dividend Challengers list.
While the current yield is only about 1.5% the 5-year FL dividend growth rate is a respectable 9% and it appears to be accelerating.  With a payout ratio of just 25% and strong earnings growth I'm expecting some hefty increases over the next couple of years.
Finally, FL has very little debt with a debt/equity ratio of 0.05 and a ton of cash on hand.  As a bonus, analysts appear to be very bullish on the stock.  S&P Capital IQ has a strong buy rating on FL with a 12-month price target of $82.  At my entry price this target gives me a potential 29% upside in the short-term.  I plan on holding this position for a very long time so this doesn't matter much to me but it's always nice to see the pros on my side.
These 40 shares of FL have added $40 to my forward annual dividend total.  My Dividend Retirement portfolio has been updated to reflect this new position.
What are you thoughts on FL and the apparel industry right now?  Please let me know in the comments section below!
Disclosure: Long TGT, UNH and FL.  I might enter a long swing trade in SWX this week.