For those of you who have not heard of Loyal3.com, it is a website / broker that allows you to purchase and accumulate high quality dividend stocks with no commissions.  That's right – no commissions with no catch.
I wrote a short introduction and review of Loyal3 last month titled "MCD Accumulation in Loyal3 Account."  In that post I mentioned that I was taking Loyal3 for a test drive by investing $25 per month in McDonalds (MCD).  This Loyal3 account is part of my Dividend Empire portfolio, where my goal is to accumulate high quality dividend growth stocks to build a dividend paying empire for my descendants.  So far I am very pleased with my Loyal3 experience and therefore I've decided to double my monthly contributions.
Loyal3 doesn't allow you to invest in any stock.  Instead they have a basket of popular stocks, mostly consumer goods and services, allowing investors to "Own What They Love."  This sounds like a turnoff but rest assured, Loyal3 offers plenty of great dividend growth stocks.  One of the great options available at Loyal3 is Hershey (HSY).  Instead of just doubling down on MCD I decided to add HSY to my portfolio for two reasons:
Diversity – I currently have no exposure to the confectioners industry
Growth – HSY is  simply a great company with excellent earnings and dividend growth (see analysis below)
Before diving into the analysis let me briefly explain my goals for this position (and my MCD position).
Loyal3 Hershey Accumulation Goals
First off, here are the transaction details for my first HSY purchase:
Portfolio: Dividend Empire
Sector: Consumer Goods
Industry: Confectioners
Shares purchased: 0.2648
Cost per share: $94.41
Commissions: $0
Cost basis: $25
Yield: 2.29%
Expected annual income: $0.52
I realize that this transaction seems rather insignificant, and i agree to some extent.  $25 and 0.2648 shares is not much, representing just 0.16% of my portfolio.  First off I do plan on increasing my monthly contributions to both HSY and MCD to $50 – $100 per month.  Second, my Loyal3 account is all about accumulation and dollar cost averaging.
It's hard to believe that $25 per month can actually grow to a significant amount, and that's why I ran a simulation to see what my position might look like in 10 years.  Here are the assumptions:
Starting stock price: $94.41
Starting annual dividend: $2.16 (2.29% yield)
Annual dividend growth: 10% (5-year actual = 11.7%)
Stock price growth: 4%
Monthly contributions: $25
Here is what the share growth and forward income growth looks like: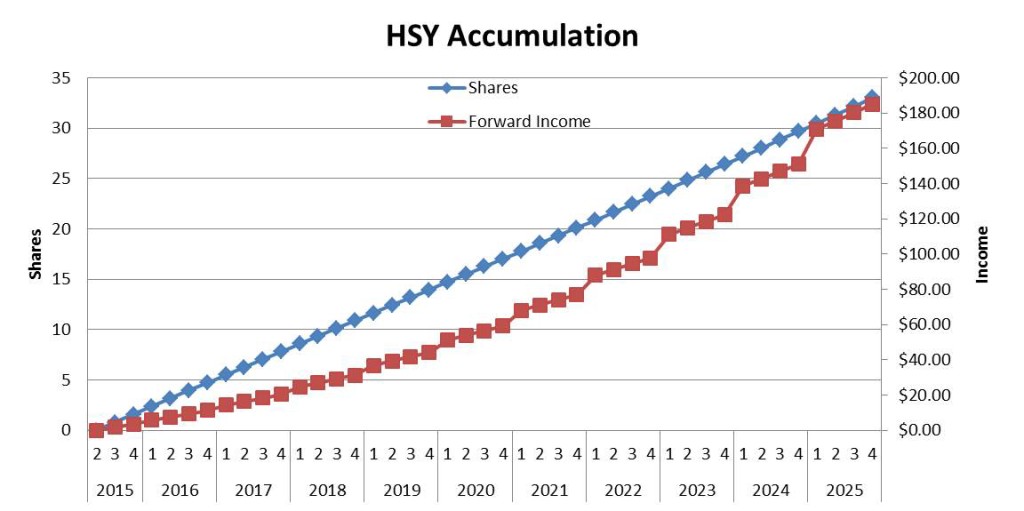 Given these condition, after 10 years I can expect to have the following position:
HSY shares: 33.015
Stock price: $143.39
Capital invested: $3225
Position value: $4734
Forward income: $184.97
Yield on cost: 5.74%
Not bad, right?  And if (when) I eventually increase my contributions to $50 or $100 per month I will establish a very sizable position.  Since my current position size in the Dividend Empire portfolio is between $1500-$3000 it will probably only take 1-2 years to establish a "full" HSY position.  You can view the spreadsheet I used to make these projections HERE.
OK so now that I've hopefully convinced you that my $25 investment is reasonable, let me explain why I think Hershey is a good buy.
Hershey's Overview
One thing I love is investing in companies that offer products that I personally buy or use.  Hershey's is definitely one of those companies.  Although I try to maintain a "paleo lifestyle" and have a fairly clean diet, I just can't stay away from Reese's Peanut Butter Cups and Reese's Pieces.  Some other famous brands Hershey owns (and I have consumed at some point) are Hershey's chocolates, Mounds, Kit Kat, Heath, York, Bubble Yum and Ice Breakers.
Here is a brief overview provided by Hershey's website:
The Hershey Company is the leading North American manufacturer of quality chocolate and non-chocolate confectionery and chocolate-related grocery products. The company also is a leader in the gum and mint category.
Hershey's was started by Milton Hershey back in 1894 and quickly became the first company to offer chocolate to the masses, not just the wealthy.  Hershey rapidly expanded from chocolate products to the brands I mentioned above and many others.  They have also developed a strong international presence with operations in over 90 countries.
Hershey's Financial Strength
The past 5 years have been great for HSY.  Their revenue has grown an average of 7% and their earnings have grown an average of 14.6%!
10-year revenue per share and earnings per share:
HSY data by GuruFocus.com
HSY data by GuruFocus.com
Hershey's sales have slowed down a bit this year but recent increases in pricing should result in an 11-14% increase in EPS in 2015.  This excellent growth should continue, aided by acquisitions and international growth.  Currently only 12% of sales come from international operations leaving plenty of room to grow.
HSY has a 2015 PE ratio of 21.9 in line with the industry average.  This looks to be a bit high but it is certainly justifiable given Hershey's growth rate.
Hershey's Dividend Strength
This is where HSY really shines.  Hershey has increased their dividend every year for the past 5 years, just making the dividend challengers list.  This is not a very long time but if you take out just one year, 2009, where the dividend didn't increase (it was not cut) the streak would go back decades.  Plus the annual dividend growth rate over the past 5 years has been a solid 11.4%.
If this growth rate continues a yield of 2.27% today would turn into almost 4% in 5 years.  This doesn't really apply to me since I will be accumulating my HSY position slowly over the next couple of years, but once my full position is established it is comforting to know that my yield on cost should increase over time.  They have also been able to keep their payout ratio around 50% over the past few years so the dividend should be sustainable.
Hershey's Fair Value Estimate
Given the average dividend growth of 11.4% over the past 5 years, the Gordon Growth Model gives a very unreasonable estimate of over $300/share (using a required return of 12%).  This model is only good for dividend growth stocks with a long and consistent track record of dividend growth.
Therefore I will rely on analysts estimates to determine the fair value of HSY.  Of the 10 analysts covering Hershey, 2 rate the stock a strong buy while 8 recommend holding with a consensus price target of $101/share.  Based on this consensus the stock seems fairly valued.
Portfolio Impact
This small purchase of Hershey adds $0.52 annual income and is too insignificant to change my portfolio yield on cost, which currently stands at 3.43%.  It does give me a tiny bit of exposure to the confectioners industry and this exposure will grow over time with my monthly contributions to HSY in my Loyal3 account.
My $25 monthly contribution to MCD also went through today as part of my MCD accumulation.  This transaction added 0.2562 shares of MCD bringing my total up to 0.5135 shares.  This MCD purchase adds $0.88 annual income and did not change my portfolio yield.
What are your thoughts on HSY?  Anyone else using Loyal3 to slowly accumulate dividend growth stocks?