Yet another slow month in terms of dividend payments…
As I mentioned in my July dividend update, most of my stocks pay out on the March, June, September, December schedule.  I've recently picked up a few companies that pay out during the other months but I have to wait until next quarter for my first payments.  While my dividend income was rather boring, the market and my activity in these portfolios were far from it and I will post a general portfolio update shortly.  For now, let's go through my dividends.
For those of you who are not familiar with my blog and portfolios, the Dividend Empire portfolio is strictly for my child, future children, their children and beyond.  I will never touch the money.  The Dividend Retirement portfolio will hopefully pay for my early retirement one day before eventually merging with the Empire portfolio.  Below I will report my dividend income for August and my progress towards reaching my dividend related goals for both of these portfolios.
Dividend Income
This being my 4th month of receiving dividends I can FINALLY make a fair comparison to a previous month to see how my income stream is growing.  This month I received a total of $164.71 in my two portfolios: $60.69 in my Empire portfolio and $104.02 in my Retirement portfolio.  Both portfolios received more dividends this month compared to May so I'm heading in the right direction!  Here are the details: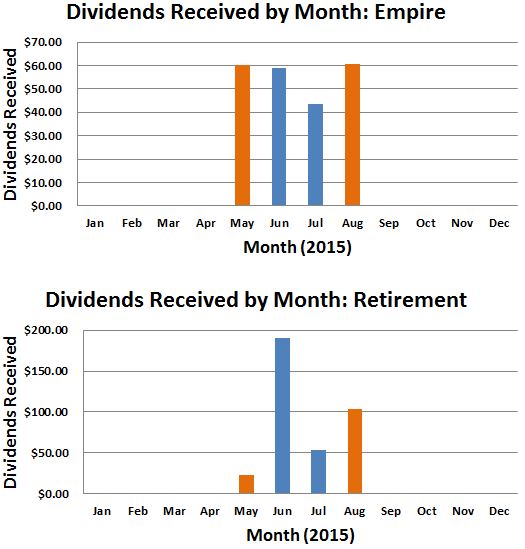 I had a $0.69 increase in dividends in my Empire portfolio compared to May due to reinvesting my T & AAPL dividends last quarter.  My Retirement portfolio dividends increased $80.69 over May due to several purchases made over the past quarter and dividend increases from OHI and O.
Here is a breakdown of the companies that paid me in August: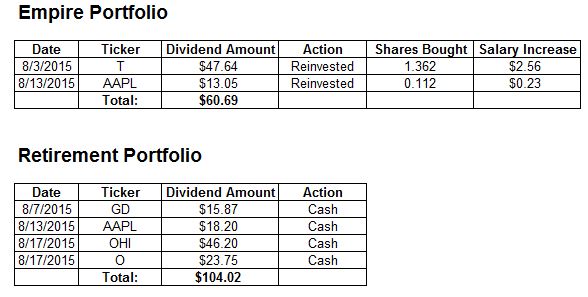 I am currently automatically reinvesting all dividends in my Empire portfolio until my income reaches $500/quarter.  By reinvesting my T and AAPL dividends I was able to purchase 1.36 shares of T and 0.112 shares of AAPL which resulted in a $2.79 increase in my forward income.
Dividend reinvesting is not available in my Retirement portfolio (401k account) so all dividends are taken as cash and selectively reinvested.
I also received two pay raises this month – one in each portfolio:

These two dividend increases will provide an additional $9.64 in forward annual income.  Adding my salary increases from dividend reinvestments brings my total pay raise for the month (excluding new purchases) to $12.43.  That's an extra $12 per year with no action on my part!
I have set annual dividend goals for both of my portfolios when I first started out back in April.  My goal was to receive at least $500 in the Empire portfolio and $1500 in the Retirement portfolio.  Here is my progress against these dividend income goals: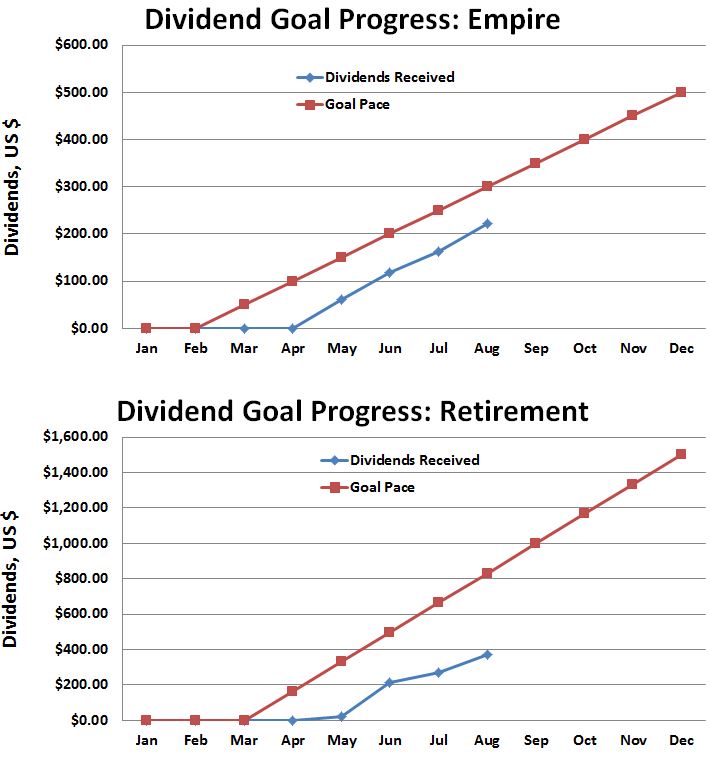 Although it looks like I'm behind quite a bit in the Empire portfolio, I am actually set to make about $550 this year assuming all companies pay on schedule.  Plus I am planning on making many more purchases this year so I will most likely destroy this goal.
The Retirement progress graph also looks pretty bad, and unfortunately it really is bad.  I made a mistake when I set this goal.  I had a large amount of capital to invest and I wrongfully assumed that I would allocate these funds quickly.  Instead, I have slowly made purchases, taking time to really research and understand the businesses that I am acquiring.  So long story short, this goal is out of reach.
That's it for my dividend income update.  I have added my dividend income to my Historical Data page where I have organized all of my monthly incomes, updates and screens (with links).  I'll post a portfolio update over the next couple of days to update the overall performance of both portfolios as well as my progress towards the rest of my goals.
Thanks for reading and I hope everyone had a great August!
Disclosure: Long all stocks mentioned in this article.