In my last post I provided an update on my dividend income received during the month of August, 2015.  Now it's time to look at the overall progress I made in my two dividend growth portfolios in August including contributions, buys, performance and progress against goals.
Dividend Empire Portfolio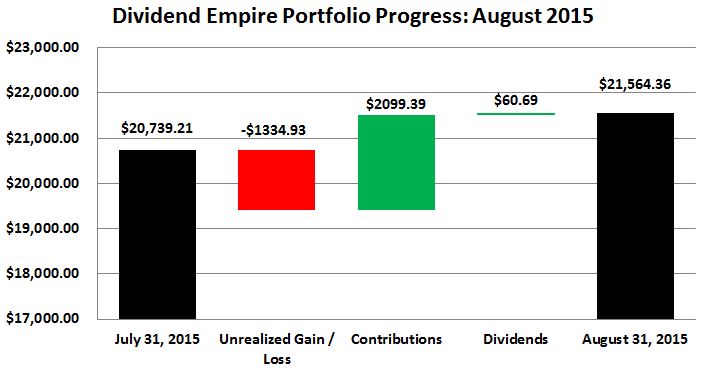 The Dividend Empire portfolio is a gift to my descendants and will hopefully turn into a true empire – providing passive income over many generations.  My goal is to contribute at least $15k per year ($25k this year) over my working years and then pass the portfolio on to my children (who will hopefully continue contributing).
Just like everyone else (I'm assuming) my portfolio got beat up pretty bad in August.  I posted a $1,334.93 unrealized loss during the month which I was able to offset with $2,099.39 worth of contributions and $60.69 in dividend income.
Looking at that big red bar hurts my eyes a bit but it is important to remember that I'm in it for the long-term.  I own quality companies that will continue paying me dividends and the stock prices will eventually recover.  Besides, the selloff presented some excellent buying opportunities (see below).
Contribution Sources:
Here is the breakdown of contributions last month:
Monthly savings: $1419.97
Dependent care flexible spending account (DCFSA) reimbursement: $679.42
Dividends: $60.69
I ended up using most of my cash in this portfolio last month, leaving me with just $16.44 available.  Hopefully I can squeeze out some extra savings next month to make a couple of purchases.
Stock Purchases
I was able to make a total of 6 purchases last month: 2 new positions, 2 Loyal3 monthly buys and 2 DRIPs.
These purchases helped boost my forward income by $78.40: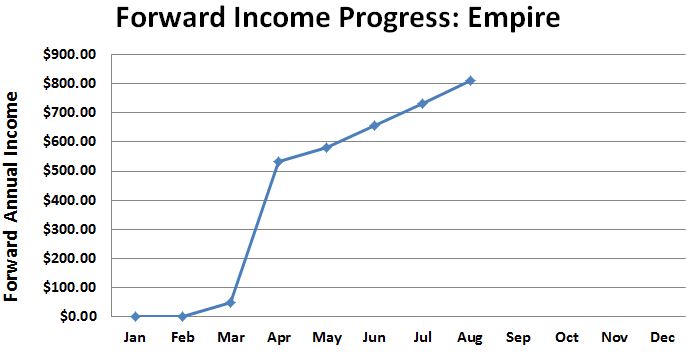 Best and Worst Performers
This is something I started tracking recently just for fun (although it's not very fun this month).  Here are the best and worst performing stocks in my Empire portfolio over the last month (including any dividends received):

Not a single stock in my Empire portfolio posted a gain last month.  AT&T was my best performer with a 3.14% unrealized loss.
Progress Against Goals:
I provided an update on my dividend related goals in my previous post.  The one remaining annual goal for the empire portfolio is to have an account value over $25k by the end of the year.  Here is where I am at: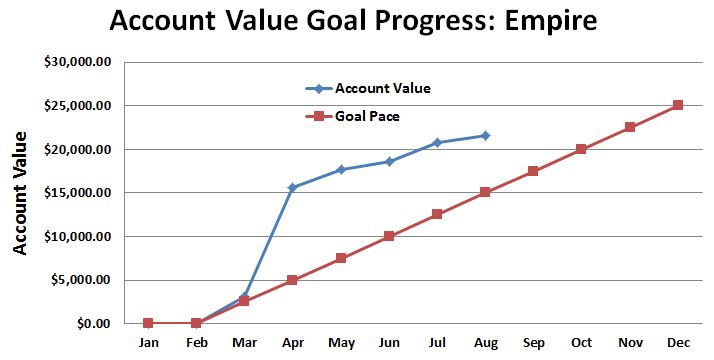 The recent market correction certainly did not help me with this goal, but as long as I continue contributing over $800 per month I should be ok.
Dividend Retirement Portfolio
The Dividend Retirement portfolio is a portion of my 401k dedicated to dividend growth stocks and will be used to fund my early retirement and will eventually merge with my Empire portfolio.
Last month my portfolio value increased from $70,583.22 to $81,240.40, a total increase of $10,657.18.  My portfolio value dropped $5,075.65 (ouch!) but I received $104.02 in dividends and contributed $15,628.81 to offset these unrealized losses and grow the portfolio value.
Contribution Sources:
Mutual fund sales: $13,614.09
Pre-tax deductions: $2014.72
Dividends: $104.02
My goal to convert 65% of my 401k mutual funds into dividend growth stocks is nearly complete.  I have sold off almost $80k of the available $105k.  I anticipate being done with this conversion by the end of the year.
Not all of these contributions were used for purchases last month and I currently have $12,515.20 cash on hand with several limit orders set.
Stock Purchases
I was able to make a total of 9 purchases last month: 5 new positions, 1 average down and 3 automatic pre-tax deductions to purchase AMGN shares.
All of these purchases gained me $372.33 in forward annual income, bringing my total up to $2381.06.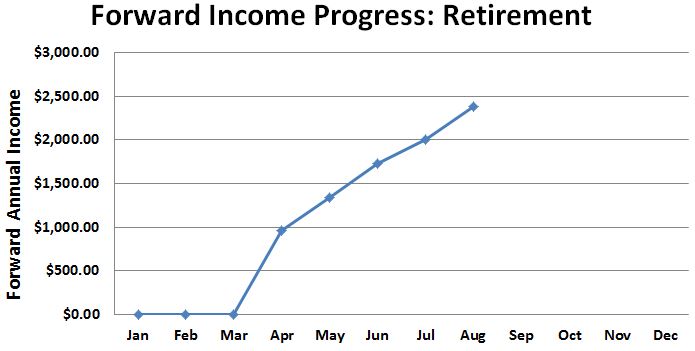 Best and Worst Performers
At least one of my stocks posted a gain in this portfolio!
Progress Against Goals:
I set 4 goals for this portfolio in 2015: receive $1,500 in dividends, diversify across all sectors, own 30 different companies and have a portfolio value of at least $100,000.00 by the end of the year.
1. Receive $1,500 in dividends: as I mentioned in my August 2015 dividend update this goal is out of reach.
2. Diversify across all sectors: I am still missing telecommunications and utilities.
3. Own 30 different companies: I am up to 25
4. Portfolio value of at least $100,000.00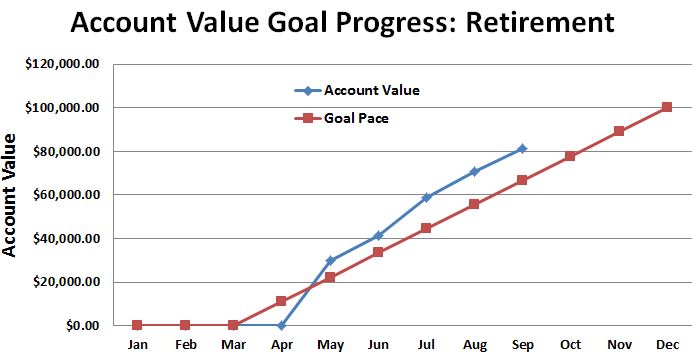 Still on track.  As I mentioned in my previous update, this isn't really a fair goal since most of the money required to achieve this goal is sitting in mutual funds just waiting to be sold.
The take home this past month is that the market correction hammered my portfolio values.  On the bright side, it put a huge number of stocks on sale and I was able to pick up some high quality dividend growth stocks at a discount.  These purchases added a huge amount of forward annual income to my portfolios and that's the name of the game.