July was just another average month for me.  I've been having a hard time pulling the trigger on stock purchases.  I have cash on hand but I have this strong feeling that the market will crash at some point.
I've been wrong so far – the market just keeps going up!  I'm planning on nibbling a little bit this month by making a few small purchases.  Clearly I need to do something because my dividend growth is suffering.
As you will see below my Empire dividends actually decreased year over year coming in at just $40.70 for the month of July.  My Retirement portfolio, however, continues to grow at a nice, rapid pace.
Here are some of my key dividend stats:

Dividend Income
In July I received a total of $167.76 in my two portfolios: $40.70 in my Empire portfolio and 127.06 in my Retirement portfolio.
For the Empire portfolio, this was a small $0.70 increase over April 2016 and is actually a $2.79 decrease year over year.  The good news is that this decrease wasn't a dividend cut.  My Coca Cola (KO) position increased in value quite a bit since my initial purchase.  I felt a bit overweight in the company and decided to sell off some of the shares.
My Retirement portfolio increased by about $5 compared to April and a cool $73.15 year over year.  This increase was mostly new purchases with a few dividend increases mixed in.
Here is a breakdown of the companies that paid me in July:
July isn't a really exciting month for me with just 4 companies paying me in my Empire portfolio and 6 paying me in my Retirement portfolio.  Dividend reinvestments increased my forward annual income by $1.75.
Pay raises:
Only two small raises last month that gained me another $10.92 annual income.  Better than nothing…
Forward Income Progress:
My forward income progress has slowed to a crawl.  Waiting for a drop in the market isn't helping.  Hopefully I can take some time this month to find some bargains out there and boost my income.
Progress Against Goals:
Finally, my dividend goals for 2016 are to receive at least $1000 worth of dividends in my Empire portfolio and $3000 in my Retirement portfolio.  Here is my progress through July: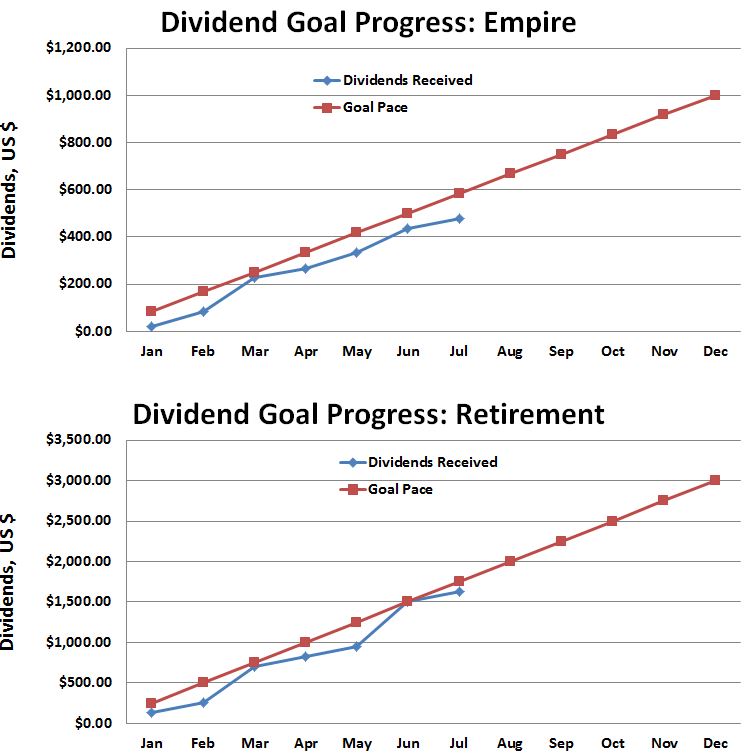 My Retirement portfolio goal shouldn't be a problem this year.  Unfortunately, as I've mentioned several times, Empire needs some work.
Thanks for reading!  I hope everyone had a great July and best of luck to you in August.  I will post my July purchases, updates on my other portfolios and a breakdown of my option income strategy later this month so stay tuned.
Also be sure to check out my Historical Data page where I have organized all of my monthly incomes, updates and screens (with links).
Disclosure: Long all stocks mentioned in this article.