It's hard to believe that we are half way through the year already!  This is the perfect time to check up on my dividend goals.
June was another great month, especially for dividend income since the majority of my holdings pay out in March, June, September and December.  On top of that I made several great purchases and made some money trading (posts coming soon).
Here are some of my key dividend stats:

Dividend Income
In June I received a total of $658.00 in my two portfolios: $105.31 in my Empire portfolio and $552.69 in my Retirement portfolio.
Compared to March 2016, these totals represent a 25.7% decrease for my Empire portfolio and a 21.8% increase for my Retirement portfolio.  This fairly large decrease in the Empire portfolio is due to the hefty special dividend Ford (F) paid out in March.  The big improvement in Retirement income came from my Frontier Communications (FTR) and Public Storage (PSA) purchases.
My year over year dividend increase for June was 79.1% in my Empire portfolio and an incredible 190% in my Retirement portfolio.  I can thank all of my DRIPs and my regular contributions for these massive increases.
Here is a breakdown of the companies that paid me in June: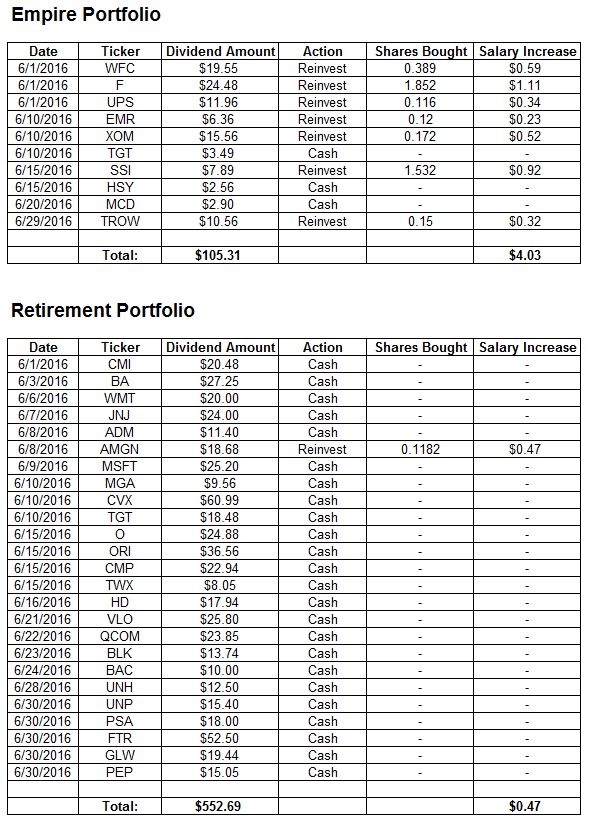 I received 10 payments in the Empire portfolio and 25 payments in my Retirement portfolio.  All Empire holdings (except for the stocks held in Loyal3) are on DRIP and the stocks purchased through DRIP activities added $4 to my forward income.
Pay raises:
I received 5 dividend increases for a total pay raise of $17.
Forward Income:
All of my new purchases, DRIPs and pay raises increased my Empire forward income by ~$8 and my Retirement forward income by ~$100.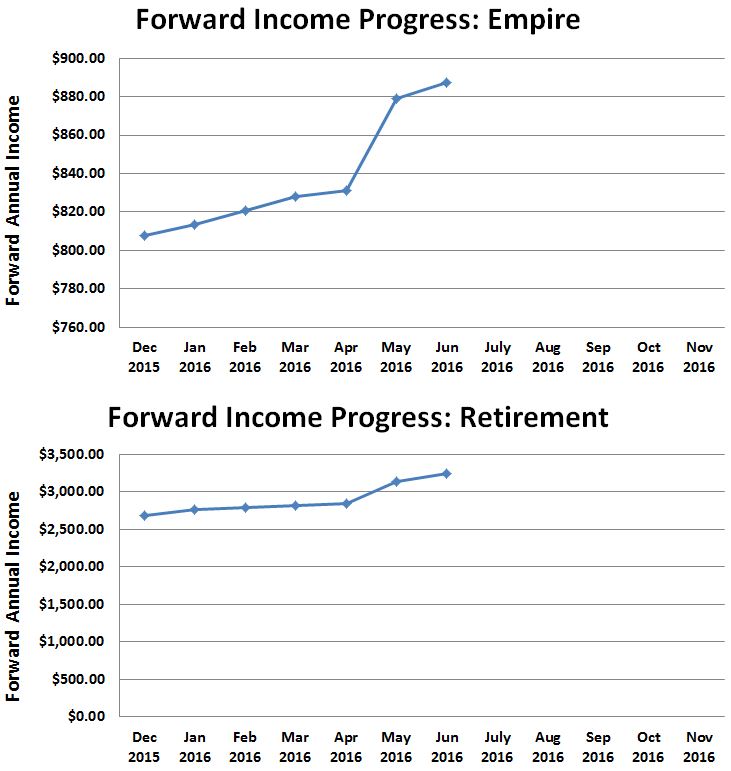 Progress Against Goals:
Finally, my dividend goals for 2016 are to receive at least $1000 worth of dividends in my Empire portfolio and $3000 in my Retirement portfolio.  Here is my progress through April:
I am right on the pace line for my Retirement income but I have some work to do for the Empire portfolio.  Luckily I have some cash on hand and I plan on contributing at least $1.5k into the Empire.
That's it for my dividend update.  I will post my June purchases and my other portfolio updates soon.  Be sure to check out my Historical Data page where I have organized all of my monthly incomes, updates and screens (with links).
Disclosure: Long all stocks mentioned in this article.