Well it feels like it has been ages since I've posted an article.  Over the past month I have been incredibly busy with my day job and some other ventures so I just haven't had the time.  But I'm back and excited to share my best month so far as a dividend growth investor!
For those of you who are not familiar with my blog and portfolios, the Dividend Empire portfolio is strictly for my child, future children, their children and beyond.  I will never touch the money.  The Dividend Retirement portfolio will hopefully pay for my early retirement one day before eventually merging with the Empire portfolio.
Below I will report my dividend income for September and my progress towards reaching my dividend related goals for both of these portfolios.
Dividend Income
Last month I received a total of $476.83 in my two portfolios: $97.05 in my Empire portfolio and $379.78 in my Retirement portfolio.  When compared to my June dividend income, these numbers represent a 65% increase for the Empire portfolio and a 100% increase for the Retirement portfolio!  Here are the details:
Most of these increases can be attributed to new purchases but I've also been reinvesting my dividends in the Empire portfolio and I've received a couple of pay raises in my Retirement portfolio (CMI & O).
The numbers look even better when comparing my quarterly progress: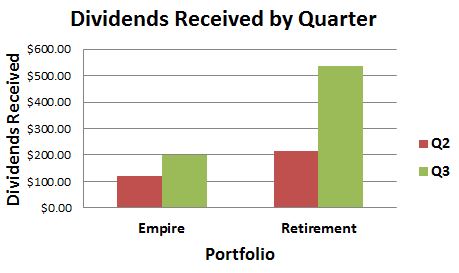 My dividend income has increased 69% quarter to quarter in the Empire portfolio and 152% in the Retirement portfolio.  Part of these large increases stems from the fact that I did not receive any dividends in April.  Even so, I am quite pleased with the progress.
Here is a breakdown of the companies that paid me in September: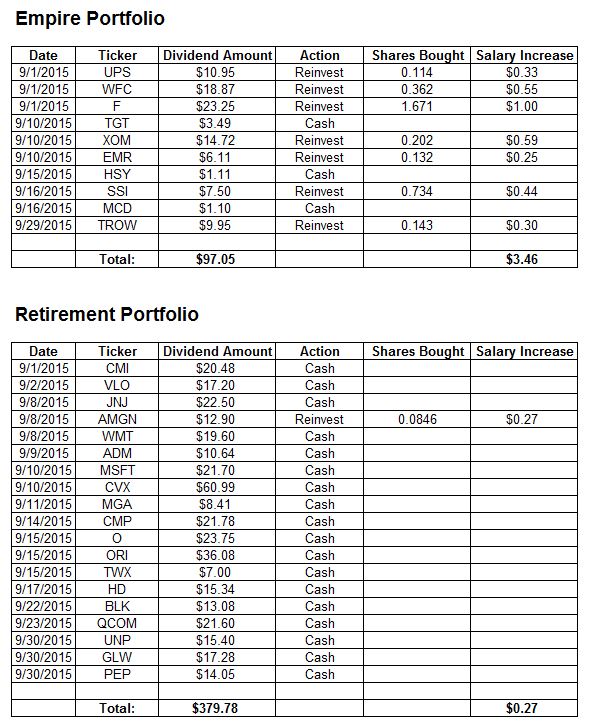 Overall I received 10 payments in the Empire portfolio and 19 payments in my Retirement portfolio.
I am currently automatically reinvesting all dividends in my Empire portfolio (except for stocks held in Loyal3) until my income reaches $500/quarter.  The stocks purchased through these reinvestments added $3.46 to my forward annual income.
Dividend reinvesting is not available in my Retirement portfolio (except for AMGN) so all dividends are taken as cash and selectively reinvested.
Pay raises:
I received 3 pay raises last month which added $0.52 forward income to my Empire portfolio and $14.75 to my Retirement portfolio.
Annual Dividend Goals
I have set annual dividend goals for both of my portfolios when I first started out back in March.  My goal was to receive at least $500 in the Empire portfolio and $1500 in the Retirement portfolio.  Here is my progress against these dividend income goals: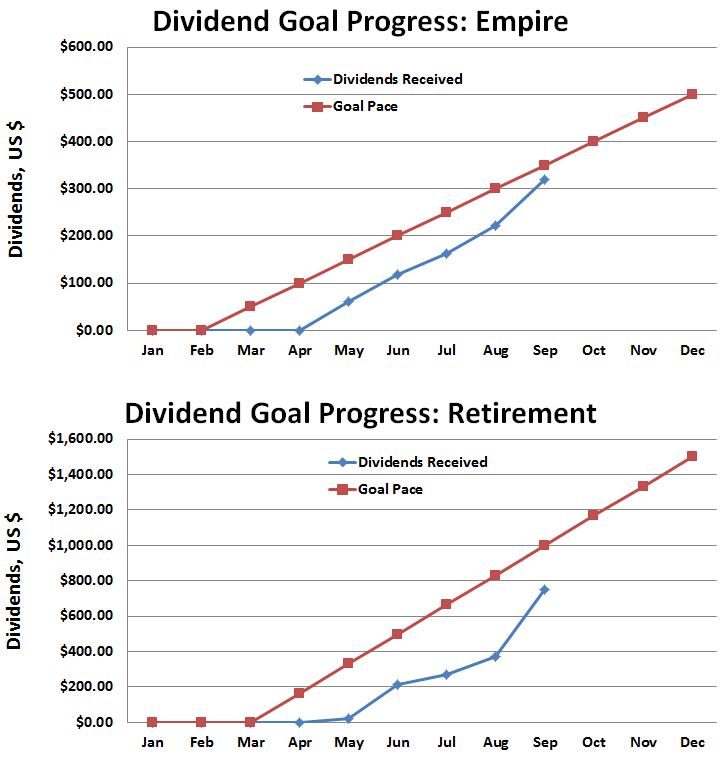 Both graphs look much better than they did last month.  The Empire "Dividends Received" line has nearly crossed over the goal pace and I am set beat my goal handily.
Over the past two months I have been saying that my Retirement portfolio annual goal is way out of reach but I'm a bit more optimistic now.  September was a monster month and brought me much closer to the pace.  With a few more purchases I might be able to get there.
That's it for my dividend income update.  I have added my dividend income to my Historical Data page where I have organized all of my monthly incomes, updates and screens (with links).  I'll post a portfolio update over the next couple of days to update the overall performance of both portfolios as well as my progress towards the rest of my goals.
Thanks for reading and I hope everyone had a great September!
Disclosure: Long all stocks mentioned in this article.