My goal was to write this post  last week but as usual work got in the way.  Better late than never!
In my last post I provided an update on my dividend income received during the month of September, 2015 which was a personal record.  Now it's time to look at the overall progress I made in my two dividend growth portfolios in September including contributions, buys, performance and progress against goals.
Dividend Empire Portfolio
The Dividend Empire portfolio is a gift to my descendants and will hopefully turn into a true empire – providing passive income over many generations.  My goal is to contribute at least $15k per year ($25k this year) over my working years and then pass the portfolio on to my children (who will hopefully continue contributing).  Here is an overview of the progress I made in September in this portfolio: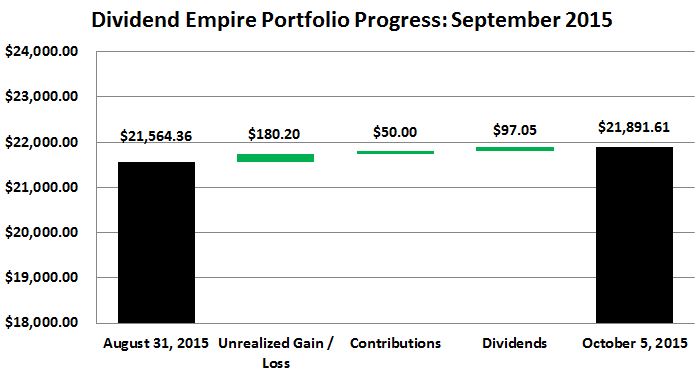 My Empire portfolio rebounded a bit in September after "losing" $1,335 in August.  The portfolio had an unrealized gain of $180 overall.  The other positive for September was my record $97.05 in dividend income!  The majority of this was reinvested in the companies that paid the dividends to keep the snowball rolling.
Finally I am very sad to report that I only contributed $50 to this portfolio last month – just my two automatic Loyal3 investments in HSY and MCD.  This is a far cry from my typical $1-2k per month I have been pumping into this portfolio and it couldn't have come at a worse time with so many stocks on sale.  I hope to turn this around in a big way over the next couple of months.
Stock Purchases
I made 10 purchases in the Empire portfolio in September: 1 new position, 2 Loyal3 monthly buys and 7 DRIPs.
9/1/2015 – 0.114 shares of UPS (DRIP)
9/1/2015 – 0.362 shares of WFC (DRIP)
9/1/2015 – 1.671 shares of F (DRIP)
9/7/2015 – 0.2721 shares of HSY (Loyal3)
9/8/2015 – 0.2594 shares of MCD (Loyal3)
9/10/2015 – 130 shares of AMNF (New purchase)
9/10/2015 – 0.202 shares of XOM (DRIP)
9/10/2015 – 0.132 shares of EMR (DRIP)
9/16/2015 – 0.734 shares of SSI (DRIP)
9/29/2015 – 0.143 shares of TROW (DRIP)
With these purchases I increased my forward income by $15.67: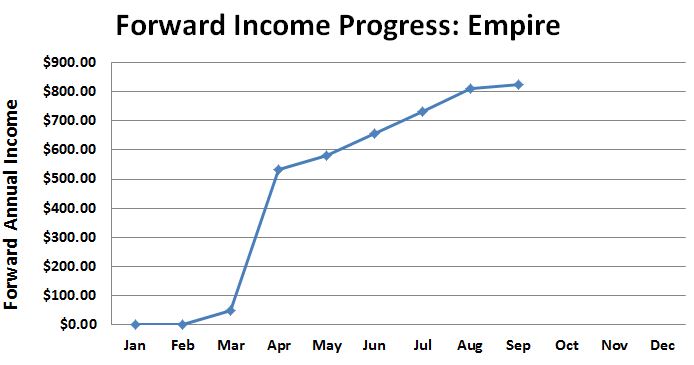 Best and Worst Performers
As part of my monthly review of my portfolios I like to look at the monthly performance of each stock (including dividends).  While I typically only care about company fundamentals this is always fun to keep track of:

Progress Against Goals:
I provided an update on my dividend related goals in my previous post.  The one remaining annual goal for the empire portfolio is to have an account value over $25k by the end of the year.  Here is where I am at: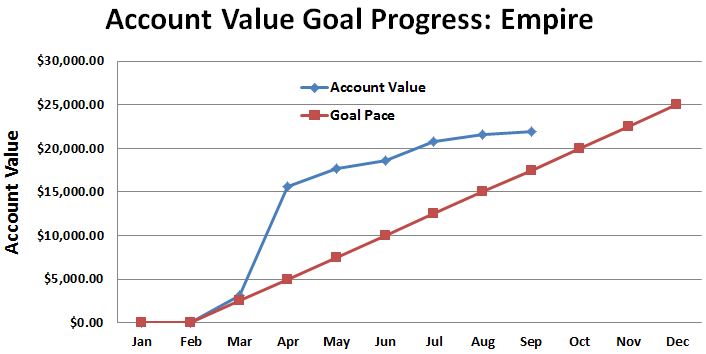 This is not good.  A couple of months ago this goal seemed like a sure thing.  After the last two months of poor contributions I am quickly approaching the danger zone.  I need to contribute just over $1k per month for the rest of the year to make this happen.  Time to have a garage sale!
Dividend Retirement Portfolio
The Dividend Retirement portfolio is a portion of my 401k dedicated to dividend growth stocks and will be used to fund my early retirement and will eventually merge with my Empire portfolio.
Just like the Empire portfolio, my Retirement portfolio made a partial recovery after losing over $5k in August.  I received about $380 in dividend income – by far my highest total to date.
My contributions were not as high as usual but there is a good explanation for this.  In the past the majority of contributions came from mutual fund sales – the ongoing conversion of part of my 401k to a self directed account devoted to dividend growth investing.  Last month I decided to not sell any of my funds for two reasons: I had plenty of cash on hand already and I'm hoping to be able to sell my remaining mutual funds at a better price.
Contribution Sources:
Mutual fund sales: $0
Pre-tax deductions: $1624.34
Dividends: $379.78
Stock Purchases
I am really kicking myself for my lack of activity when stock prices were low.  I was just too busy to research and take advantage of all the opportunities.  I only made 4 purchases last month: 1 new position, 1 DRIP and 2 automatic pre-tax deductions to purchase AMGN shares.
9/1/2015 – 20 shares of PEP (New purchase)
9/8/2015 – 0.0846 shares of AMGN (DRIP)
9/11/2015 – 0.0843 shares of AMGN (Auto deduction)
9/25/2015 – 0.0922 shares of AMGN (Auto deduction)
These purchases gained me $71.77 in forward annual income, bringing my total up to $2452.83.
Best and Worst Performers

It was nice to see some recovery in UNP and CVX since they were really dragging my portfolio value down
Progress Against Goals:
I set 4 goals for this portfolio in 2015: receive $1,500 in dividends, diversify across all sectors, own 30 different companies and have a portfolio value of at least $100,000.00 by the end of the year.
1. Receive $1,500 in dividends: maybe
2. Diversify across all sectors: I am still missing telecommunications and utilities (SO is on my watchlist)
3. Own 30 different companies: I am up to 26
4. Portfolio value of at least $100,000.00
Although last month brought me closer to the goal pace this goal shouldn't be a problem for me.  I will most likely resume selling off my mutual funds soon which will provide the needed boost.
While I am very pleased with my dividend income progress I need to ramp up my contributions and purchasing.  Hopefully this month I can identify some deals and get back on track.  Hope everyone is having a great October so far!