Well my second purchase of the month was very similar to my first.  Last week I averaged down on my Realty Income Corp (O) position.  That same day I noticed that my CVX position was down almost 9% and CVX looked very attractive at those levels.  With the price around $101.75 I decided to enter a limit order to buy at $100.15, just above the strong $100 support level for a better chance at a fill.  Today CVX dipped below $100 briefly mid-day to $99.95 so my limit order was filled.
I love the company and not much has changed since my original purchase except that the CVX dividend increase is a bit late.  There has been a lot of chatter about the lack of CVX dividend growth.  People are complaining that Chevron's dividend is frozen and even speculating that their dividend will be cut.  I think it's a bit early to panic.
Chevron has repeatedly confirmed that they are committed to their dividend.  Sure, they didn't raise their dividend when they were "supposed to" but they have done this in the past and then continued to raise dividends.
To address the "frozen" dividend issue, I have included a table below that shows Chevron's recent dividend payments along with the annual dividend totals (assuming that they don't raise the dividend for the rest of 2015):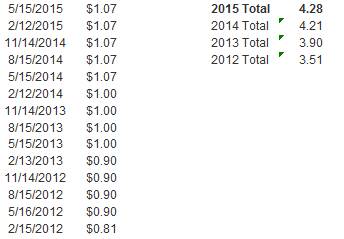 What I want to point out in the table above is that even if CVX does not raise their dividend in 2015, the 2015 totals are still greater than 2014 so the streak is alive.  In fact, Chevron technically has until November 2016 to raise their dividend to maintain their consecutive annual dividend increase streak.  Obviously I hope this doesn't happen but clearly the streak is not in any immediate danger.
I provided a short analysis on CVX after my original purchase.  I would love to expand on it but my time is limited since I'm currently analyzing the May 2015 dividend growth investor survey data (results should be out Wednesday or Thursday).
Here are the details of my CVX purchase:
Stock Purchase: Chevron (CVX)
Sector: Energy
Industry: Major Integrated Oil & Gas
Purchase date: 6/8/2015
Portfolio: Dividend Retirement portfolio
Shares purchased: 30
Cost per share: $100.15
Commissions: $14.95
Cost basis: $3019.45
Yield on cost: 4.25%
Forward income: $128.40
This new purchase brings my total CVX holdings to 57 shares with a new cost basis of $6,006.83.  Realty Income's reign as my largest holding was short-lived (just 4 days) now that CVX has taken over.  My yield on cost for the position increased from 3.87% to 4.06% with this addition and I can now expect CVX to bring in a total of $243.96 per year of dividend income.
My portfolio yield on cost increased from 3.29% to 3.35% and my forward income is now $1,612.08 as a result of this purchase.
My Dividend Retirement portfolio has been updated to reflect the addition of 30 shares of CVX.
What do you think of buying CVX at these levels?  Do you think CVX will continue increasing their dividend soon?  Please let me know in the comments section below!