May was a very exciting and eventful month for me.  I received my very first dividend back on May 1, I was able to exceed my contribution goals and I picked up several great dividend growth stocks.
I've decided to split up my monthly updates into two posts, one for each of my dividend portfolios.  Otherwise I think it will get a bit too messy.  Today's post will be an update of my Dividend Empire portfolio which you can read more about HERE.  In summary, all of the stocks and all of the dividends from this portfolio will go to my descendants and compound over many generations.
May 2015 Dividend Empire Portfolio Update
Contributions:
I was able to contribute a total of $3,159.20 to the Empire portfolio this month.  I am VERY pleased with this amount for a couple of reasons.  For one, it's way more than I need to contribute per month to reach my annual goal of $25k (especially since I was already at $15k).  The second reason is that I was able to scrape money together from many different sources including monthly savings, reimbursement from my dependent care flexible spending account and even some winnings from a bowling tournament!
Dividends Received:
I received two dividend payments this month for a total of $60.  All dividends in this portfolio are automatically reinvested.  The shares purchased with these dividends increased my forward income $2.76.
Cost Basis
Yield
Portfolio
Date
Ticker
Dividend / Sh
Shares
Div Amount
Action
Shares Purch
Resulting Sh
Old
New
Old
New
Salary Increase
Empire
5/1/2015
T
$0.47
100
$47.00
Reinvested
1.354
101.354
$3,339.85
$3,386.85
5.63%
5.63%
$2.55
Empire
5/14/2015
AAPL
$0.52
25
$13.00
Reinvested
0.102
25.102
$3,139.18
$3,152.18
1.66%
1.66%
$0.21
Pay Raises:
After receiving 3 dividend increases in this portfolio last month unfortunately there are none to report for May.
Purchases:
5/1/2015 – 1.354 shares of T (TradeKing DRIP)
5/7/2015 – 0.2648 shares of HSY (Loyal3)
5/8/2015 – 0.2562 shares of MCD (Loyal3)
5/14/2015 – 0.102 shares of AAPL (TradeKing DRIP)
5/18/2015 – 19 shares of TROW (TradeKing)
5/27/2015 – 0.8023 shares of HSY (Loyal3)
5/27/2015 – 2.635 shares of GPS (Loyal3)
Forward Income Progression:
I was able to increase my forward income by $47.95 this month through new purchases and dividend reinvestments.  If I can maintain this pace I will have a forward income of about $900 by the end of the year.
Progress Against Goals:
I have already achieved 4 of my annual goals – initiate the portfolio with $15k, diversify across 5 sectors, have a portfolio YoC over 3% and start a blog.  Let's see how I'm doing on the rest of my goals.
One of my remaining goals is to have a portfolio value over $25k by the end of the year: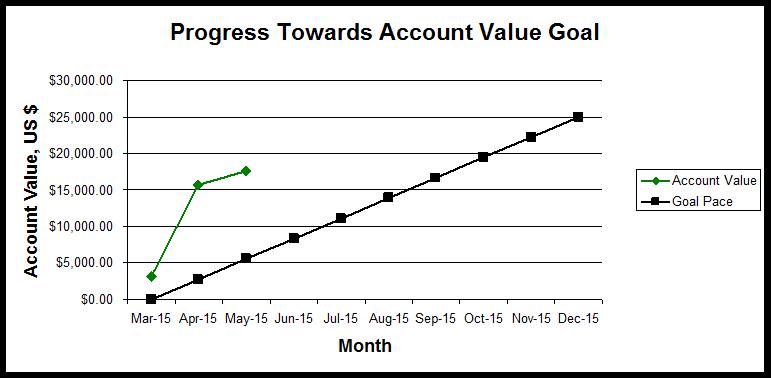 This doesn't include cash in my accounts which is currently just over $1k.  In order to reach my goal I will only need to contribute about $700 per month for the rest of the year assuming the market doesn't turn on me (gulp).  Hopefully I will absolutely destroy this goal.
The other goal is to receive $500 in dividends this year: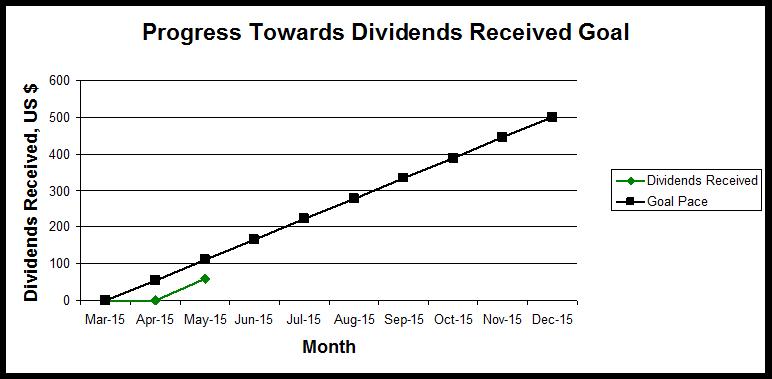 I'm lagging a bit with this goal but that is to be expected.  My first purchase in this account was made on March 30 of this year and it takes a while for the divvies to start rolling in.  Hopefully I can catch up to the pace in the coming months.
Well that's it for the Empire portfolio.  I will post an update for my Dividend Retirement portfolio soon as well so stay tuned.  Also, if you haven't done so already, please take a minute to fill out my Dividend Growth Investor Survey.  I am trying to put together an informative data set for the DGI community and your input is greatly appreciated.
How was your May?  Is everyone on pace to meet their goals?