Time for the monthly updates on my two dividend growth portfolios: the Dividend Empire & Dividend Retirement portfolios.  Although my October income wasn't spectacular, it grew relative to July so I'm heading in the right direction.
For those of you who are not familiar with my blog and portfolios, the Dividend Empire portfolio is strictly for my descendants – I will never touch the money.  The Dividend Retirement portfolio will hopefully pay for my early retirement one day before eventually merging with the Empire portfolio.
Below I will report my dividend income for October and my progress towards reaching my dividend related goals for both of these portfolios.
Dividend Income
Last month I received a total of $128.55 in my two portfolios: $46.47 in my Empire portfolio and $82.08 in my Retirement portfolio.  These values represent a 6.85% increase for my Empire portfolio and a 52.3% increase for my Retirement portfolio compared to my July income.  Here are the details:
I only made $50 worth of purchases in my Empire portfolio so the vast majority if increased dividend income came from reinvesting activity from the prior quarter.  I made several new purchases in my Retirement portfolio which accounted for the bulk of increased dividend income in that portfolio, and I also received 3 pay raises (see below).
Here is a breakdown of the companies that paid me in October: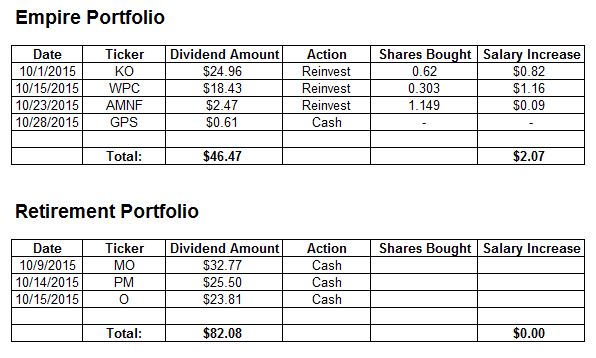 Overall I received 4 payments in the Empire portfolio and 3 payments in my Retirement portfolio, a far cry from the 29 total payments I received last month.
I automatically reinvested all dividends in my Empire portfolio (except for stocks held in Loyal3).  The stocks purchased through these reinvestments added $2.07 to my forward annual income.
Dividend reinvesting is not available in my Retirement portfolio (except for AMGN) so all dividends are taken as cash and selectively reinvested.
Pay raises:
I received 3 pay raises last month (all in my Retirement portfolio) which added a monster $26.56 forward income.

That 25% increase from VLO was a very pleasant surprise.  The company has been doing great so I was expecting a decent raise but 25%?!?  Thanks VLO!
Combining my dividend reinvesting activity with these dividend increases will provide nearly $30 more per year in dividend income – for doing nothing!
Annual Dividend Goals
I have set annual dividend goals for both of my portfolios when I first started out back in March.  My goal was to receive at least $500 in the Empire portfolio and $1500 in the Retirement portfolio.  Here is my progress against these dividend income goals: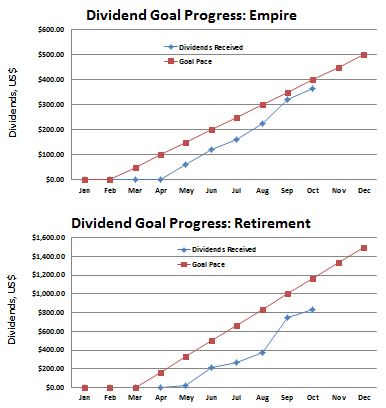 My Empire portfolio is right on schedule when you take into account the fact that December should be a huge month for dividend income.  The Retirement portfolio, as I've said numerous times, is unfortunately going to fall short of my goal this year.
I have added my dividend income to my Historical Data page where I have organized all of my monthly incomes, updates and screens (with links).  I'll post a portfolio update over the next couple of days to update the overall performance of both portfolios as well as my progress towards the rest of my goals.
I hope everyone had a great October – please let me know how you did in the comments section below.
Disclosure: Long all stocks mentioned in this article.