I purchased Compass Minerals International (CMP) today as part of my 401k conversion to a dividend retirement portfolio. In this portfolio, I am looking to accumulate quality dividend growth stocks that will eventually pay for my retirement (full story).
4/27/2015 – Compass Minerals International (CMP)
Sector: Basic Materials
Industry: Metals & Minerals
Shares purchased: 33
Cost per share: $88.82
Commissions: $14.95
Cost basis: $2946.01
Yield: 2.96%
Expected annual income: $87.12
Compass Minerals International Overview
From their investor relations site:
Compass Minerals, based in the Kansas City metropolitan area, is a leading producer of minerals, including salt, sulfate of potash specialty fertilizer and magnesium chloride. The company provides highway deicing salt to customers in North America and the United Kingdom and specialty fertilizer to growers worldwide. Compass Minerals also produces consumer deicing and water conditioning products, ingredients used in consumer and commercial foods, and other mineral-based products for consumer, agricultural and industrial applications. Compass Minerals also provides records management services to businesses throughout the United Kingdom. Though the company's history stretches back as far as 1844, Compass Minerals became a public company following its initial public offering in December 2003. Click HERE for the 2013 Company Fact Sheet.
2014 Highlights
The salt segment benefited from robust winter-weather demand and improved pricing
Margins improved significantly
Price and demand for plant nutrition products were strong
Compass Minerals International Performance
CMP has a goal of increasing their adjusted EBITDA to over $500 million by 2018 – which would be a 14% CAGR from 2013-2018: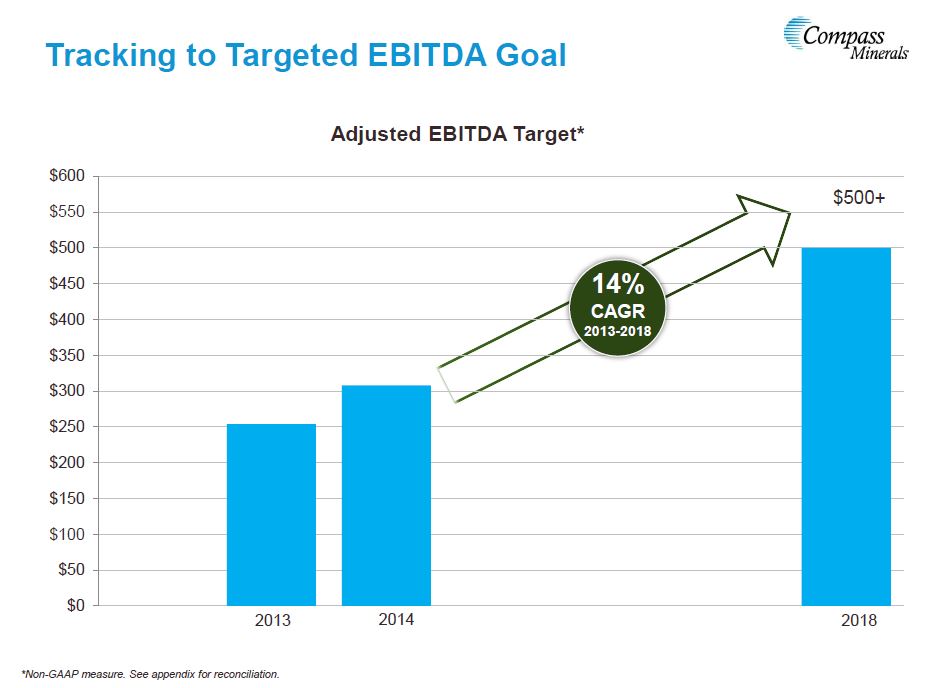 Source: Compass Minerals Fourth Quarter 2014 Update

While there is still a long way to go they are definitely on the right track. Their expected growth (based on analyst projections) from 2014-2105 is 11.95% compared to just 2.6% for the industry. In the past three years operating margins have increased from 14.14% to 24.25% and net income has increased from $9.44 million to $16.99 million. They have a PE ratio of 13.69, and an expected 2015 PE of 16.64 which is relatively low compared to the industry average of 16.9.
There are 4 analysts that cover CMP and the consensus price target is $99 per share. A discounted cash flow analysis (parameters = 6.49 EPS, 12% 10yr growth rate, 4% terminal growth rate, 12% discount rate) give a fair value estimate of $109.06. So I feel the stock is currently undervalued and the recent dip in stock price should provide a good buying opportunity.
Compass Minerals International Dividend Performance
CMP has 12 years of annual dividend increases under their belt and I see this trend continuing in the foreseeable future. The current yield is 2.98% with a 5 year growth rate of 11.2%. If the dividend increases continue at this rate I can expect a yield on cost of ~4.8% in 5 years. CMP stated in their 2014 4th quarter update that they are committed to continuing this growth: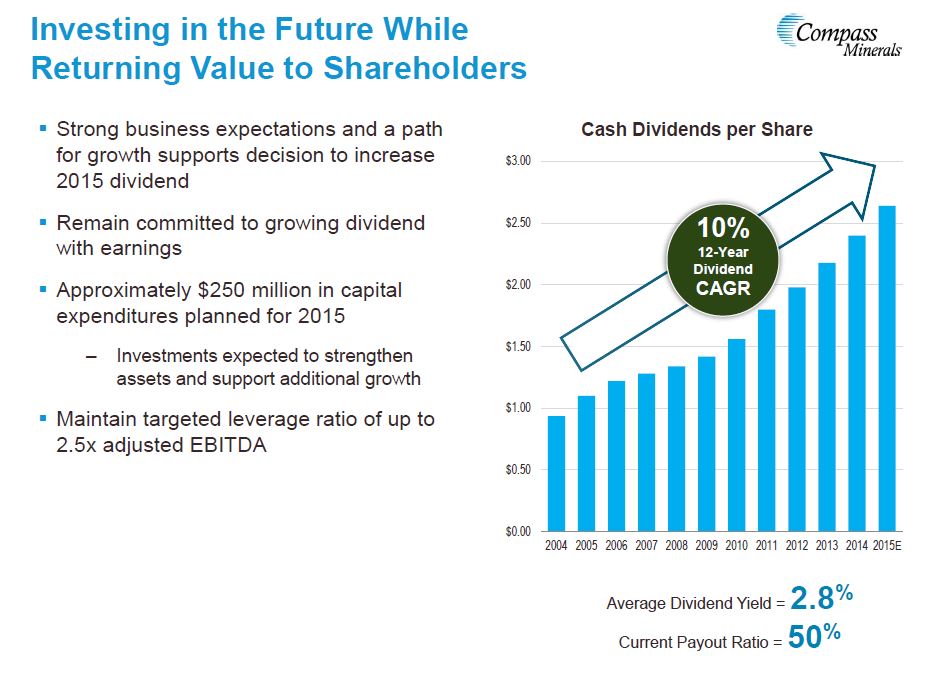 CMP reports earnings after the bell today and I'm hoping their strong growth will continue.
4/28/15 UPDATE: CMP posted 22% year-over-year earnings increase (CMP Investor Relations)
Portfolio Impact
Including this stock in my dividend retirement portfolio decreases the portfolio yield slightly from 3.54% to 3.49%. This is acceptable since I anticipate my yield on cost for CMP to increase significantly over the years. This addition to the portfolio does, however, increase my expected forward income to $730.92 from $637.80 and it helps diversify my portfolio by adding a sector that I did not previously have exposure to.
Other stocks that I am following this week are General Dynamics Corporation (GD), Bank of Nova Scotia (BNS), ConocoPhillips (COP), Chevron (CVX) and Eastman Chemical Company (EMN). Any thoughts on these stocks (including CMP)?
Full disclosure: Long CMP