I haven't been buying or posting much this year, making just 2 purchases so far (BA and BAC), but that doesn't mean I haven't been watching the market.  I've been waiting patiently for the market to stabilize, looking for perfect entries.  Perhaps I've been too patient…
The market has rebounded significantly recently and I've completely missed the boat on some of the stocks on my watch list.  In fact, many of these stocks are making new highs.  While I'm kicking myself for not staying active during the correction, there are still plenty of opportunities out there.
I was able to identify one such opportunity from a quick review of my Dividend Retirement portfolio.  I was looking for stocks that suffered big losses during the pullback but were still performing well as a company.  The stock that stood out after going through this exercise was Disney (DIS).
I first added DIS to my portfolio back in August, 2015, when I purchased 15 shares at about $111 per share.  This was a relatively small position for my retirement portfolio (due to the market turmoil at the time) and I always had plans on adding more if the opportunity presented itself.
Since that time, DIS has dropped below $100 per share despite phenomenal performance and growth.  This was a clear opportunity to double down and establish a "full" position in Disney.  Here are the purchase details:
Stock Purchase: Disney (DIS)
Sector: Consumer Discretionary
Industry: Movies & Entertainment
Purchase date: 3/22/2016
Portfolio: Dividend Retirement Portfolio
Shares purchased: 20 (total = 35)
Cost per share: $97.90
Commissions: $14.95
Cost basis: $1972.95
Yield on cost: 1.4%
Forward income: $28.40 (total = $49.70)
Company Overview:
The Walt Disney Co. is a diversified international family entertainment and media enterprise.  It operates through five business segments: Media Networks, Parks & Resorts, Studio Entertainment, Consumer Products and Interactive Media.  Source – TradeKing.
While most stocks were hit hard during the pullback, DIS was hit particularly hard due to concerns over subscriber losses at ESPN.  These concerns are likely overblown and certainly do not warrant a 15% drop in share price.
ESPN dominates sports entertainment and generates enormous profits.  These profits are used to acquire rights to more high-demand sporting events and I really don't see customers finding other ways to conveniently view this content.  Besides, DIS has a lot of other things going for it…
The opening of Disneyland Shanghai should provide a ton of momentum for the parks and resorts section.  The addition of Star Wars / Lucas Films combined with Disney's strong distribution and merchandising capabilities will synergize and produce huge profits.
In addition, DIS has ongoing share buybacks and a rapidly rising dividend payout.  Disney has raised their dividend every year since 2009 with some pretty impressive jumps.  The yield is still fairly low but with this amount of dividend growth and potentially massive stock price appreciation I'll happily pocket 1.4%.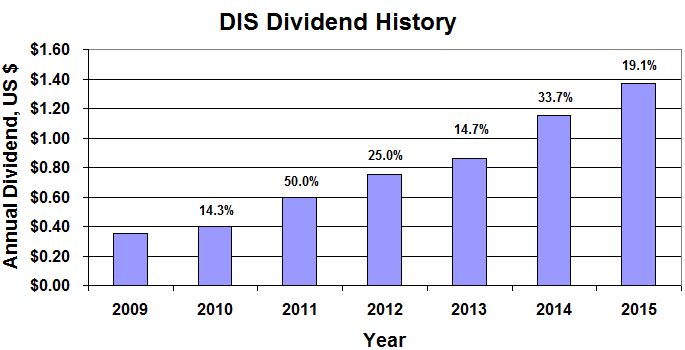 Finally, I'm not the only one excited about this stock.  I don't base my decisions on other people but I always like to look at what the analysts are saying.  S&P Capital IQ has a buy rating on DIS with a $108 12-month price target.  Morningstar and Bank of America/Merrill Lynch both have buy ratings with a price target of $130.
I hope these projections turn out to be right but as long as Disney keeps on increasing the dividend and the business remains solid I'll be a happy camper.
These 20 shares of DIS have added $28.40 to my forward annual dividend total which now sits at $2824.39.  My Dividend Retirement portfolio has been updated to reflect this new position.
What do you think of this purchase?  What are you looking to buy right now?  Please let me know in the comments section below!
Disclosure: Long DIS, BA, BAC.