It's been 2 months since I made my last purchase and I just can't believe it!  This is unacceptable and it is something that I will address in next year's goals (coming soon).
I finally got around to researching some stocks and I really saw an opportunity in Nike (NKE).  I've been watching NKE for a while just waiting for a good entry.  Well NKE plummeted recently after reporting stellar earnings which is my favorite time to buy a stock.  I jumped all over it with a fairly large purchase in my retirement account.
In this post I'll provide my purchase details and write up a brief analysis of Nike.
Stock Purchase: Nike (NKE)
Sector: Consumer Discretionary
Industry: Footwear
Purchase date: 12/23/2015
Portfolio: Dividend Retirement Portfolio
Shares purchased: 50*
Cost per share: $64.30*
Commissions: $14.95
Cost basis: $3229.95
Yield on cost: 0.99%
Forward income: $32
*Split adjusted
Company Overview:
NIKE, Inc. designs, develops, markets and sells footwear, apparel, and equipment, accessories and services.  Source – TradeKing.
Nike has posted incredible revenue and earnings growth over the last few years.  Their operating margin is expected to increase because of higher pricing, lower raw material costs and growth in higher margin areas (direct to consumer).
Combining margin increases with Nike's constant product innovation, there is no reason to believe this revenue growth will stop.  They have also recently accelerated their stock repurchases to enhance shareholder value.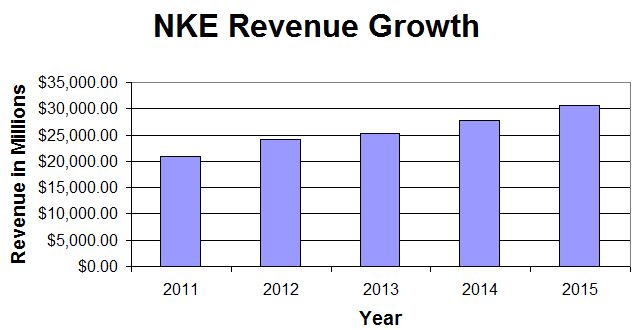 Nike's dividend has also increased at a very steady 15-16% annually since 2010.  The NKE dividend yield is currently a little low but with these increases and Nike's growth prospects I feel like a low yield is acceptable.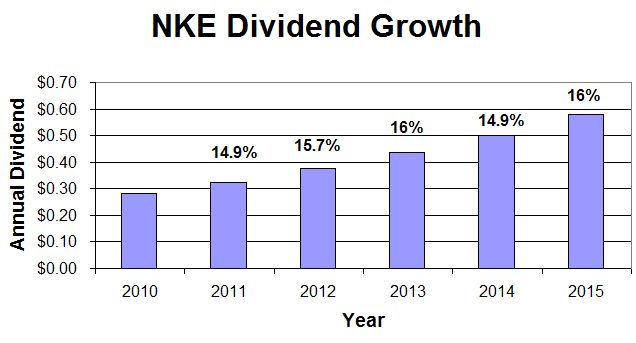 As I said earlier, I believe the recent dip in share price presents a great buying opportunity.  In addition, S&P Capital IQ has a $74 12-month price target on NKE.  Whether or not this holds true is irrelevant to me.  I feel confident that this will be an excellent long-term hold.
These 50 shares of NKE have added $32 to my forward annual dividend total which now sits at $2668.92.  My Dividend Retirement portfolio has been updated to reflect this new position.
What are you thoughts on NKE?  Do you think this was the right time to buy?  Please let me know in the comments section below!
Disclosure: Long NKE.