I sold off some more mutual fund holdings yesterday as I continue my 401k conversion. I previously wrote about my goal to sell off 65% of the mutual funds in my 401k in order to fund my dividend retirement portfolio. This portfolio resides in a self-directed brokerage account that I opened up in my 401k (full story HERE). In my last post, I opened up positions in JNJ, MSFT, HD, O and MO after selling off $15k worth of mutual funds. My recent mutual fund sale freed up an additional $5k that allowed me to open a position in Old Republic International Corporation (ORI).
4/23/2015 – Old Republic International (ORI)
Sector: Financials
Industry: Insurance – Property and Casualty
Shares purchased: 195
Cost per share: $15.36
Commissions: $14.95
Cost basis: $3010.15
Yield: 4.92%
Expected annual income: $148.20
Old Republic International Company Overview
Old Republic International is an insurance underwriting company based in Chicago, IL. They've been in business since 1923. They operate through three business segments: General Insurance Group, Title Insurance Group and the Republic Financial Indemnity Group Run-off business. The General Insurance and Title Insurance Groups provide property insurance while the Run-off business protects lenders and investors from residential mortgage loan defaults. They also have a relatively small life and accident insurance business.
Old Republic International Company Performance
The bulk of their business, General Insurance Group, has been performing quite well with consistent revenue increases over the past 5 years. What I am concerned about is the declining performance of the Run-off / other business segments and the sharp decrease in revenues for the Title Insurance group from 2013-2014:
There was also a very sharp drop in pretax income in all business segments from 2013 to 2014 (image modified from ir.oldrepublic.com):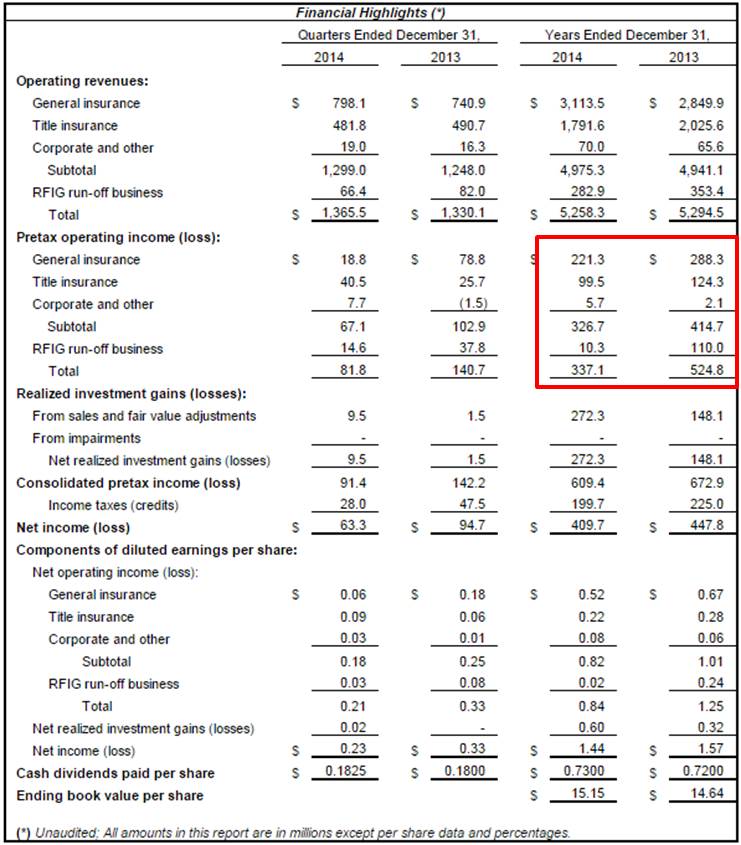 Those are the reasons I haven't pulled the trigger on this company up until this point. At the 2014 earnings call, CEO Al Zucaro claimed that these segments are improving and that at least part of the poor 2014 results can be attributed to legal expenses. These statements were somewhat comforting, but I still wanted to wait until the 2015 Q1 results before initiating a position in ORI.
Well the results are in and ORI had a very strong quarter led by Title Insurance and the Run-off segments. All segments are up – and most importantly Title Insurance Group pretax income is up 233.5% over 2014 Q1 and RFIG Run-off is up 8.7%, supporting the CEOs previous claim.
Old Republic International Dividend Performance
With these positive results, I am confident that ORI is a stable and growing company. All that's left to do is analyze the dividend – the easy part! Old Republic International has increases their dividend every year for the past 34 years, making the dividend champions list. ORI currently dishes out $0.185 per share every quarter – recently increased from $0.183. This gives me an excellent yield on cost of 4.92%. The 5-year growth rate is only 2.1%, but with such a high yield already I can live with it. They also have a reasonable payout ratio of around 50%. What really stood out to me was the fact that they were still able to increase their dividends consistently from 2008 to 2013 which were difficult earnings years for ORI:
Portfolio Impact
Including this stock in my dividend retirement portfolio bumps the portfolio yield to 3.54% and my expected forward income to $637.80. It also helps diversify my portfolio by adding a sector I did not previously have exposure to.