It's been another busy month in the Dividend Retirement Portfolio.  I made a lot of progress towards converting 65% of my 401k mutual funds to dividend growth stocks (this 65% is what I call my Dividend Retirement Portfolio).  I also made some additional contributions, received a couple of divvies and invested in 7 new companies.
I've decided to split up my monthly updates into two posts, one for each of my dividend portfolios, so these posts don't get too messy.  You can read my May 2015 update for the Dividend Empire portfolio HERE.  This post will focus on my retirement portfolio which I hope will one day pay for my early retirement at age 50.  You can read the details of my retirement portfolio HERE.
May 2015 Dividend Retirement Portfolio Update
Contributions:
I was able to contribute a total of $25,084.20 to the Retirement portfolio this month.  Keep in mind that most of this came from selling existing mutual funds in my 401k.  If I was making the kind of money that would allow me to invest $25k per month I think I would already be retired!  Here is the breakdown of contributions for May:
401k Mutual Fund sales: $24,482.57
Pretax deductions & company match: $578.16
Dividends received: $23.33
Interest received: $0.14
Dividends Received:
I received two dividend payments this month for a total of $23.33.  All dividends in this portfolio are selectively reinvested because I anticipate being able to accumulate enough capital for purchases quickly (as opposed to the Empire portfolio where I automatically reinvest dividends).
| | | | | | | |
| --- | --- | --- | --- | --- | --- | --- |
| Portfolio | Date | Ticker | Dividend / Sh | Shares | Div Amount | Action |
| Retirement | 5/14/2015 | AAPL | $0.52 | 23 | $11.96 | Cash |
| Retirement | 5/15/2015 | O | $0.19 | 60 | $11.37 | Cash |
Pay Raises:
Unfortunately there are no dividend increases to report for May.
Stock Purchases:
Forward Income Progression:
I was able to increase my forward income by $377.68 this month through new purchases.  If I can maintain this pace I will have a forward income over $4,000.00 by the end of the year.
Progress Against Goals:
I set 4 goals for my retirement portfolio this year – diversify across all sectors, own 30 different stocks, have an account value over $100,000.00 and receive $1,500.00 in dividend income.  I currently own stocks in all sectors except for telecommunications and utilities so this goal should be achievable (although I don't see any utility stocks I want to own right now).  I own 14 different stocks, almost half way to my target.
Now for the monetary goals:
This graph doesn't include cash in my account which is currently about $14k.  In order to reach my goal I will need to contribute about $6,500.00 per month for the rest of the year.  With a few more mutual funds to cash in plus monthly contributions and dividends this goal should be relatively easy to achieve.
The last goal is to receive $1500 in dividends this year: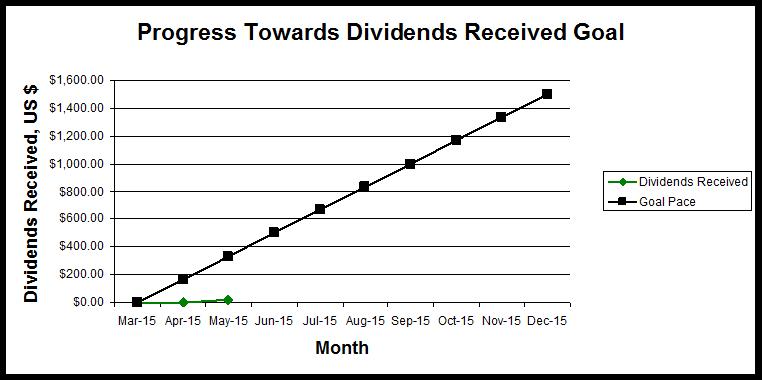 This one is tough for me to look at.  But just like my Empire portfolio this was only started a couple of months ago and it takes a while for the dividends to start rolling in.  I am expecting close to $200 worth of dividend income next month so that should provide a nice boost.  Still a long way to go.
Hope everyone had a great month.  Just a quick reminder that I still need a lot more survey responses before I can put together a nice data set.  If you haven't done so already please take a couple of minutes to fill out Dividend Growth Investor Survey.  I am trying to put together a nice data package to help the DGI community and your input is greatly appreciated.
How was your month?  Is everyone on pace to meet their goals?  Let me know in the comments section below.