May was a great month for me.  I made a few quality purchases, upped my contributions to Loyal3, started several new portfolios and beat my February 2016 dividend totals!  In this post I'll lay out all the details.

Dividend Income
In May I received a total of $185.59 in my two portfolios: $65.18 in my Empire portfolio and $120.41 in my Retirement portfolio.
These values represent a 3.2% increase for my Empire portfolio and a 3.7% increase for my Retirement portfolio compared to my February income.  Not huge, but considering the fact that no new purchases were made these are some solid increases.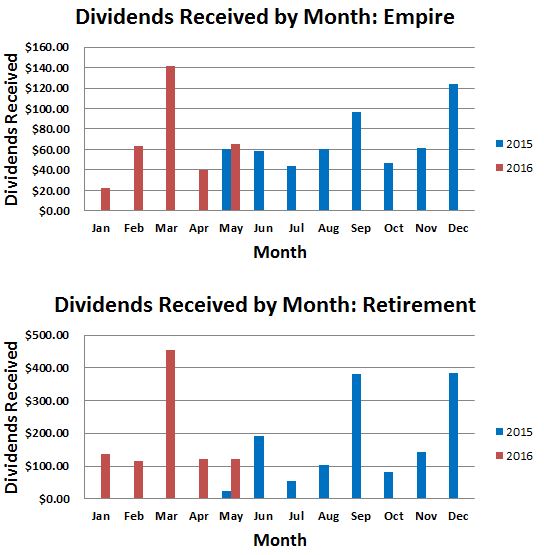 It's finally been a year since I started these portfolios so I can actually start comparing year over year dividend income.  For the Empire portfolio my dividends increased 8.6% from $60 to $65.18.  What is fascinating about this stat is that I have made no changes whatsoever to my May-paying stock holdings, just AT&T (T) and Apple (AAPL).  So this 8.6% increase was derived solely from dividend increases and dividend reinvestments.
My May Retirement income increased a whopping 416% due to several large stock purchases along with a few dividend increases.
Here is a breakdown of the companies that paid me in May: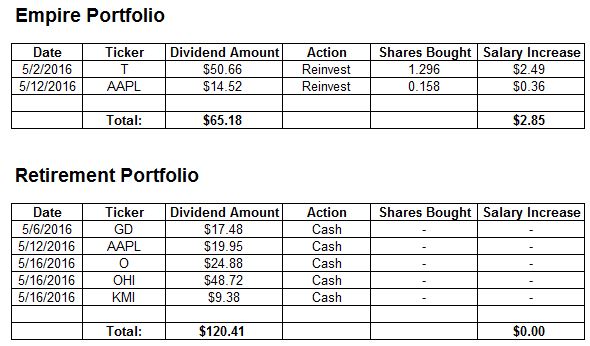 I received 2 payments in the Empire portfolio and 5 payments in my Retirement portfolio.  The DRIPs that I have set up in my Empire account increased my forward annual income by $2.85.
Pay raises:
There was only one dividend increase for my portfolios in May (PEP).  However, I missed several increases from previous months so I'll go ahead and list them here.

Forward Income:
I made a couple of large purchases in May for both of my portfolio so my forward income got a nice boost.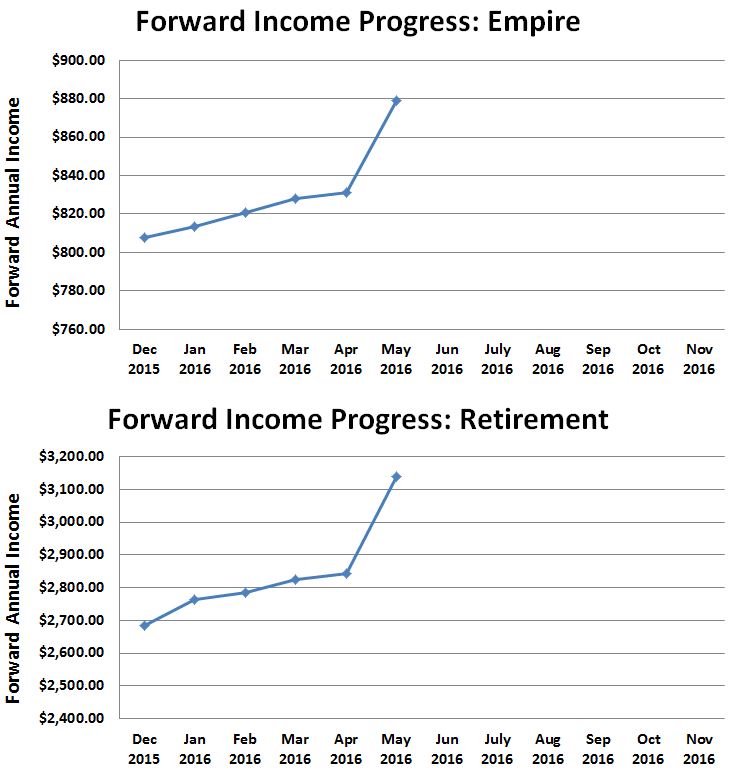 Progress Against Goals:
My dividend goals for 2016 are to receive at least $1000 worth of dividends in my Empire portfolio and $3000 in my Retirement portfolio.  Here is my progress through April: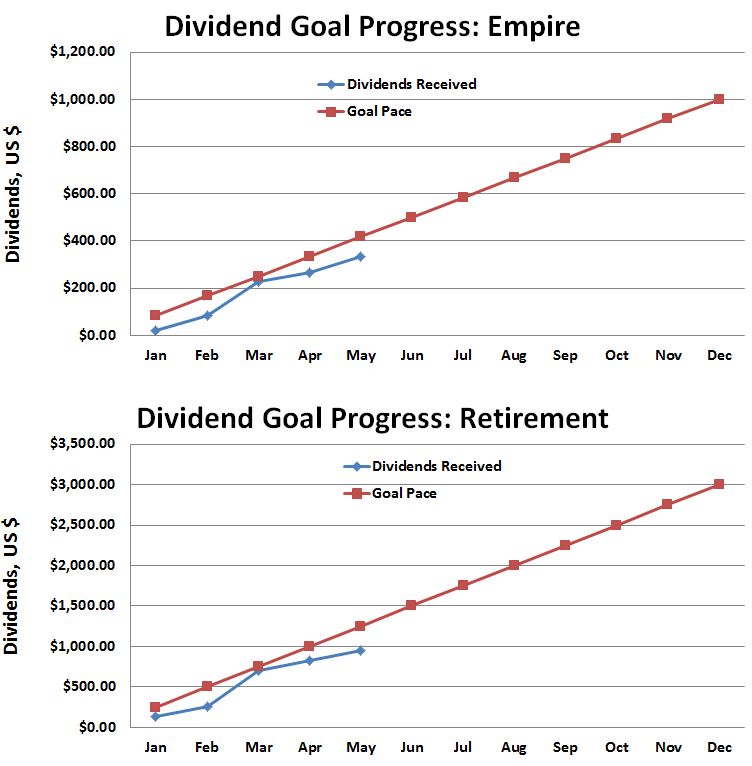 As always I'm expecting a huge June so hopefully I can cross over the red line next month.
Portfolio Update
Empire Purchases:
5/1/2016 – 0.2672 shares of HSY (Auto Loyal3)
5/1/2016 – 0.3885 shares of MCD (Auto Loyal3)
5/1/2016 – 0.8867 shares of SBUX (Auto Loyal3)
5/2/2016 – 1.296 shares of T (DRIP)
5/12/2016 – 0.158 shares of AAPL (DRIP)
Retirement Purchases:
5/6/2016 – 0.0924 shares of AMGN (Auto paycheck deduction)
5/20/2016 – 0.0936 shares of AMGN (Auto paycheck deduction)
Check out my Historical Data page where I have organized all of my monthly incomes, updates and screens (with links).
Disclosure: Long all stocks mentioned in this article.