A couple of days ago I posted some decent dividend income for the month of October, now let's see how my portfolios have progressed over the past month.  In this post I'll report my contributions, buys, performance and progress against goals for my two dividend growth portfolios.
Dividend Empire Portfolio
The Dividend Empire portfolio is a gift to my descendants and will hopefully turn into a true empire – providing passive income over many generations.  Here is an overview of the progress I made in October in this portfolio:
This portfolio has rebounded nicely after getting crushed in August.  My unrealized gain for the month was almost $1300.  While it was nice to finally see some green in my portfolio, I would actually welcome another pullback.  I wasn't able to really take advantage of the correction in August, making only two purchases that month.
I also received a small boost in portfolio value from my $46.47 dividend income and $139.39 in contributions.  While I am once again very disappointed in my lack of contributions last month, I am pleased to report that most of it came from a new source.
Last week I dabbled in some swing trades using a small amount of capital just to see if I still "have the touch" (I was a moderately successful short-term trader for 12 years or so before becoming a dividend growth investor).  I completed 3 trades (all wins) for a total gain of $89.39.  This doesn't sound like much, but considering the fact that my position size was about 1/5 of my comfortable amount, this could potentially become quite lucrative.  My plan moving forward is to slowly ramp this up and use all profits to fund my dividend portfolios.
Stock Purchases
Unfortunately I was not able to make any new purchases in my Empire portfolio.  I did, however, automatically reinvest 3 dividend payouts and I made my 2 monthly Loyal3 buys:
10/1/2015 – 0.62 shares of KO (DRIP)
10/7/2015 – 0.2598 shares of HSY (Loyal3)
10/8/2015 – 0.2433 shares of MCD (Loyal3)
10/15/2015 – 0.303 shares of WPC (DRIP)
10/23/2015 – 1.149 shares of AMNF (DRIP)
Since these were all very small purchases my forward annual income increased only $3.14, but progress is progress I suppose: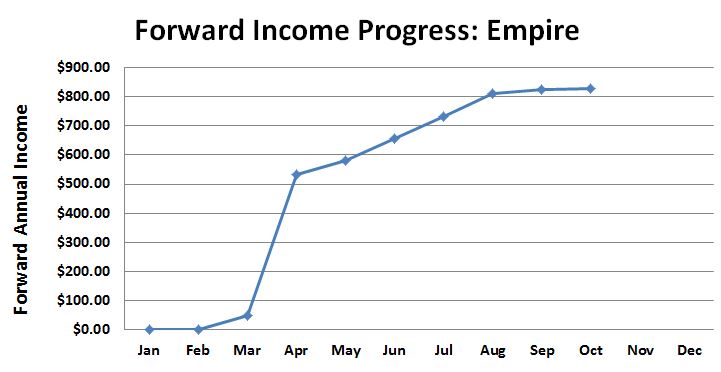 Progress Against Goals:
I provided an update on my dividend related goals in my previous post.  Besides my dividend total goal, I have hit all of my goals this year except for one – account value.  My goal is to have a portfolio value of over $25k by the end of the year:
I'm still on schedule due to the market going up in October but I don't want to rely on that.  It's time to resume my steady contributions.  My plan is to contribute at least $500 from savings each of the next two months and to sell my Ford Call contracts to make up the remainder.
Dividend Retirement Portfolio
The Dividend Retirement portfolio is a portion of my 401k dedicated to dividend growth stocks and will be used to fund my early retirement and will eventually merge with my Empire portfolio.  I made quite a bit of progress in this portfolio in October:
The stocks held in this portfolio made some big gains last month, adding $3330 to the portfolio value.  I was also able to make about $1730 worth of contributions through pre-tax paycheck deductions and dividend payments.  I will most likely resume my mutual fund sales this month since the market has recovered and this will provide a nice boost to these contributions.
Stock Purchases
After a couple of hectic months where I neglected my portfolios I am happy to say that I'm buying again!  I initiated 3 new positions in some high-quality companies and of course had my 2 automatic pre-tax deductions to purchase AMGN shares.
10/9/2015 – 0.0964 shares of AMGN (Auto deduction)
10/16/2015 – 33 shares of TGT (New Purchase)
10/22/2015 – 20 shares of UNH (New Purchase)
10/23/2015 – 0.0831 shares of AMGN (Auto deduction)
10/23/2015 – 40 shares of FL (New Purchase)
These purchases added $154.49 in forward annual income.  Combining this with my 3 October dividend increases ($26.56) my forward annual income is now $2635.62.
Progress Against Goals:
I set 4 goals for this portfolio in 2015: receive $1,500 in dividends, diversify across all sectors, own 30 different companies and have a portfolio value of at least $100,000.00 by the end of the year.
1. Receive $1,500 in dividends: $833.46

2. Diversify across all sectors: I am still missing telecommunications and utilities
3. Own 30 different companies: 29
4. Portfolio value of at least $100,000.00
With a few mutual fund sales planned plus my regular contributions this goal should be no problem.
Everything is looking good right now except for my Empire contributions.  Hopefully I can increase contributions through monthly savings and potentially some swing trading success.  Thanks for reading!
Disclosure: long all stocks mentioned in this article.