In my last post I provided an update on my dividend income received during the month of July, 2015.  Now it's time to look at the overall progress I made in my two dividend growth portfolios in July including contributions, buys, performance and progress against goals.
Dividend Empire Portfolio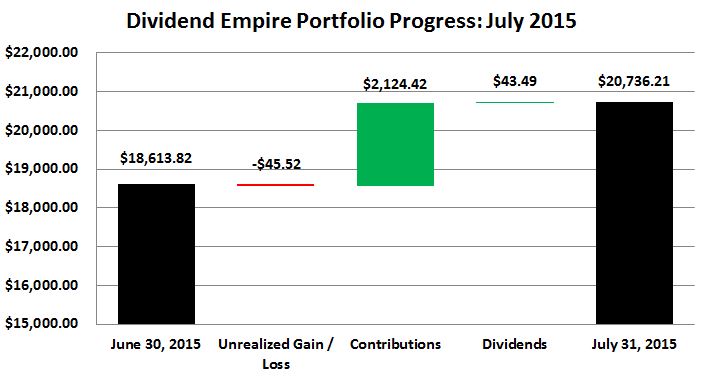 The Dividend Empire portfolio is a gift to my descendants and will hopefully turn into a true empire – providing passive income over many generations.  My goal is to contribute at least $15k per year ($25k this year) over my working years and then pass the portfolio on to my children (who will hopefully continue contributing).
Last month my portfolio value increased from $18,613.82 to $20,736.21, a total increase of $2,122.39.  Most of this increase comes from my monthly contributions which totaled $2,124.42.  I also earned $43.49 worth of dividend income.  These increases were slightly offset by a $45.52 unrealized loss for the month.
Contribution Sources:
In July my contributions came from a variety of sources which I love to see.  Here is the breakdown:
Monthly savings: $1200
Dependent care flexible spending account (DCFSA) reimbursement: $679.42
Selling crap around the house: $195
TradeKing refer a friend program: $50
Dividends: $43.49
I was very pleased with these contributions.  Even with all of the hidden and unexpected costs associated with selling and buying a house I was able to squeeze out $1200 in monthly savings.  The DCFSA is fairly standard – giving me between $600-$800 per month.
The really cool source was my wife selling a bunch of crap we don't need around the house.  All of the stuff my wife sold helped fund my purchase of Target (TGT), which I let her pick since she did the work.  The cool thing about this is that my wife is now really excited and interested in dividend growth investing and she is planning on selling a bunch more stuff.  Score!
This portfolio currently has only $66.05 in cash, so I'll need to make some more contributions soon in order to fund future purchases.  In addition to the account value stated above I also have 7 Ford (F) call contracts that expire January 2016 that are currently worth about $500.  This money is not included in my numbers but these funds will eventually be used to purchase more shares of Ford.
Stock Purchases
I was able to make a total of 7 purchases last month: 2 new positions, 1 average down, 2 Loyal3 monthly buys and 2 DRIPs.
7/1/2015 – 0.628 shares of KO (DRIP)
7/7/15 – 54 shares of F (added to position)
7/7/15 – 13 shares of EMR (new position)
7/7/15 – 0.2753 shares of HSY (Loyal3)
7/8/15 – 0.2594 shares of MCD (Loyal3)
7/15/15 – 0.299 shares of WPC (DRIP)
7/28/15 – 6.2305 shares of TGT (new position)
Best and Worst Performers
This is something I started tracking recently just for fun.  I will review all of my positions quarterly to make sure they still fit my strategy and that is all that really matters to me.  Nevertheless these metrics are still interesting to look at.
In this section I will list the 3 best and worst performers since my purchase dates (all subsequent posts will report monthly best / worst performers).  The values used in the percent return include dividends paid over this time period.
Best:
WFC:  7.12%
T:  5.43%
MCD:  4.37%
Worst:
EMR:  -6.00%
TROW:  -5.56%
XOM:  -5.33%
Progress Against Goals:
I mentioned my progress towards my dividends received goal in my last post and I have achieved all of my other goals for this portfolio already except for one.  That goal is to have a portfolio value of at least $25000 by the end of the year.  Here is where I'm at:
It looks like I won't have a problem reaching this goal.  I will need to contribute about $850 per month for the rest of the year to hit $25k.
Dividend Retirement Portfolio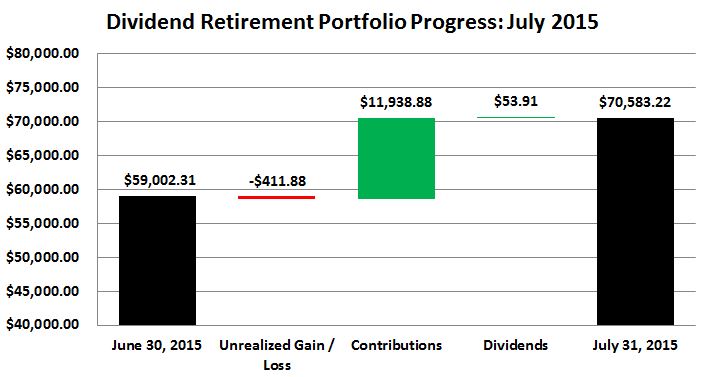 The Dividend Retirement portfolio is a portion of my 401k dedicated to dividend growth stocks and will be used to fund my early retirement.
Last month my portfolio value increased from $59,002.31 to $70,583.22, a total increase of $11,580.91.  I contributed $11,938.88 through pre-tax salary deductions and mutual fund sales, I received $53.91 worth of dividends and "lost" $411.88 to declining stock prices.
Contribution Sources:
Mutual fund sales: $11,173.35
Pre-tax deductions: $765.53
Dividends: $53.91
My goal to convert 65% of my 401k mutual funds into dividend growth stocks is now over halfway done.  I have sold off about $65k of the available $105k.  I anticipate being done with this conversion by the end of the year.
Not all of these contributions were used for purchases last month and I currently have $7,790.95 ready to deploy.
Stock Purchases
I was able to make a total of 6 purchases last month: 4 new positions and 2 automatic pre-tax deductions to purchase AMGN shares.
Best and Worst Performers
As I mentioned above, this section will list the best and worst performers of this portfolio since the purchase date of each stock including dividend payments over that time period.
Best:
GD:  11.59%
ORI:  9.61%
MSFT:  8.68%
Worst:
CVX:  -15.05%
GLW:  -10.54%
CMP:  -9.65%
Progress Against Goals:
I set 4 goals for this portfolio in 2015: receive $1,500 in dividends, diversify across all sectors, own 30 different companies and have a portfolio value of at least $100,000.00 by the end of the year.
1. Receive $1,500 in dividends: as I mentioned in my July 2015 dividend update this goal is out of reach

.
2. Diversify across all sectors: I am still missing telecommunications and utilities.
3. Own 30 different companies: I am at 20 right now
4. Portfolio value of at least $100,000.00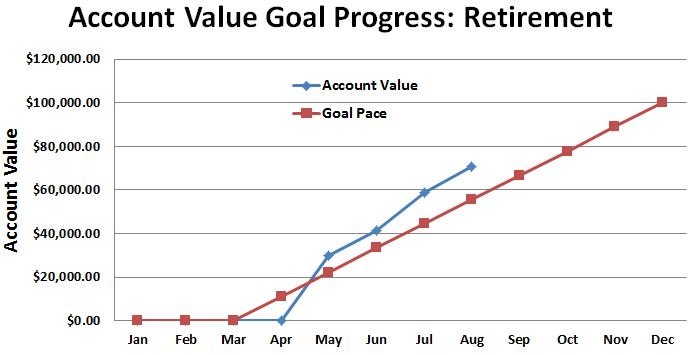 This isn't really a fair goal since most of the money required to achieve this goal is sitting in mutual funds just waiting to be sold.  Needless to say I will most definitely reach $100k this year.
Well I didn't get a whole lot of dividends in either portfolio this past month but at least I was able to contribute a good amount of cash and I bought some quality dividend growth stocks.  As long as I continue doing this there is no doubt that my dividend income will grow!