The moment I've been waiting for all year is finally here – the reporting of my March dividends!  The 3rd month of every quarter is always my best month for dividend income, and this last month was no different.  In fact, like many other dividend growth investors, March was record month for me!
Dividend Income
In March I received a total of $595.58 in my two portfolios: $141.80 in my Empire portfolio and $453.78 in my Retirement portfolio!
These values represent a 14% increase for my Empire portfolio and a 18% increase for my Retirement portfolio compared to my December income.
These are some massive increases compared to previous months.  This can be attributed do a hefty special dividend from Ford (F) in my Empire portfolio.  The big increase in my Retirement portfolio came from a couple of new purchases (BA, BAC, NKE) and some big dividend raises.
I feel that one of the best way to measure progress is by comparing quarterly dividend income progress:
My Empire dividend income actually decreased quarter to quarter but there is a simple explanation for this.  My Coca-Cola (KO) position was getting to be a little overweight so I sold a portion.
In addition, KO has a strange payment schedule.  They pay out two dividends in Q4 (October and December) and none in Q1.
My Retirement portfolio income is steadily rising though, creeping up to the $1k per quarter mark.
Here is a breakdown of the companies that paid me in March: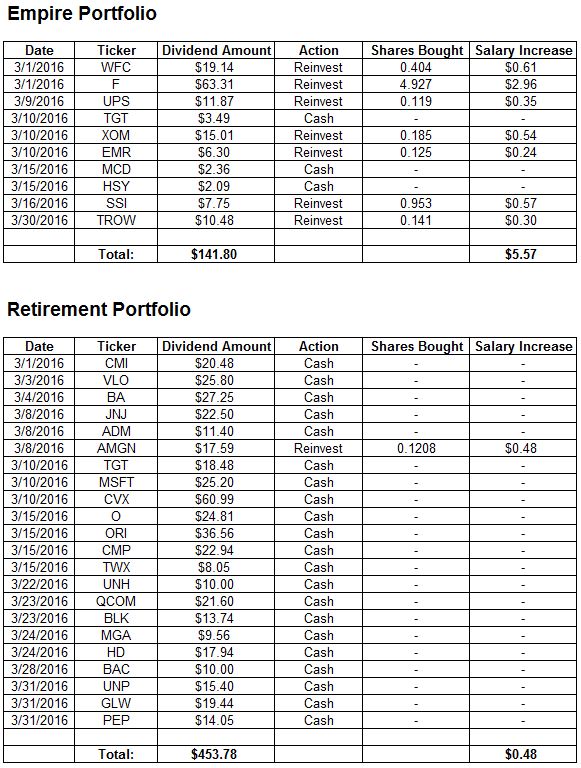 I received a whopping 10 payments in the Empire portfolio and 22 payments in my Retirement portfolio.  The DRIPs that I have set up in my Empire account increased my forward annual income by $5.57.  The one dividend that I'm allowed to drip in my 401k, AMGN, was reinvested and added $0.48 to my forward annual income.
Pay raises:
This month was a little disappointing after receiving 9 dividend increases in February.  In March, I received pay raises from 2 companies: General Dynamics (GD) and Realty Income (O). These two raises will add $6.69 to my annual income.

These pay raises, DRIPs and a couple of purchases (see portfolio updates below) have added a significant amount to my forward annual income.  I'm now at $827.90 in Empire and $2824.39 in my Retirement.  Here is my progress:
Progress Against Goals:
My dividend goals for 2016 are to receive at least $1000 worth of dividends in my Empire portfolio and $3000 in my Retirement portfolio.  Here is my progress so far: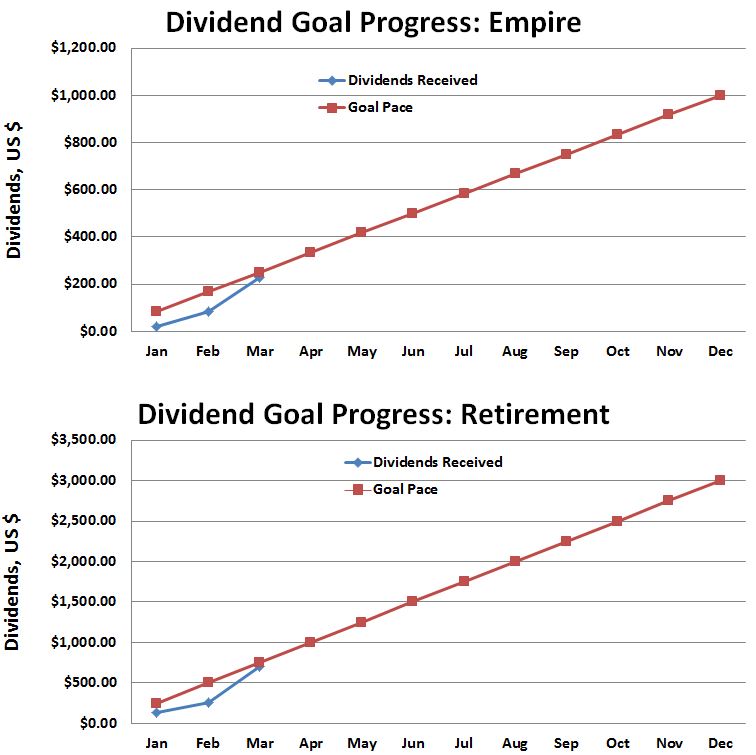 After a slow start to 2016, this incredible month has put me right back on track.  Hopefully with a few more purchases I can finally cross that pace line.
That's it for dividends!  Check out my Historical Data page where I have organized all of my monthly incomes, updates and screens (with links).
Portfolio Updates
Buys:
In addition to my DRIPs I was able to make 4 small purchases and one large purchase in March.  I picked up 20 shares of Disney, bringing my total up to 35.  As always, my $50 per month contribution to Loyal3 went towards buying 0.2716 shares of Hershey (HSY) and 0.2102 shares of McDonald's (MCD).  Finally, through automatic pay deductions in my 401k I purchased 0.5492 shares of Amgen (AMGN).
Other Updates:
Moving forward I will up my Loyal3 contributions to $125 per month and add Starbucks (SBUX) to the mix.  I received a decent pay raise at my job this year so I can afford to invest a bit more.  This also means (hopefully) that I will start making some more stock purchases.
Finally, my TradeKing account has surpasses a very important milestone for me.  The account value now sits at just over $26,000.  This is significant because I am now allowed to sell naked puts ($25k required).  This will hopefully generate some income while enabling me to purchase some larger lots of shares at discounts.
Thanks for reading!  I hope everyone had a great March.  Please let me know how you did in the comments section below.
Disclosure: Long all stocks mentioned in this article.